James Lloyd is a fellow tennis nerd. He writes about tennis racquet history in a multi-part series called "A Head of the Game".
Big thanks to James for "A Head of the Game" part 1. Part 2 and 3 to come so stay tuned!
A Head of the Game
Part 1: Meet The parents
I guess, with the relatively small disparity in racket sizes currently on sale in 2022, I got dwelling on the history of how we got to where we are now when you look at the history of tennis racquets. Please don't shoot the messenger, for I know there are other stories to be told. However, there is a pattern.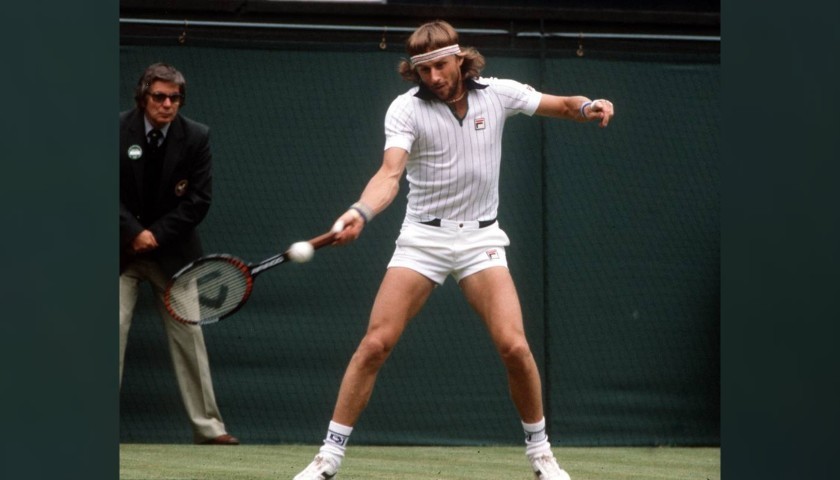 In the early 1980s, tennis was firmly transitioning into the modern era of graphite/carbon composite frames. Experimentation was as fast and loose as some of the players. Borg, with his trusted wooden Donnay were quickly being overpowered by all manner of new racket designs and materials. Introduced, I believe, in the late 1960s but made famous by Jimmy Connors in the 1970s and early 1980's we had the metal Wilson T-2000 and its stablemates. In 1983 we had John McEnroe, late to the new material tech race, replacing his trusted Maxply Fort with the Dunlop 200g. The 200g was a carbon/composite frame and seemed to be a forerunner in this regard, but in reality, while it was an initial game-changer, Dunlop, like Donnay, had been late to the game regarding advancements in racket materials.
Wilson had gone early for metal frames, but other companies had been tinkering and experimenting for quite some time. There was a development rush, an opportunity to steal a march on the competition and a race to make 'the next big thing' for the manufacturers. Often there were wild stabs in the dark and all manner of multi-sided or different shaped designs. But, considering how trusted wooden frames had become, what, or more poignantly WHO was the catalyst for this drive for new materials in tennis rackets?
Enter Howard Head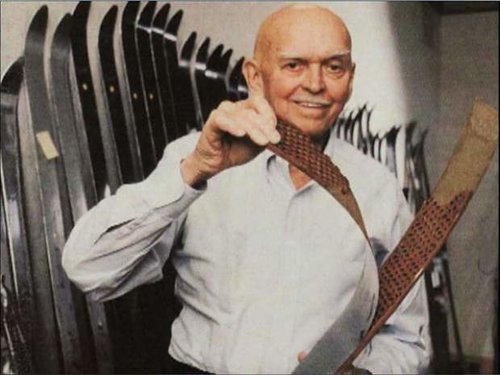 Howard Head worked in Aeronautical Engineering and was baffled at how skis were made out of wood. Legend has it that Skiing trips had left Howard Head so frustrated that he decided to make lighter and better skis and funded his venture from poker earnings. After many broken skis and 'failed tests', in 1947, Howard Head had finally made a ski that was as strong as wooden equivalents but half the weight. In 1950, Howard Head incorporated his company in Baltimore, Maryland, USA. The company initially was a ski manufacturer, but Howard Head had quickly set his sights on other uses for aeronautical materials. The company formed in 1950, was called, Head.
Head were from the outset, a pioneering company experimenting with new materials. It wasn't until the late 1960s that Head entered the tennis racket market after Howard Head figured out how to strengthen frames using aluminum, with the first version introduced at the 1969 US Open. The most famous product of this development period was made up of an aluminum-honeycomb that would later be swung majestically by Arthur Ashe to historic success.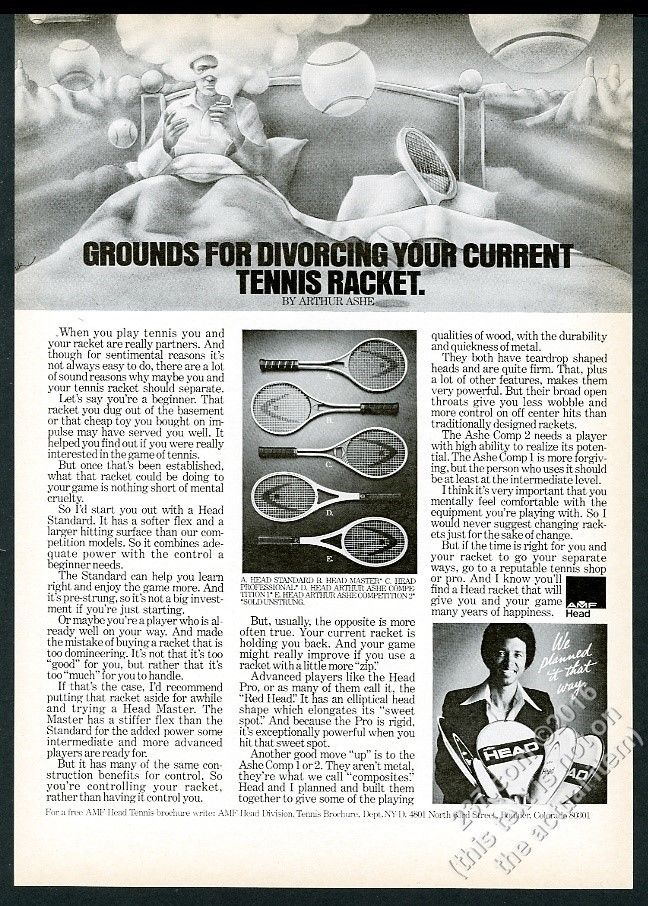 Howard Head had sold the company that bore his name to AMF, and 'retired' before the success of Ashe and that Head pioneering frame. And so, the story of Howard Head and the company that bares his name, and the 'silo' to this day ends, or, does it?
Pro Staff history
In the 1960s, 1970's and 1980s, tennis was dominated by small-headed frames. Racquets that bore the name 'mid-size' were 85sq inches. Give that to a 'modern' player and see if they describe it as 'mid'! "Small" would perhaps be more appropriate. Wooden frames and other variations were even smaller. Consequently, with fast courts and heavy balls, tennis was an incredibly hard sport to learn and get to an elite level.
If you take away the names' Becker, Lendl and McEnroe' with their respective graphite/composite frames, the 1980s had given birth to one clear, dominant frame. The Wilson Pro Staff Original, introduced in 1984, a braided blend of graphite/kevlar magnificence. Connors, Edberg, and Chris Evert swung this frame to numerous Grand Slam titles. A legendary frame had been born and suited the transition to graphite frames within the parameters of tennis as we knew it.
The had struck a chord, especially amongst those with a penchant for attacking the forecourt and more than a touch of serve and volley. Pete Sampras and Stefan Edberg used the frame for good reason, but so did Jim Courier, who was an out and out baseliner. So go figure. It is , simply, a good stick!
A Game-Changer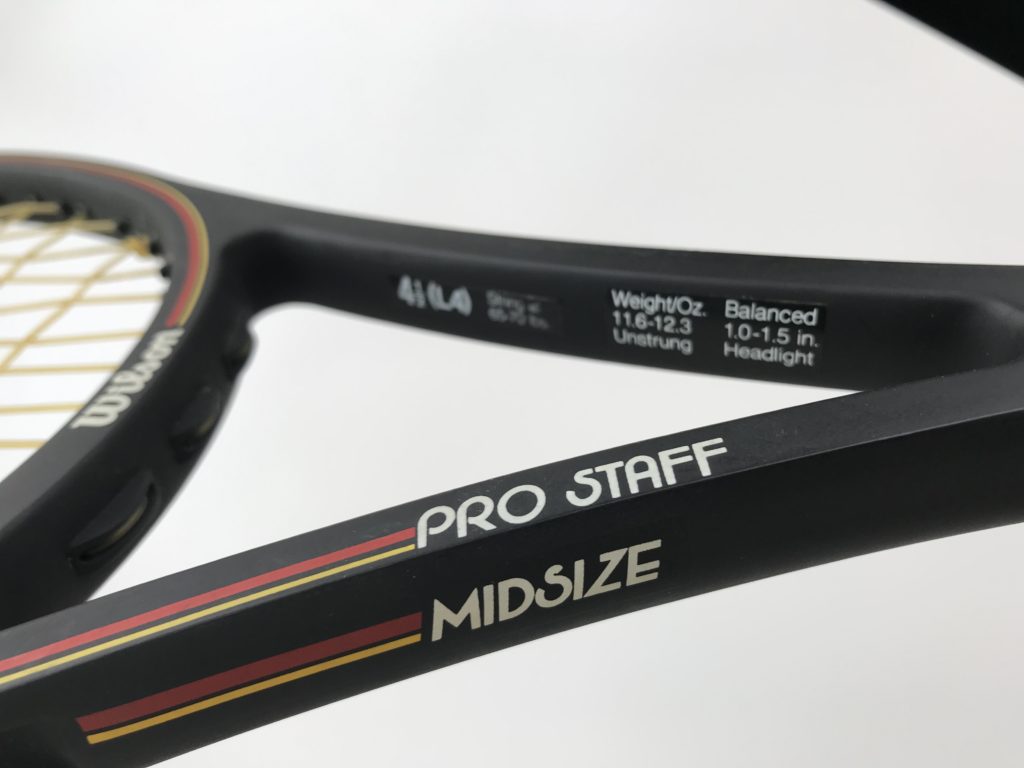 Some of us are old enough to have swung variants of the PS85 in anger and know how demanding a frame it is, yet also how sweet that spot can be. It is also the frame that a certain Roger Federer cut his teeth on, effectively blasting on to the men's tour with a then already 25-year old frame. Is this the most successful frame of all time? Perhaps a subject for another day.
Is this a 'game-changing frame'? Not essentially, it was for sure a sweet spot, the best of the breed if you like, but it had a small head and thin beam and sort of pushed the existing game and game styles on, rather than force any change from 'the norm' or the 'existing 'established game. For absolute sure, it provided a great base for a player who had a game style that changed tennis, but that would be later. Every action has an equal or opposite reaction.
Change is not always instant. Change is often resisted by those who may lose out. Change is something people are afraid of. Change is sometimes a slow burner. Beneath all of the serve and volley, beneath the surface of predominantly white tennis kits, a change was rumbling, especially in the junior ranks.
They say that necessity is the mother of all inventions. Thus, a pattern will emerge.
Head to Prince?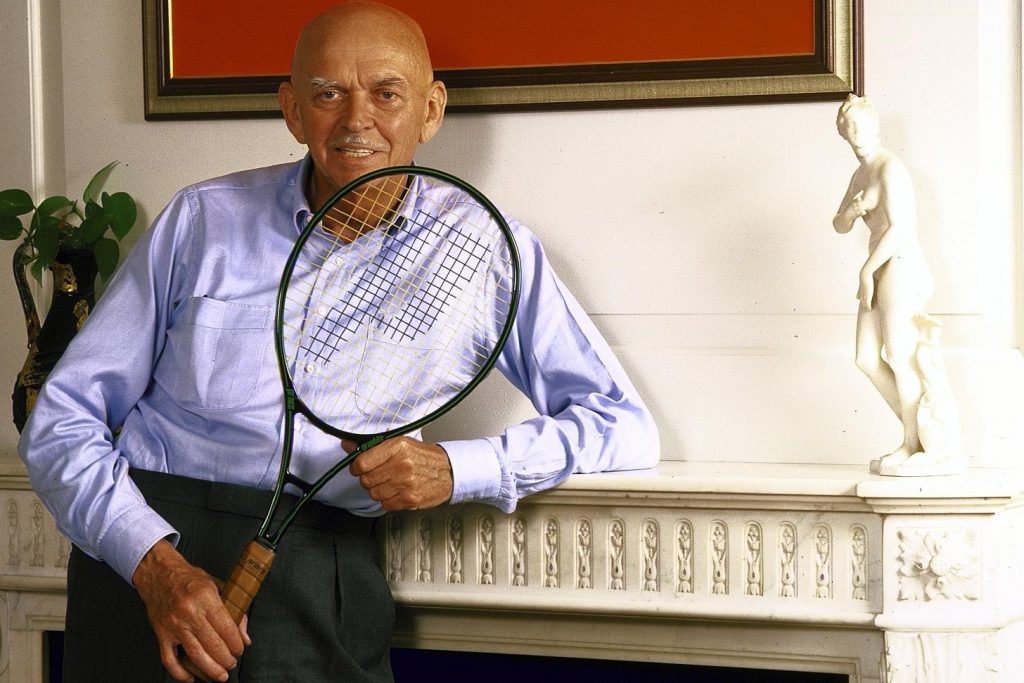 Howard Head was not a good tennis player, but like many, he loved hitting the yellow ball and he had taken up tennis, trying to improve by hitting against a ball machine made by a company called Prince. Prince, founded in 1970 by Robert H McLure, was approached by Howard Head. He had had an idea. Howard Head wanted to improve his tennis. Tennis is a hard sport. Rackets are small. Surely there is another way?
Howard Head, founder of 'Head', joined 'Prince,' becoming majority shareholder and chairman shortly after. After vastly improving the ball machine itself, he found that his tennis still was not improving. He championed the development of the oversize tennis racket, starting with a quest to simply make 'a better frame'. It was at this point that science, sweet spot size and location, frame size and shape really started to become part of the conversation.
The first oversize frame was actually recognised as the Bentley Fortismo, but, that set aside, Howard Head and Prince applied for and were actually granted a patent that covered tennis rackets bigger than 95sq inches and smaller than 135sq inches, or some large parameter. A patent that has been successfully defended on numerous occasions. Prince, under Howard Head, would experiment with 'teardrop' shaped frames and an aluminium 'classic' frame was born. A racket born in 1979, the Prince Pro, would go on to win Wimbledon in the hands of superb serve/volleyer Pat Cash, in 1987.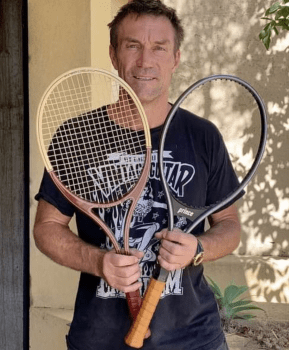 Howard Head also pioneered the development and integration of what would become the norm in tennis. Graphite rackets.
The Wilson Pro Staff Original Midize, or PS85 wasn't the first to use a Graphite construction, that falls to Prince I believe, pioneered by Howard Head. I struggle to nominate the PS85 as a 'game-changing racket', but it was in the hands of pioneering players who would undoubtedly change the game.
A new kid on the block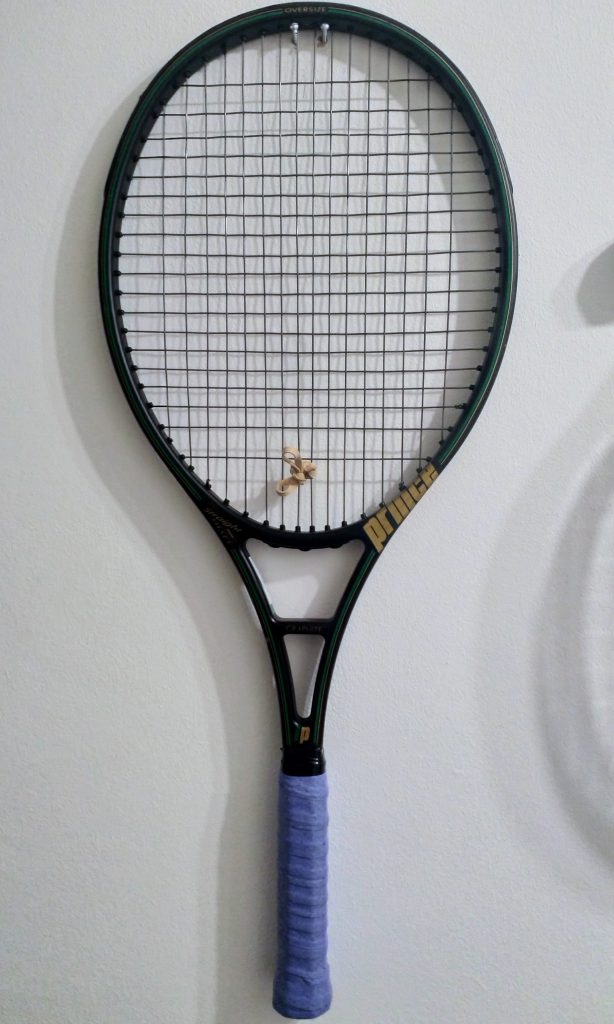 It is often said that Bjorn Borg is the 'father of modern tennis', due to his type of play, all court ability, topspin, style, mental coolness and game structure. In a non-sexist manner, I could describe the Wilson Pro Staff Midsize or PS85 as 'The Mother of Modern Tennis Rackets.' Or perhaps, 'a co-parent of modern tennis rackets'.
After a couple of teardrop shaped and experimental variations, in the early 1980s, change was rumbling, the junior ranks were usually split between three main racquet lines, one being the trusted Wilson PS85, another being the Head/AMF TX Professional or 'TXP' (soon to be Prestige Pro 600), but in a 1983 a new kid came on the block. A 110sq inch gloss black oversize shiny single striped magnificence. The Prince Original Graphite Oversize, or, POG for short, was born.
Two choices
The scene for junior development in the 1980's was set. New parameters, with effectively two choices, a 'midsize' 85 small headed, heavy frame, or a new 'oversize' 110 large headed, heavy frame. These battle lines would set the scene for a new era of tennis.
I put it to you, therefore, that in the spirit of every action having an equal an opposing reaction, in the mindset that necessity is a mother of invention, and something needed to be done to counter the dominance of existing styles of play and frankly make this damned game a bit easier……for the sake of literal license and want of a decent metaphor…..
The 'father of the modern tennis racket', is the Prince Original Graphite Oversize.
This frame not only changed the way manufacturers thought about their future designs, it not only changed the type of tennis possible to execute and therefore changed the coaching ideology. Frankly, this frame made mere mortal recreational players like me suddenly feel just that little bit…..better. It was a game-changer, and let us remember the pioneer merely wanted to improve his tennis, but in doing so, he also enhanced ours and changed the course of tennis history.
Thank you, Howard Head.
And thank you, James Lloyd, for this excellent and fascinating piece. James and his racquet collection was featured in a video a while back called "Can you play modern tennis with classic racquets?" I highly recommend to check that one out.