Sometimes I just think it's fun to be playing vintage tennis racquets, if only for a half an hour or so to really get that clean feel of the ball. Playing with vintage tennis racquets is simply an excellent form of tennis practice.
I have always enjoyed playing with vintage tennis racquets and from time to time I bring an old classic with me in my tennis bag to make sure I keep solid technique and hit the ball in the center of the racquet. It's a fun way to practise your tennis!
Last time I did this I brought my old (70s) HEAD Arthur Ashe Competition 2 (I wrote about this and some other vintage racquets I own here) with me to the court. This is a racquet with a miniature sweet spot and requires you to peel your eyes on the ball at all times. It's definitely not a racquet for guys who like to hit with massive spin and use a western grip, then you'd be going to "Shankville" pretty quickly.
Below is the print ad called "Grounds for divorcing your current tennis racket." A pretty fun read considering that this was more than 40 years ago! A few sentences that stick to my head are:
Playing with vintage tennis racquets and words of wisdom from Arthur Ashe
"I think it's important you mentally feel comfortable with the equipment you're playing with. So I would never suggest changing rackets just for the sake of change." Ouch! That hurt my racquetholic ego a little bit, because I know he's right. Also, quite an interesting choice of words for a company that's trying to sell more tennis racquets! Those were more "honest" days of advertising perhaps…
I also like the phrase from the HEAD Arthur Ashe Competition 2 ad:
"So you're controlling your racket, rather than having it control you." I think this is what happens with many of the power frames today, without the right technique for it you end up having to hold back your game and adjust your swing, instead of letting the racquet adapt to your game and boost it. Something to think about for sure.
Below you have the full print ad. For a guy who works as a marketing consultant and is passionate about tennis, this ad resonates with me on a lot of levels.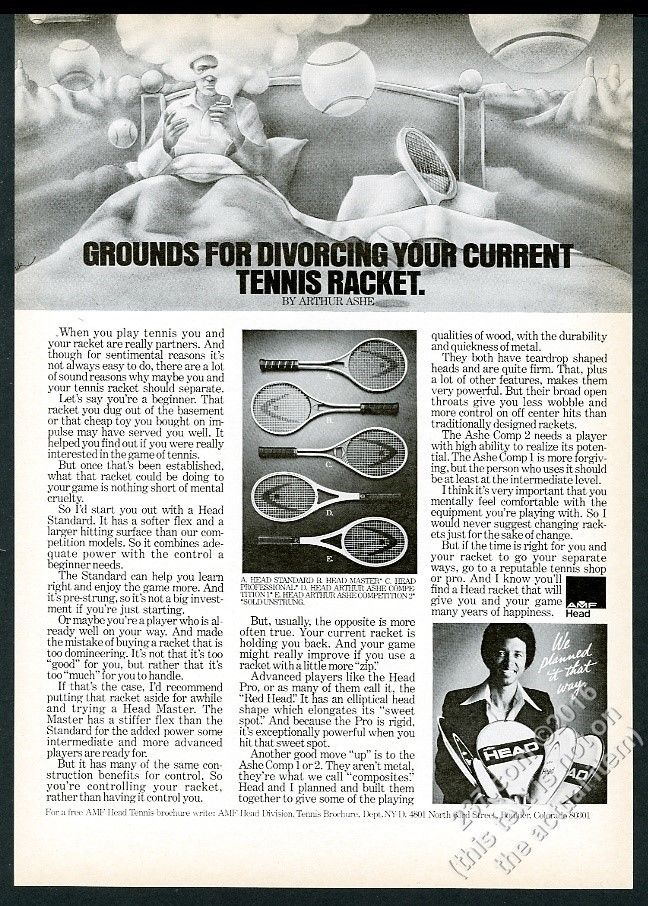 Last but not least, here is a video of me playing with the HEAD Arthur Ashe Competition 2 vintage tennis racquet. It wasn't easy to find the peanut-size sweet spot, but it was a fun challenge and a good warm-up that made it easy to play with Angell K7 Red afterwards.
Do you ever play with vintage tennis racquets? How do you like it and what vintage racquet do you prefer? Please comment below!
***
Do you like Tennisnerd? Don't miss a word or video by stalking us on social media. Every like and follow is appreciated!
YouTube
Instagram
Twitter
Facebook Page
Amazon Influencer
Buy tennis gear
EU
Racquet Depot
Pro Direct Tennis

USA
Tennis Express
Do It Tennis
Amazon.com
Racquet buying guides
Here is a great racquet buying guide to get you started.
What tennis racquet should I buy?
Top tennis racquets to buy right now
The Gear of the Year 2017
The Gear of the Year 2016
Tennis racquets for juniors
Tennis racquets for kids
Popular posts
What the ATP pros play
Questions about pro stock tennis racquets
Is a pro stock racquet better than a retail one?
Do professional players change racquets?
Racquet Commitment Issues