Tennis is a worldwide sport played in all different continents of the world. Players are constantly traveling from country to country and playing in different conditions. One aspect that is common to a few tournaments is altitude, a factor that can change the game completely. That said, we'll take a closer look at how altitude affects tennis betting and strategies that can help you make the most out of these conditions.
The article will have detailed information on how altitude affects the game, the main tournaments that are played on such conditions and how you can profit with your tennis bets from having the knowledge of this.
Understanding Altitude in Tennis
The concept of altitude is quite simple and easy to understand. If we say a certain city is located at an altitude of 5,000ft (1524m), that will be the height of that city compared to sea level. But what exactly does change in altitude when compared to a place at sea level?
As altitude increases, the amount of gas molecules in the air decreases, also known as air density. This is called "thin air" and is one of the reasons why athletes struggle so much when competing on these conditions.
Besides this, air density also plays a major role in drag force, also known as air resistance. When air density reduces so does drag force, meaning that any object will encounter less resistance when travelling through the air.
Putting both concepts together, it's easy to understand what happens on altitude. As altitude increases the air becomes less dense, resulting in lower resistance for an object like a tennis ball. This means that the ball will travel through the air at a higher speed and will also have a different bounce than at sea level.
It's also important to mention that air density can also change according to weather conditions. Variables like temperature or humidity can also have an impact in the game conditions, meaning that weather affects tennis betting and should always be considered.
Nowadays there aren't many tennis tournaments played on altitude, but there are still some. This means that these kind of tournaments will present very challenging conditions to the players who decide to compete on those.
Below we will take a look at the current tournaments on altitude, as well as some of the past events that were played in very extreme conditions. Understanding how altitude affects tennis is a great way to get the most out of your tennis betting on these tournaments.
Tennis Tournaments Played on Altitude
The tennis calendar is not static, meaning that every year there are new tournaments in new locations. Even though the vast majority stays in the same place for a long time, there are always new events each season.
Below we will list the tournaments that are played at higher altitude on both ATP and WTA Tour for the year of 2023.
| Tournament | Tour | Altitude, ft | Altitude, m |
| --- | --- | --- | --- |
| Cluj | WTA | 1120 | 340 |
| Geneva | ATP | 1230 | 375 |
| Cordoba | ATP | 1276 | 389 |
| Munich | ATP | 1710 | 520 |
| Lausanne | WTA | 1726 | 526 |
| Monterrey | WTA | 1770 | 540 |
| Santiago | ATP | 1870 | 570 |
| Madrid | ATP & WTA | 2130 | 650 |
| Kitzbuhel | ATP | 2500 | 762 |
| Gstaad | ATP | 3440 | 1050 |
| Granby | WTA | 7935 | 2419 |
| Bogota | WTA | 8660 | 2640 |
As you can see from the table above, Bogota is the professional tournament played at higher altitude. Currently this event is only played on the WTA Tour, as the ATP event only lasted three years between 2013 and 2015 in Colombia's capital.
Playing on these conditions is extremely demanding for the players with the air density around 73.2%. Adding to this, the ball also travels much faster through the air, meaning that big servers are usually a very good tennis bet on altitude tournaments.
Looking at the three editions of the ATP Bogota, it's no surprise that Ivo Karlovic is one of the most successful players. The 6'11" is one of the best servers in tennis history with an impressive 10-2 record in Bogota, winning one title and reaching two finals. Below is a video of Karlovic playing in Bogota where you can see how lethal his serve was on these conditions.
Another former event known for its extreme altitude is the ATP Quito, which took place between 2015 and 2018. The capital of Ecuador is one of the highest cities in the world, located at an altitude of 9,350 ft (2850m).
Playing on these conditions was extremely tough for the players, but some really enjoyed the challenge. This event has a very curious fact since Victor Estrella Burgos won three of the four editions. These were, in fact, the only titles that Estrella Burgos won in his career, as he loved playing in altitude.
Unlike Karlovic, Estrella Burgos was only 5'7" and far from having a big serve. So how come he was such a good tennis bet on this event? One of the keys to his success was his backhand slice, a shot that is very tough to handle on these conditions.
Players with a good slice have performed consistently at a good level in altitude, with Tatjana Maria winning the title last year in Bogota, a player also known for her backhand slice. Feliciano Lopez is another good example of a player who relies on his backhand slice and had success in altitude, winning the ATP Gstaad title in 2016 and reaching a final in Quito.
Currently Gstaad, Kitzbuhel and Madrid are the three tournaments played at higher altitude. All of them are played on clay, which means that when you're making your betting on clay on these tournaments you should always take into account this factor. Below we will take a closer look at each of these events to help you with your tennis bets.
Masters 1000 Madrid
The Mutua Madrid Open takes place in the Spanish capital, a city located at an altitude of 2,130 ft (650m). The tournament is played on clay and the tournament provides some of the fastest conditions to the players.
Another important factor to mention is that the climate in Madrid is low in humidity, which contributes to faster game conditions. The city also has a relative air density of 90.5% and that is due to altitude and low humidity.
When playing in Madrid, big servers and powerful players usually enjoy the conditions. One good example is Alexander Zverev's run to the title in 2018. The German won the title without dropping a single service game, only faced one break point all week and won an impressive average of 84.05% of the points behind his first serve.
Zverev is, in fact, one of the most successful players in Madrid in recent years. The former world no.2 has an incredible 19-3 career record on this event, winning two titles and reaching the final in another occasion.
Another aspect that makes Madrid's condition so unique is the architecture of the stadium. The tournament is played at "La Caja Mágica", a venue that has three stadiums with retractable roof and a structure that makes it almost like an indoor tournament.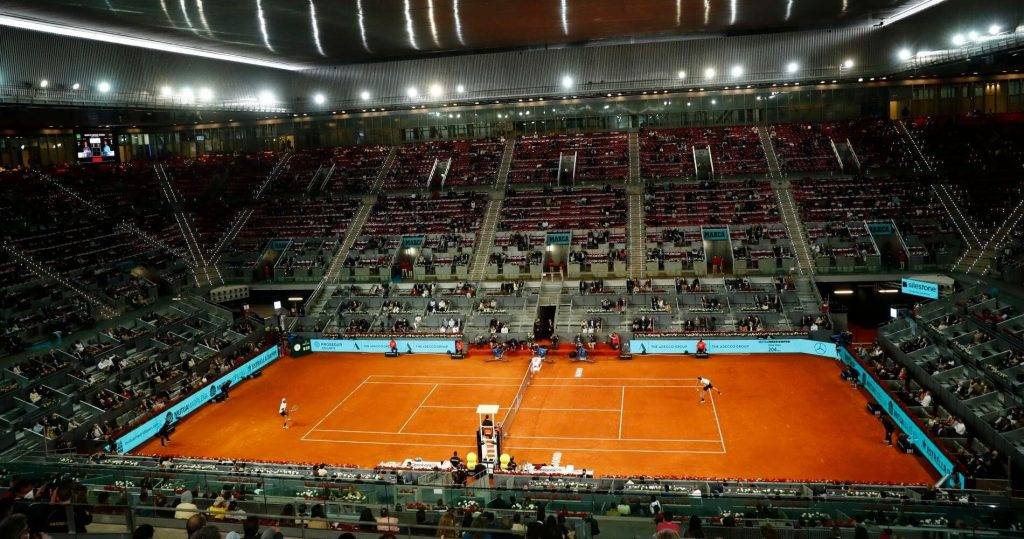 When betting at the Madrid Masters, you should always consider altitude and how fast the conditions are. Players with big serves and powerful groundstrokes, such as Zverev, are really difficult to stop on this tournament.
Don't forget also to check the weather forecast for the day, as the event has retractable roofs in the three main stadiums. This means that play will continue indoors, which are even faster conditions. Even though the match is still played on clay, the surface affects tennis betting and other factors such as being played indoors.
The last point we want to mention applies to all altitude tournaments, which is the players' preparation. Even though Madrid is not located at extreme altitude, the conditions are still quite unique, and players need some time to adjust to those. That said, betting on a player who made a final the previous week and only had one or two days to prepare this event might not be the best idea.
ATP Kitzbuhel
The Austrian Open Kitzbuhel is an annual ATP 250 event that takes place at the Tennis Stadium Kitzbuhel. The tournament is played in very unique conditions, as Kitzbuhel is located in the Alps at an altitude of 2,500 ft (762m).
The tournament has been part of the tennis calendar for many years with many different champions. In fact, since 2000 only three players were able to win multiple titles on this event: Àlex Corretja, Robin Haase and Philipp Kohlschreiber.
As you can imagine, the conditions are quite extreme to the players. One of the most impressive features of this tournament is how high the ball bounces, especially when players are hitting kick serves or topspin shots.
Many players found success in recent years on this event due to their kick serve, as it is so hard to return in Kitzbuhel. One good example is Yannick Hanfmann, a player who only reached two career finals, both in altitude places like Kitzbuhel and Gstaad. The German has an incredible kick serve and that is the main reason for his success on these conditions, as you can see on the video below.
Hanfmann is just one example of a player who loves altitude and produces his best tennis on these conditions. Before placing your tennis bets on altitude, we always recommend that you check the players' past results in similar conditions.
As mentioned previously, you should also look for any players who had a long week in the week before. Even though betting on players in a good run is usually a good approach, that might not be the case when playing on altitude, as it takes some time to get used to the conditions and ball bounce.
ATP Gstaad
The last tournament we want to talk about is the Swiss Open Gstaad, an event that takes place in July at the Roy Emerson Arena. This is the tournament played at higher altitude currently on the ATP tour, with Gstaad located at 3,440 ft (1050m).
Looking at some numbers from this event, players competing on this event hold their serve in average 78.3% of the times. This is 2.7% above the average on clay, which makes sense due to the faster game conditions.
In 2022 the tournament had a total of 39 matches, including the qualifying rounds. In those there was a total of 23 tiebreaks, a very high number considering that this event is played on clay.
Most of the best sportsbooks for tennis betting have the option to bet on the number of games in each set. That said, betting on the Over 12.5 games per set can be an interesting strategy for this tournament, as this bet usually has very high odds.
Below you can see a clip from the 2022 final between Casper Ruud and Matteo Berrettini. It's clear from the images how fast the conditions are and how difficult it is for the players to break the opponent's serve.
Betting Tips and Strategies for Tennis on Altitude
Now that we have a better understanding of how altitude affects a tennis match and the main tournaments played on these conditions, it's time to take a look at some useful betting tips and strategies.
Combining a good knowledge of each of the players with these strategies can be incredibly helpful for you to make the most of your tennis betting.
Check the Player's Past Results in Altitude
Every player has its own style and not all are suited to play on altitude. We mentioned the example of Hanfmann before, but there are many others who thrive on these conditions.
Looking at a player's past results in altitude can be a great indicator of how well he will be able to perform. If you want to find this data, we recommend checking the results in current and past tournaments such as Quito, Bogota, Gstaad, Kitzbuhel, Madrid, Santiago, Munich and Geneva.
This information will be incredibly useful when placing your tennis bets on altitude, as these are unique game conditions for the players.
Understand the Player's Adaptation Time
Adjusting to altitude is not an easy process, especially when you're a tennis player. Besides the physiological changes due to lower air density, players also need to adjust to different bounces and ball speed.
Before placing any tennis bet in altitude you should understand how much time the player had to adjust to the game conditions. If a player reached the later stages of a tournament the week before, it's unlikely that he had enough time for a good preparation.
Even though betting on a tennis player who is performing well is usually a good approach, this might not be the case when the game conditions are significantly different. That said, never forget to check the adaptation time, as this can give you very good opportunities to find valuable bets.
Analyze the Weather Forecast and Other Variables
As you already know, altitude makes the game conditions faster for the players. However, there are other variables that you should also consider when making your tennis bets.
Temperature also affects air density and how fast the ball travels through the air. When playing in high temperatures, the air density will decrease, and the conditions will be much faster.
If you combine altitude with a hot day, for example, you have the perfect recipe for extremely fast conditions. On the other hand, a cold and humid day can reduce the impact of altitude on the game conditions and a make a difference when placing your tennis bets.
Look for Opportunities in Lower-Level Tournaments
On this article we analyzed some of the ATP tournaments played on altitude. Although most bettors don't pay much attention to this factor, the truth is that more and more the sportsbooks are taking altitude into account when pricing the matches.
However, there are a lot of other tennis tournaments, especially at lower-level, where you can bet. Both Challengers and ITF events are played all over the world, some of them in places located at high altitude. This means that you can find very good opportunities to place your bets on these kind of events.
With this in mind, we recommend that you always check if a place is locate in altitude before placing your tennis bets, as you can find great value in lower-level events.
FAQ – Frequently Asked Questions:
+21 | T&Cs Apply
Please remember that betting is speculative. When betting your capital is at risk.
If you have a gambling problem and need help, call 1-800 GAMBLER
+18 | T&Cs Apply
Gamble Responsibly! If you need help regarding your gambling habits, please visit www.begambleaware.org
+19 | T&Cs Apply
Gambling can be addictive, please play responsibly
+18 | T&Cs Apply
Gamble Responsibly! If you need help regarding your gambling habits, please visit gamblinghelponline.org.au or call 1800 858 858 for confidential support.
DISCLAIMER: Online Wagering is illegal in some jurisdictions. Tennis Nerd takes no responsibility for your actions. It's your responsibility to check your local regulations before joining or betting on a sportsbook.