Tennis is a unique sport for many reasons. One of them is the fact that is played in three different surfaces: hard court, clay and grass. Each surface is unique and has its own characteristics, which makes it easy to understand why court surface affects tennis betting.
Each player has its own favorite surface and although most of them can perform at a good level on all surfaces, there is still one that suits their playing still better than the others.
On this article we'll help you understand the key differences between all three surfaces and how important that is for tennis betting. We will also provide some useful tips to bet on each surface, so you can increase your chances of becoming a successful tennis bettor.
Hard Court
Hard courts are usually made of concrete or asphalt and covered with an acrylic top, which helps smooth the surface and provide regular bounces. These types of courts also may have a cushioned layer under the acrylic, depending on the desired court speed.
The speed on hard courts may vary according to the amount of sand in the top layer and that is a very important detail. Unlike many people think, betting on hard courts can be very different from one tournament to the other.
The pace of these courts is usually considered medium, medium-fast or fast, depending on the amount of sand. The more sand added to the paint of the surface, the slower the playing conditions become.
Hard courts are not only the most popular surface in the United States, but also where most of the biggest professional tournaments are played. Currently the following events are played on this surface:
Grand Slams
The bounce of the court is also different according to the way it was built. Usually the bounce is quite regular, but some tournaments have faster and lower bouncing conditions such as Shanghai.
Other aspect to keep in mind are the weather conditions. The ball speed also changes according to temperature and humidity, which means weather affects tennis betting and is very important to check the forecast before placing a bet.
Below you can find a table with more details on court speed of the main tournaments that are played on Hard Court on the ATP Tour.
Court Index Speed – Hard Court
| Tournament | Court Pace Index |
| --- | --- |
| Australian Open | 42 |
| Indian Wells | 27.4 |
| Miami | 30.3 |
| Canada Open | 36.3 |
| Cincinnati | 33.6 |
| US Open | 35.4 |
| Shangai | 42.9 |
| Paris | 37.5 |
| ATP Finals | 42.1 |
Tennis Tips for Betting on Hard Court
There are plenty of tournaments played on hard court but, as we already mentioned, the game conditions can be quite different. This is a very important point to keep in mind if you want to have success with tennis betting in the long run.
Looking at matches from previous year is always a good option to access a tournament's court surface speed. However, some events change the speed from season to season. For that reason, is always good to watch the first matches, even the qualifying ones, to make sure there are no significant changes in the conditions.
The court bounce is also another important aspect to analyze before placing a bet. Some players love high bouncing courts while others thrive on low bouncing conditions.
If you are looking to bet on a player with a flat serve and a great backhand slice, then low bouncing courts are usually the best for his style. On the other hand, players with heavy topspin and kick serve usually perform better on high bouncing courts.
The last tip for betting on hard court, which also applies to other surfaces, is knowing the player's history on a specific tournament.
John Isner, for example, has a tremendous record in Atlanta with six titles and an incredible 37-6 career record. This happens not just because of the court conditions, but also because John is a former college pro at the University of Georgia and makes sure he always performs at his best in one of his favorite tournaments.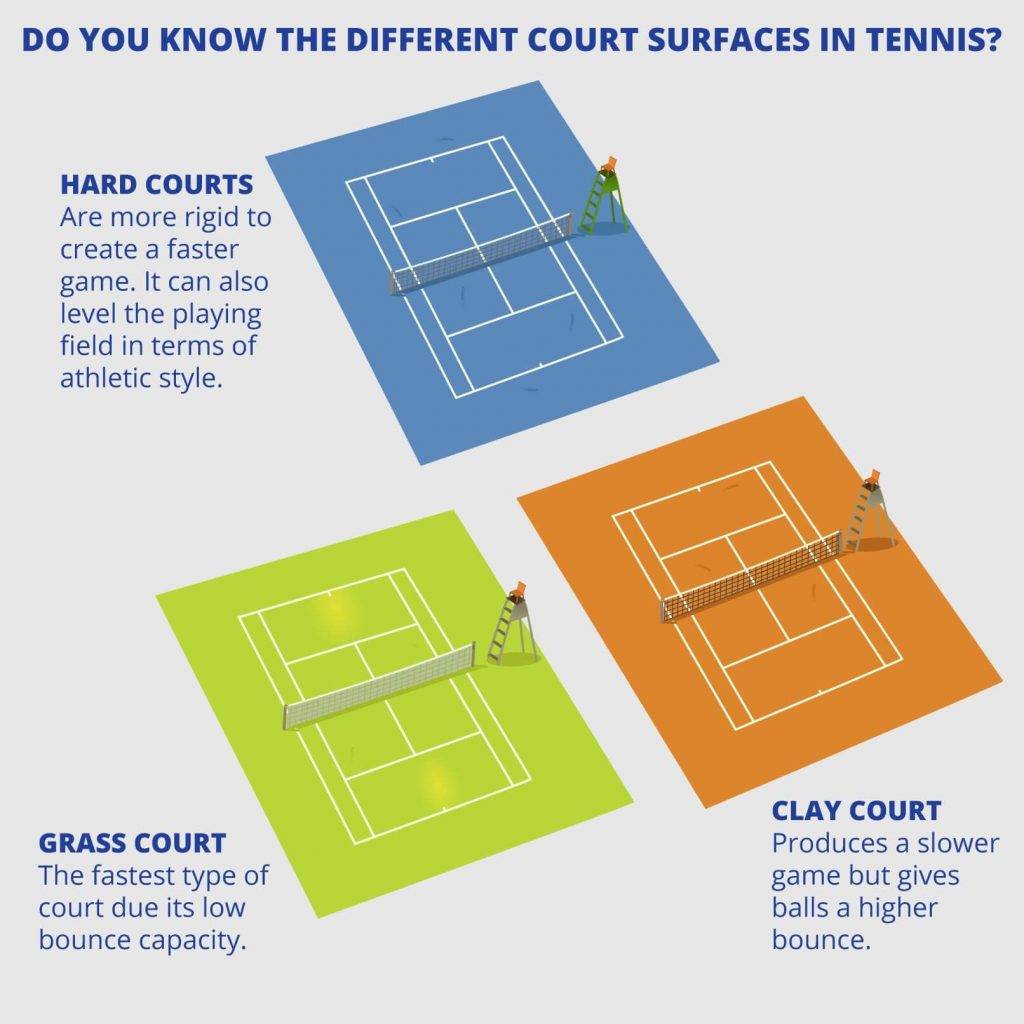 Clay
Clay tennis courts are made of a top layer of fine crushed aggregate, which can be brick, stone, shale or any other unbound material. Below this top layer, there is another thick layer made from the same material.
These types of courts are incredibly popular in South America and Europe. Even though the court speed may vary from tournament to tournament, clay courts are considerably slower than any of the other surfaces.
The way clay courts are built makes them slow and bouncy, making it a perfect surface for baseline players with heavy topspin groundstrokes. This is why knowing the players in detail is so important when betting on clay since this is a unique surface that takes a long time to master.
Currently there are several top tournaments played on this surface, including a Grand Slam. Below is a list of the most important tennis tournaments played on clay:
Grand Slams
There are two main types of clay courts: red clay and green clay, also known as har-tru. While green clay courts are faster and more popular in the United States, red clay courts are slower and more popular in Europe and South America. From the Grand Slam and Masters 1000 tournaments listed above, all of them are played on red clay.
Even though red clay courts have generally the same speed, there are other factors to have in mind when placing your tennis bets on clay. One of them is altitude, a factor often ignored by many people but that has a tremendous impact on the game conditions.
One good example is the Masters 1000 Madrid, a tournament that is played at an altitude of 2,130 ft (650m). Higher altitude means lower air resistance, which makes the ball fly faster through the air and making the game conditions faster. That said, you should always analyze this factor since betting on tennis on altitude is completely different than at sea level tournaments.
Below is a table with more details on court speed of the main tournaments on clay. However, take into account that these numbers are only related to the surface itself, which means that other factors such as Madrid's altitude are not taken into account.
| Tournament | Court Pace Index |
| --- | --- |
| Roland Garros | 21 |
| Monte Carlo | 24.9 |
| Madrid | 20.9 |
| Rome | 22 |
Tennis Tips for Betting on Clay
As mentioned before, most professional tennis tournaments on clay are played on red clay surface. This means that the court speed is generally slow and bouncy, making it a perfect place for baseliners with heavy topspin.
Before placing a tennis bet on clay, it's important to understand if the player is, or not, a specialist on the surface. Many players are extremely good on clay while others are very uncomfortable on this surface, since it provides very unique game conditions.
Other of the aspects to keep in mind when betting on tennis is where the player has been in the previous weeks. Adjusting to clay can take some time due to several reasons such as irregular bounces, different movement and slower surface. For this reason, betting on a player who has been competing on a different surface in the previous week can be quite dangerous.
The last point we want to mention is the motivation and mindset. While some players love to grind and compete on clay, others simply hate the surface. There are some famous examples of ultra-talented players who hate clay such as Nick Kyrgios and Alexander Bublik. This doesn't mean that they can't perform at a good level if motivated, but that is not frequent and they often lose in early rounds.
Grass
Grass is the most traditional and elegant of all surfaces but is barely used nowadays. The high maintenance costs are one of the main reasons why this surface has disappeared in the last decades.
There are two main ways to lay grass-courts. The first option, which is also the more expensive, is by sowing grass on the soil to create turf before cutting into strips and rolled onto a flat, hard soil surface.
The other option to lay a grass court is to seed the grass directly onto the soil of the court. This is a much cheaper process and the surface will be more even, but the grass will take longer to grow. A roller is then used to even the surface and any bump that might exist.
As mentioned, it's very expensive to maintain grass courts and is easy to understand why these have been replaced by other surfaces in recent decades. Nevertheless, there are still some tennis tournaments played on this surface, which means that learning how to bet on grass can be very profitable.
Grass courts play very quick as the ball slides when it bounces, keeping the rallies relatively short with just a few shots. In addition, the ball also stays very close to the ground, making slice a much more effective shot than topspin. Players with a big serve, flat shots and a good net game are usually very successful on grass.
Currently the only big tournament played on grass is Wimbledon, the world's oldest tennis tournament. The event takes place at the All England Club and is one of the most popular tournaments for tennis betting in the calendar.
As mentioned above, grass is the fastest surface in tennis and is extremely difficult to break serve. A tiebreak is required in many of the sets that are played on this surface, especially in matches between big servers. However, it's important to mention that the court speed at Wimbledon has been decreasing over the years.
Tennis Tips for Betting on Grass
Even though the court speed has decreased over the years, playing on grass still requires plenty of time to get used to it. The low bouncing and slippery surface are the two main difficulties that grass presents to the players.
Before placing a bet on grass, it's always important to analyze the player's history on the surface. Betting on a tennis player who is making his first appearance on grass is extremely dangerous. Even if he is performing at a great level on other surfaces, playing on grass is a completely different game.
One of the most underrated markets for tennis betting on grass is the Over/Under for games in a set. Pretty much all the best sportsbooks allow you to bet on this market for the games in each of the sets, which is a great option on grass.
As you already know, grass is a very fast surface and is not easy to break the opponent's serve. Therefore, when one, or even both players have a very strong serve, the likelihood of having a tiebreak is high. This means that betting on the Over 12.5 games, which is the same as betting on a tiebreak, is a great option on grass.
Another important thing to keep in mind is when clay-court specialists play on grass. This is even more important in Wimbledon, since the tournament has a very attractive prize money.
Every year several clay-court specialists skip all grass tournaments before Wimbledon and just show up at the All England Club. This happens because their ranking allows them to compete and they will receive a very good prize money just for losing in the first round. Therefore, our advice is to look for those players and bet against them since it's very rare for one of those to get a win against a more experienced player on this surface.
FAQ – Frequently Asked Questions:
+21 | T&Cs Apply
Please remember that betting is speculative. When betting your capital is at risk.
If you have a gambling problem and need help, call 1-800 GAMBLER
+18 | T&Cs Apply
Gamble Responsibly! If you need help regarding your gambling habits, please visit www.begambleaware.org
+19 | T&Cs Apply
Gambling can be addictive, please play responsibly
+18 | T&Cs Apply
Gamble Responsibly! If you need help regarding your gambling habits, please visit gamblinghelponline.org.au or call 1800 858 858 for confidential support.
DISCLAIMER: Online Wagering is illegal in some jurisdictions. Tennis Nerd takes no responsibility for your actions. It's your responsibility to check your local regulations before joining or betting on a sportsbook.