Tennis is one of the most popular sports among bettors from all over the world with sportsbooks increasingly offering more betting options. If you are new to betting, it can be hard to understand various markets in tennis betting.
One of the best things of tennis is its calendar, with matches taking place every day at almost every hour. This means a lot of tennis betting opportunities, but you'll need a good strategy to generate consistent returns.
On this article we'll explain in more detail how to bet on tennis and some useful tips that will increase your changes to turn a profit.
How to Bet on Tennis – Step by Step Guide
Tennis is a sport like no other with around 1 billion fans all over the world. One of the things that makes it unique is the different surfaces where it can be played, making tennis betting fascinating but also quite complex.
Knowing the playing surface is the number one factor for tennis betting since very few players can play equally in all of them. The speed of the court and bounce of the ball are very different from surface to surface, making this a crucial aspect to the outcome of a match.
There are three different surfaces where tennis can be played:
Rafael Nadal, for example, is considered the best clay-court player of all-time. Even though he also performed brilliantly throughout his career on other surfaces, his results on clay have no comparison to his record on hard court or grass.
This means that, betting on clay in a match that involves Nadal is not the same as betting on any of the other surfaces.
As you can imagine, this also happens with many other players. In fact, it's incredibly rare to find a player who performs at the same level in all surfaces, which makes it easy to understand how important this aspect is when placing your bets.
Understanding Tennis Odds
The odds determine the likelihood of a certain outcome to occur and how much money you will win if your bet is successful. Before placing any bet, you should read the odds carefully in order to determine if placing that specific tennis bet is, or not, a good option.
Each sportsbook offers odds in different formats, not only for tennis betting but also for other sports. The three most common odds format are:
Below we will explain in detail the three different formats of tennis odds and how you can calculate your potential winnings with each of them.
American Odds
As the name suggests, American odds are mostly used by Americans and can be found on any of the US sportsbooks available.
The logic on American odds is centered around winning or wagering $100, depending on if you are betting a favorite or underdog.
If you are betting a favorite: the odds will have a minus (-) sign, indicating how much you need to risk in order to win $100.
If you're betting on Medvedev to win at -150, you need to risk $150 and will win $100 if Medvedev wins the match (plus your stake of $150).
If you are betting a underdog: the odds for the underdogs have a plus (+) sign, indicating how much money you will win for every $100 wagered
If you're betting on Zverev to win at +130, you will risk $100 and win $130 if Zverev wins the match (plus your stake of $100).
Fractional Odds
If you have ever seen odds in the form of fractions, this means that those are fractional odds. These kinds of odds are very common in the UK, and you can find them available in all UK sportsbooks for your tennis betting.
One example of fractional odd is 4/5 and it's quite simple to understand. If you calculate the result of the fraction, you will get your potential profit for every $1 that you bet. In this case, the result is 0.80, which means that you will profit $0.80 for each $1 bet.
Contrary to what happens in American odds, where you have a different logic for favorite and underdogs, the fractional odds always work the same way.
It's also important to mention that besides the profit, you will also get your stake back in case your bet is successful. That said, if you are making a tennis betting of $10 on Murray to win at of 6/5, that means that you will get a profit of $12 plus your initial stake of $10 if Murray wins the match.
Decimal Odds
Decimal odds are the primary option for bettors in most of Europe and around the world. They are incredibly easy to understand and can make your tennis betting experience much easier. You will find these odds available not only in the best Europe sportsbooks, but in pretty much all bookmakers.
As the name suggests, decimal odds appear as positive numbers with decimal points. To calculate your potential payout, you simply need to multiply your stake by the decimal odds.
For example, if you are betting on Federer to win at 1.50, that means that your payout will be $1.50 for each $1 you bet. Don't forget that payout includes also your stake, which means that your profits will be $0.50.
The break-even point for decimal odds is 2.00, as these odds will double your money if your bet is successful. If you're betting on a tennis player with decimal odds below 2.00, this means that you're betting the favorite. On the other hand, odds above 2.00 indicate the underdog and your potential return will be more than your stake.
Most Common Tennis Betting Markets
There are plenty of markets available to bet on tennis matches. For that reason, it's very important to understand each of them to make the most out of your tennis betting predictions.
Below you can find the most popular tennis betting markets and how to handicap them.
Match Betting (Moneyline)
The most common bet in tennis is the match bet, also known as moneyline. On this bet you are choosing a player to win the match.
The tennis odds available will always depend on the likelihood of each player to win. Usually you have a favorite with lower odds than the underdog, but in some cases you can have very even matches with similar odds to both players.
One important thing to keep in mind is that each sportsbook has its own rules regarding retirement. For example, Bet365 voids all bets on the moneyline if the match is not completed. On the other hand, Betfair will pay normally if at least one set has been played.
We recommend that you always check the rules of each sportsbook to avoid any unpleasant surprise that might cost you money in your tennis betting.
Game Handicap (Spread)
Betting on game handicap, also known as spread betting, is a very popular strategy among experienced bettors.
This market is an excellent option for those who believe the favorite will win easily and can get better odds on the straight sets victory than on the moneyline.
On this situation, you will need for player 1 to win the match by at least a 4-game difference to win the bet. A result of 6-4 6-4, for example, is enough to win the bet, since the difference of games between the two players is 4.
On the other hand, to win the bet on player 2 the player can't lose the match by more than a 3-game difference. A defeat by 6-7 6-7, for example, will result in the bet being successful.
Before we finish this tennis betting market, we just want to mention that this market can be quite dangerous. Unlike what happens in other sports, in tennis a player can win a match with less games than his opponent.
For example, a 0-6 7-6 7-6 result is enough for a player to get the victory despite winning less games than the other player. That said, the game handicap can be a tricky market when not used correctly.
Set Betting
The set betting is also a very popular market in tennis betting. As the name suggests, you are predicting the exact result of a match in terms of sets.
There are several options available on this market. Let's see an example of a match between Djokovic and Thiem in a best of 3 match:
This market is an excellent option for those who believe the favorite will win easily and can get better odds on the straight sets victory than on the moneyline.
Over/Under Betting
As it happens in all other sports, you also have the over/under betting market in tennis. There are usually two lines available, one for the number of games and other for the number of sets in the match.
Let's see an example of how the over/under tennis betting market works for the number of sets in a match between Alcaraz and Tsitsipas:
If you think any of the two players will win the match in straight sets, you will bet the under 2.5 sets. On the other hand, if you expect the match to go the distance, then the over 2.5 sets is the bet that you will take.
While the line for the number of sets in the match is always the same, apart from the best of five set matches, the over/under line for the number of games changes according to the match.
To better understand let's look at the over/under tennis betting market for the number of games in a match between Tiafoe and Sinner:
To win the bet on the over 22.5 games, you will need for at least 23 games to take place. A result of 7-6 6-4, for example, is enough to win that bet.
Regarding the under 22.5 games, that will be a winning bet if the match ends with less than 23 games played. A result of 6-4 6-4 is a case where that bet will be successful.
Exact Score
Most sportsbooks also give the possibility to bet on the exact score of a specific set. This is a very risky market compared to the other options, but the potential returns are also much higher.
The exact score tennis betting market lists the several options for each. From 6-0 to 7-6, you can bet on any of the different results for any of the players.
Although this is not the most popular market, it can still be a great option in some situations. One of those is when a big server is playing, such as Isner. The 6″10 American wins a significant amount of his sets on tie breaks, which makes the exact score of 7-6 for him an interesting option in some matches.
Tennis Parlays
The sportsbooks also give you the option of combining different bets in just one bet. This is called a tennis parlay, also known as an accumulator. By combining different bets, you increase your odds and can also enjoy a much higher payout. However, the risk of losing your bet is also much higher since you need to get all selections correct.
This is one of the most popular tennis betting options and is easy to understand why. The possibility to win a big amount with a small investment is extremely attractive. Nevertheless, we recommend that you always make a thorough analysis and avoid many selections in one bet.
Other of our suggestions is to keep an eye for the promotions page of the best sportsbooks for tennis. Many bookmakers offer insurance promotions, which means that they will refund your tennis parlay bet if you lose by just one selection.
Tennis Live Betting
One of the most exciting things about tennis betting is the opportunity to bet during the match. This is called tennis live betting and is estimated that 80% of all bets are placed in-play, not only in tennis but across all sports.
Once a match starts, sportsbooks offer betting markets on the in-play betting section. Besides the option to bet live, you can also follow the action with a live match tracker and sometimes even livestreaming.
If you want to place a live bet, you will need to visit the tennis live betting section of the sportsbook and choose the match. Most of the markets that were available pre-live will also be available in play. However, some might be removed, and new ones added that are only available for live tennis betting.
It's also important to mention that sportsbooks often close the markets during the match. This happens when something significant is taking place such as a medical timeout.
How to Place a Tennis Bet: Step-by-Step
Placing a tennis bet is very similar to any other sport, but it can be challenging if you are starting your journey in the sports betting universe.
To help with your task, we've created a step-by-step guide on how to place a tennis bet. This includes steps that all new players must follow to start their tennis betting.
1. Choose a Sportsbook for Tennis Betting
If you don't have a betting account, it's important to always look for a reputable and trustworthy sportsbook. You should look for a site with an extensive offer of tennis betting markets and competitions.
Most sportsbooks offer betting markets for the main competitions such as Grand Slams or Masters 1000. However, you also want access to lower-level events like Challengers and ITFs since there are very good tennis betting opportunities on those.
Check also if the website is easy to navigate, both on desktop and mobile. Many sportsbooks also have a mobile app available, which makes it much easier to bet on tennis.
In case you are looking for a site to start betting, we recommend that you check our list of the best sportsbooks for tennis betting.
2. Create an Account
After you've chosen a sportsbook, the next step is to create an account. The process of creating an account is straightforward, although some of the required details might vary according to your location.
You will need to enter some of your personal information such as name, date of birth and address. Besides that, you will need to add your phone number, email and select your login details.
Most sportsbooks will send you also a verification code after you've completed the process to confirm your account.
Make sure all your details are correct because all sportsbooks will require your documentation to verify your account when making your first withdrawal. This is a legal requirement they must follow according to the regulator.
3. Choose a Payment Option to Deposit
Once you have created your account, you will need to login using the username and password you've chosen during the registration process.
The next step is to make the first deposit to start your tennis betting adventure. Most sportsbooks have the option "Deposit" on the top right corner of the screen where you can select one of the many deposit methods available.
The final step is select the amount you wish to deposit and complete the transaction. Don't forget also that many sportsbooks offer betting bonuses with the first deposit, so make sure you check if they have any offer available.
4. Place your Bets
Placing a tennis bet is quite simple and takes just a few seconds. However, it's important to make your analysis before in order to determine if the bet is, or not, a good opportunity. We recommend that you check our betting tips page where you can find several predictions and analysis.
Once you have decided what to bet, you will need to visit the tennis section of the sportsbook and look for the game where you wish to place a wager. Then select the market and click on it.
The selection will be added to your betting coupon and you will be able to add the amount you wish to bet. Complete the bet by adding the amount and clicking the "place bet" button.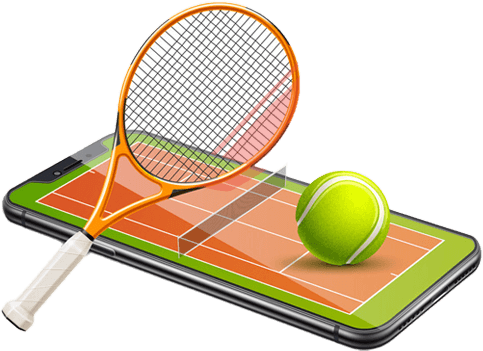 Strategies and Tips for Tennis Betting
We'll be honest, winning when betting on tennis in the long run is not easy. You will need to have a deep understanding of the sport, the players but also of how betting works.
It's important to have a good tennis betting strategy to make the most out of your tennis betting tips. Below we will list some strategies you can use to increase your chances of winning money with tennis betting online.
Betting is an Investment
Having the right mindset is key to success and the same happens with tennis betting. Before starting betting, it's important to understand that sports betting is an investment. You will invest your money and expect to get a higher return.
As in any other investment, you should only risk your money when you have made your research and believe it's a good opportunity.
A large portion of bettors forget this point and start betting randomly and end up losing all their money. That said, we recommend that you always approach betting as an investment and be very careful with your money.
Have a Good Bankroll Management
This is a continuation of the previous point but it's important to highlight how crucial a good bankroll management is. Even if you are the best sports bettor in the world, you will never be profitable if you have a bad bankroll management.
Every bettor will experience good and bad runs, that is inevitable. For that reason, it's important to bet a consistent amount and never go above a certain level to avoid losing all your bankroll.
There is no optimal bankroll management system for tennis betting, it will all depend on your profile. However, it's not recommended that you invest more than 2% of your bankroll in any bet.
We also advise that you use a flat stake betting system, which means betting always the same percentage in every bet. Below is an example to help you understand what a flat stake betting system in tennis is.
example:
Bankroll:$1000
Bet 1: $20 - Lost
Bet 2: $19.60 - Lost
Bet 3: $19.20
Above is just a small example of how important it is to adjust your stake according to your results. On this case, the two first bets were lost, which means that the total bankroll decreased and the stake should also decrease.
This doesn't mean that you need to do this calculation for every single bet, you can decide to bet 2% of your initial bankroll and re-evaluate a few bets after. However, you should always keep track of your bankroll and how much you are betting, otherwise the risk of losing all your money is exponentially higher.
Check the Best Odds Available
Sports betting is an extremely competitive market with hundreds, if not thousands, of brands operating worldwide. With each bookmaker trying to gain the edge over its competitors it's normal to find different odds for the same event.
The ultimate goal of every sports bettor is to get the best odds available before placing any tennis bet. Even if the difference seems incredibly small, we can guarantee that in the long term it will make a huge difference.
For that reason, you should always check for the best odds available before placing a bet. Having an account with several sportsbooks is always a good idea, since you will have access to different options.
If you are looking for new sportsbooks to start your tennis betting adventure, we recommend that you check our list of the best sportsbooks for tennis betting with many good options.
Place your Bets Early
The sportsbooks release the odds many hours before the start of the match, but most bettors wait until the last second to place their bet. This is not a good strategy since most of the times the good odds are long gone.
The odds are always fluctuating according to the money invested by bettors and relevant information. For that reason, you want to be one of the first to get to the market to take advantage of those amazing opportunities.
Keep in mind that sportsbooks don't release the odds at the same time. Therefore, you should look for sportsbooks that release the tennis betting odds before their competition, since those are the ones that have the highest value.
Know the Players in Detail
This may seem an obvious point, but the many bettors fail to know the players in detail. Knowing a player goes well beyond his favorite surface or playing style.
It's important to understand the player as a person, how he deals with different weather conditions and their season calendar. Some players attend events just because of the appearance fee and are not really interested. Others have their home town tournament in the upcoming week and just want to use this week's tournament as a preparation.
Since it's an individual sport, tennis betting can be incredibly challenging, but that's also what makes it so interesting.
We recommend that you try to know in detail all about the players, how they adjust to windy conditions or even if playing on altitude is something that they enjoy for example.
Following players on social media is also a great strategy since you can get useful information about it. Sometimes players have very few time to travel from one tournament to the other and sometimes they post about having difficulties on their travel, which can affect their preparation for the new event.
Research the Tournament Surface
This is another point that might seem obvious, but many seem to ignore the details. Knowing a tournament surface is quite easy and everyone has easy access to that information. However, an hard court can be built with many different materials, making the game conditions extremely different.
When betting on hard court, for example, people generally assume is a medium pace surface. Nevertheless, the speed and bounce of hard court surfaces can differ from tournament to tournament. In fact, even the court itself might be different from one year to another in the same event.
One good example is the Australian Open, a tournament that is played on hard court. From 1988 to 2007, the official surface of the first Grand Slam of the year was Rebound Ace, an extremely fast surface that suited powerful hitters and big servers.
But in 2008, the tournament changed it surface to Plexicushion, making the conditions much slower with higher bounces. Even though the tournament was the same and always on hard court, the conditions were extremely different.
Below you have two videos of a match in 2007 and another in 2008, where you can easily see the differences in game speed and bounce.
Create Your Tennis Betting Record
All professional and successful bettors have a detailed betting record of all their activity. That is the only way for you to be able to keep track of your bets and analyze your performance.
Most bettors just want to know if they are winning or losing, but that is not enough. You should create a detailed betting record with information about all your bets, which markets are you taking, surface of play, etc.
Only by having this details you will be able to determine your profitability in different areas. For example, you might realize that you are extremely profitable on hard court but struggle to breakeven on clay.
This kind of information will help you become a better bettor and increase the chances of becoming successful in tennis betting.
Don't be Afraid to Skip a Bet
This is our last tip but probably the most important one. Remember, most of the times the best bet is not to bet.
Betting just for the sake of it is a recipe for disaster. As mentioned in our previous points, sports betting is an investment and you should only risk your money when there is a good opportunity.
That said, don't be afraid to skip a bet and spend one, two or even more days without betting. The good opportunities will appear and that's when you should bet.
Betting is not a sprint, is a marathon. That is a very wise sentence that is often used by professional sports bettors, and we abide by it. You should always think long term and try to make the best investment possibles with your tennis betting.
FAQ – Frequently Asked Questions:
+21 | T&Cs Apply
Please remember that betting is speculative. When betting your capital is at risk.
If you have a gambling problem and need help, call 1-800 GAMBLER
+18 | T&Cs Apply
Gamble Responsibly! If you need help regarding your gambling habits, please visit www.begambleaware.org
+19 | T&Cs Apply
Gambling can be addictive, please play responsibly
+18 | T&Cs Apply
Gamble Responsibly! If you need help regarding your gambling habits, please visit gamblinghelponline.org.au or call 1800 858 858 for confidential support.
DISCLAIMER: Online Wagering is illegal in some jurisdictions. Tennis Nerd takes no responsibility for your actions. It's your responsibility to check your local regulations before joining or betting on a sportsbook.