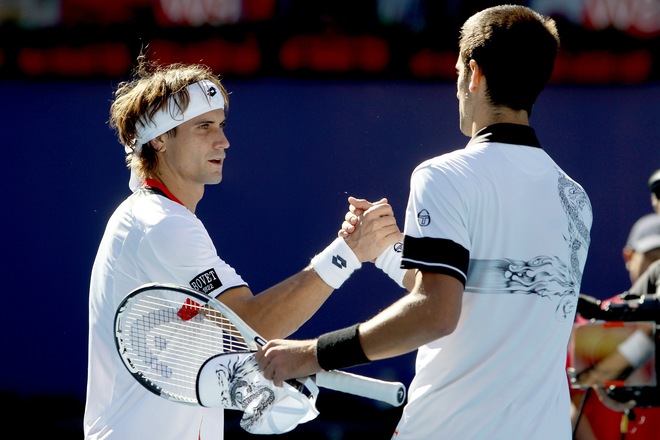 The two quarter-finals of Australian Open were fairly straight forward for both Djokovic and Murray. Well, at least Murray's 6-3 6-3 6-1 win of Kei Nishikori was. The Scot looks in spectacular form this year and with Lendl in the stands he might be inspired enough to beat a half-injured/hampered/hamstringed (??) Djokovic.
Because something was wrong with the Djoker for the first two sets in his 6-4 7-6 6-1 win over David Ferrer, he looked hampered in his movements and his head was hanging like we never saw it in 2011. He still managed to play well enough to get into a tie-break and when Ferrer led it by 4-2 the Serbian fans was worried that a set loss might spell the end of Djokovic's campaign considering how much he'd have to run to win against the Spaniard. But instead Djokovic found his dominating form, won the tie-break and went on to play really free and well in the third set.
So the Australian Open 2012 see the fantastic four gearing up for struggle. First up we have Federer vs Nadal which will likely be an intense and uncertain struggle, and then we have a rematch of last year's final – Djokovic vs Murray.
Murray has really played great tennis throughout the tournament and he has been a finalist here twice, which should prove a stern test to Djokovic, especially if the Serb is not a 100% health-wise. Still, I think the confidence that Djokovic carries on court right now is too difficult for Murray and after four sets I think we'll have Djokovic in the Australian Open final.
My guess for the final? Nadal beats Djokovic in four sets!
But then again, who really knows what's going to happen?