I am not sure if you have watched the Ultimate Tennis Showdown by now, but I really enjoy the new format and the production of the event…
The Ultimate Tennis Showdown is an exhibition event with a bunch of experimental rule changes. I wrote about it in my first posts about this summer's tennis exhibitions. You can use cards to serve twice in a row (called "stealing a serve"), your winners can count times three, you can force your opponent to only have one serve (these cards last for two points in a row) and so on. It creates an interesting gamification element to tennis that is fresh and exciting. We're all started for competitive tennis, but the format of the Ultimate Tennis Showdown is a timely test to see if we can find new ways to enjoy tennis.
The idea of the Ultimate Tennis Showdown (UTS) is to provide tennis excitement in a fast-paced format. There are four sets to be played and every set has a time limit of ten minutes. The player who has won the most points after ten minutes wins the set. If they are two sets all after four sets, they will play "sudden death". As you can hear, it is all pretty fast-paced and that is the idea.
UTS 2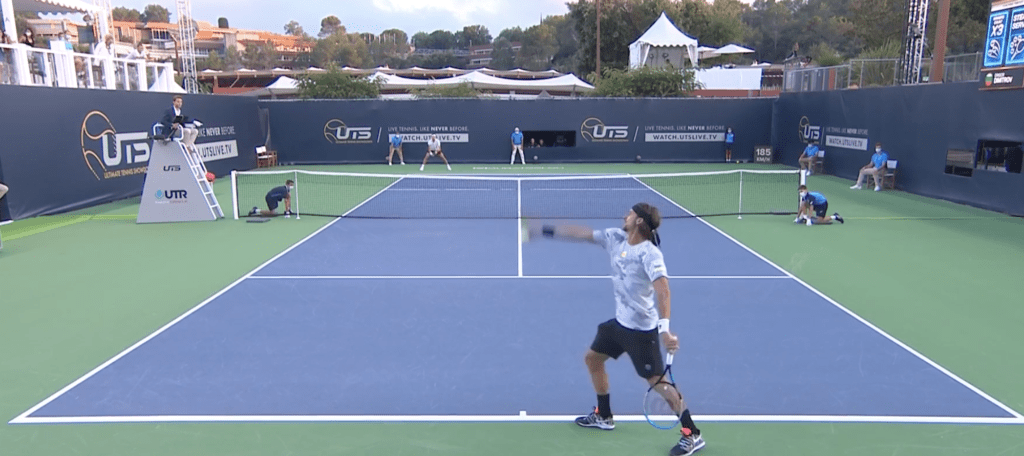 UTS 2 is the follow-up to the first part. There have been some changes to the format, they have introduced a Women's competition and they offer (perhaps for a limited time) the possibility to watch the Ultimate Tennis Showdown for free here. I watched UTS 1 on Eurosport and highlights on YouTube, but the only way to watch the night matches live was to subscribe to the service. The cost is €9.99 per month, but since it's hard to say where this tournament will go in these "early days", it seems like a slightly strange payment model.
I know it's a quite drastic way to try to innovate tennis and I can understand people who can get on board with the scoring system or the fast-paced action, but if there is a time to see if tennis can reinvent itself, it is now. And although this will probably never replace the standard tennis format, it adds another layer to the sport that could bring another type of audience to traditional tennis.
I definitely think it's worth a watch. UTS 2 consists of players like Gasquet, Popyrin, Dimitrov, Lopez, Paire, Verdasco, Mahut, Moutet, Zverev, Auger-Aliassme and Brown on the men's side. In the women's tournament, there are four players: Anastasia Pavlyuchenkova, Alizé Cornet, Ons Jabeur, and 13-year-old Brenda Fruhvirtova. They will jump right into the Final Four on August 1-2, while the men will go through group stages.
Have you watched UTS? What are your thoughts?