We knew that they were going to be upsets when the ATP Tour resumed. But not quite as bad as the Thiem shock loss to Krajinovic.
The question is: was Thiem fully fit? Krajinovic is a very good player, but it's hard to see Thiem lose 6-2 6-1 in full health.  Thiem did throw in some uncharacteristic serve and volleys and did look a bit tired in general. But I haven't seen any reports claiming that he felt an injury or that he was sick. Maybe the 28 exhibition matches he played before the event had tired him out? No one plays more than Thiem and it's not always a good thing.
Novak Djokovic also struggled on the tennis court yesterday. But he got through Ricardas Berankis in the end 7-6 6-4. Djokovic has some issues with a stiff neck and received treatment three times during the match and seemed also to struggle a bit with his serve (7 double faults). Still, he will likely improve as the tournament progresses.
All About Andy
Talking about double faults, that was exactly how Zverev handled the situation of trying to serve out the match at 5-4 in the third set of his match against Andy Murray. He double-faulted on break point and Andy won two consecutive games and the match 6-3 3-6 7-5. It's fun to see Andy back and despite there being no crowd to wave to, he seems to be enjoying it too. He will play an in-form Milos Raonic in the next round.
I am not sure what to think of Zverev's performance. As far as I have heard, he is trying to change his forehand to hit more through the court. And he did some nice winners on that wing, but the serve is still an issue. The same shot that helped him win the Tour finals in 2018 has become a liability. His new-found partnership with Ferrer, might not be there to focus on his serve, but rather some mental yips that seem to transition over to his serve.
Western and Southern Open Round of 32 Results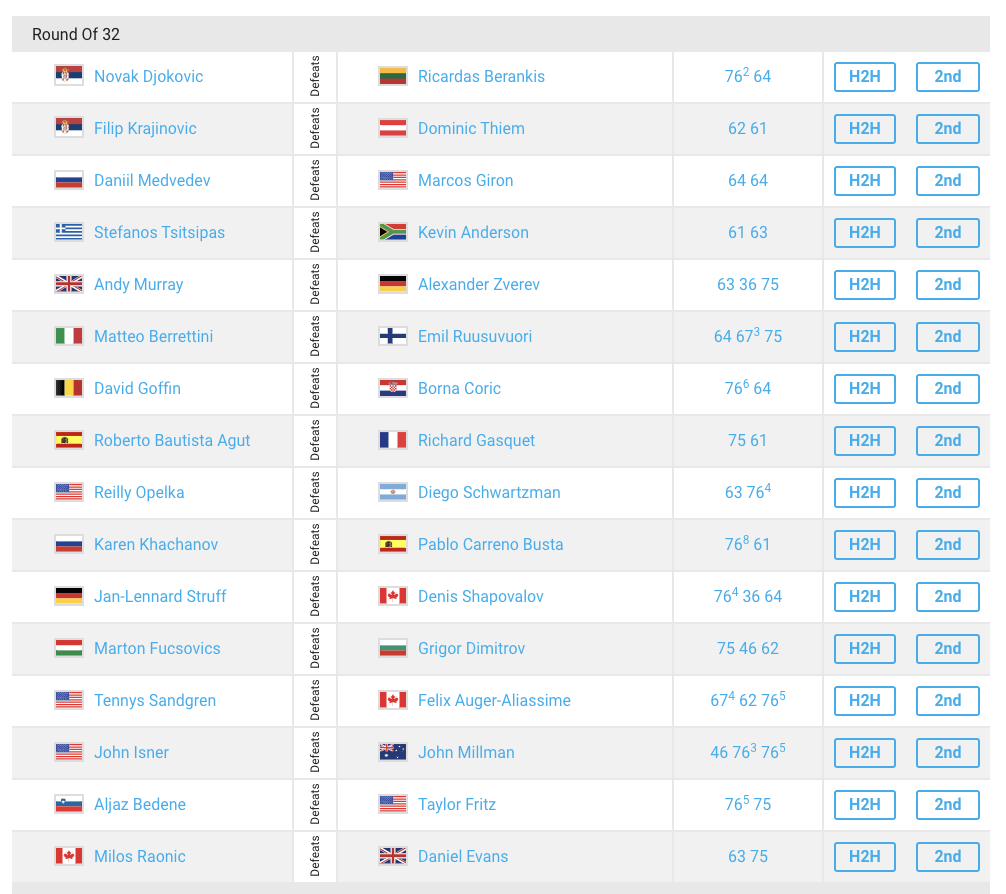 You find can the draw table here.
Western and Southern Open Round of 16
Djokovic vs Sandgren
Struff vs Goffin
Medvedev vs Bedene
Khachanov vs Bautista-Agut
Berrettini vs Opelka
Isner vs Tsitsipas
Murray vs Raonic
Fucsovics vs Krajinovic