The US Open 2020 Draw is out. Is it time for another Djokovic title or can we get a new Grand Slam winner?
We're at the semi-final stage at the Western and Southern Open 2020. Djokovic is playing Bautista-Agut (who has beaten him in the past) and Tsitsipas is playing Raonic. My prediction for the final is Djokovic beating Raonic (Raonic has never beaten the Djoker). This should give Djokovic plenty of momentum and confidence going into the US Open. And the US Open 2020 Draw is not particularly rough to him either. Let's have a look.
You can see the full draw on the ATP website.
US Open Draw 2020 – Round of 128 – First Quarter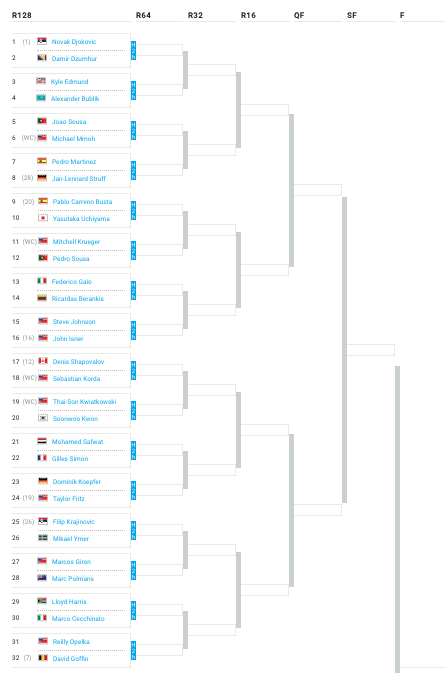 From Djokovic's quarter of the draw, it's hard to see who is going to challenge him. I can't think of one player, to be honest. Perhaps a big server like Opelka or Isner if they are on and Djokovic is not. Maybe Shapovalov, if he is on fire and Djokovic, has a stiff neck. Beating the Djoker on a hard court is a tall order at the best of times. You need some luck for sure.
Round of 128 – 3nd Quarter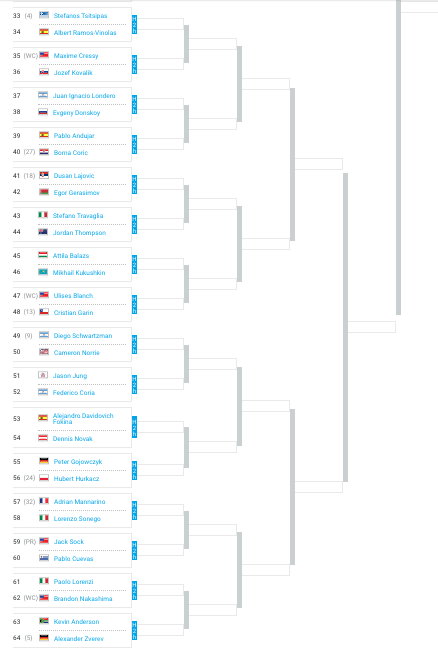 The second quarter looks like it will have Zverev and Tsitsipas squaring up, but Zverev has a huge challenge in Anderson in the first round. I'm also about younger players like Ulises Blanch, Brandon Nakashima and Alejandro Davidovich Fokina (who has been practicing with Djokovic in Marbella before entering the "Bubble"). Also, Jack Sock is back! Will he be miserable on the singles court and happy with being on a team in doubles like before the lockdown? Or will he be ready to fight mano-o-mano?
Round of 128 – 3nd Quarter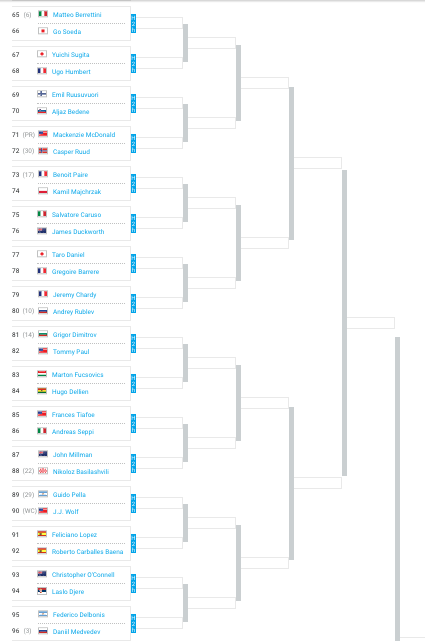 Matteo Berrettini has a heavy game that is ready for the big stages. I think he will be interesting to watch here. The same with Rublev. But what about Medvedev? He did so well last year, but the absence of crowds will perhaps make a difference for him. He is one of the players that can challenge Djokovic, so I think it's good for the tournament if he can go through this part of the draw.
Round of 128 – 4th Quarter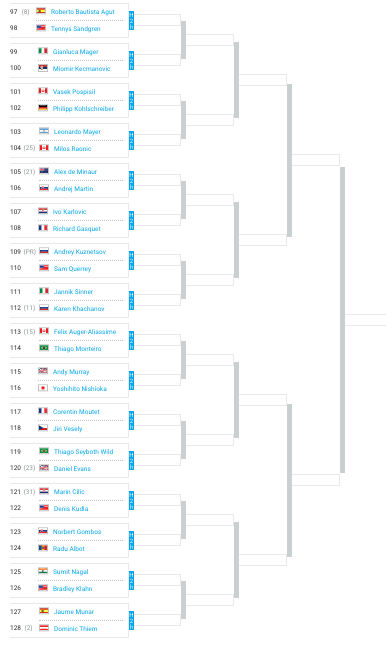 The fourth quarter is perhaps the toughest one with strong names like Thiem, Murray, Cilic, Raonic, Khachanov, Auger-Aliassime, and Bautista-Agut. This is tough to predict, especially since Thiem looked pretty rough in the Western and Southern Open. But as far as I understand, the US Open will be played on the bigger, slower courts so we will if this suits him better. He has a tough first round against Nadal academy player Jaume Munar.
How far can Murray go? I think pretty far. He played well last week and likely sees this as a possible change to get another slam title under his belt.
What do you think about the US Open 2020 Draw? Please comment below.