There were four players on cruise control on day 7 of Wimbledon 2021. It was Berrettini, Shapovalov, Djokovic and Federer.
The other players had a long day with some impressive battles. Berrettini took the air out of Ivashka's sails with a 6-4 6-3 6-1 win. Shapovalov was as good as he was against Murray in an impressive straight-sets win 6-1 6-3 7-5 against Bautista Agut. Djokovic did what we all predicted and defeated Garin 6-2 6-6-4 6-2 and Federer looked comfortable against Sonego 7-5 6-4 6-2.
The other matches were not as straightforward. I predicted Korda to win in five against Khachanov and he was a break up in the fifth, but Khachanov came back in a set that saw 13 service breaks! 3-6 6-4 6-3 5-7 10-8 to Khachanov in the end.
Fucsovics tricked us all. With his four straight losses against Rublev, I didn't expect him to have much of a chance against the hard-hitting Russian, but he fought hard and won in five: 6-3 4-6 4-6 6-0 6-3 to Fucsovics.
What could be a career-changing win was Felix Auger-Aliassime's impressive victory of Zverev: 6-4 7-6 3-6 3-6 6-4. I was really surprised how Felix found the mental strength to get back to business in the fifth set after losing set three and four. Maybe this will unlock a confidence boost that will help him realize his potential? It was for sure the win of his career so far.
One match didn't finish (due to rain) and that was Medvedev vs Hurkacz that will be played tomorrow. Medvedev leads 6-2 6-7 6-3 3-4 and remains the favorite to reach the quarter-finals where he will likely face Federer.
Men's Quarter-Finals of Wimbledon 2021
Below you have the quarter-finals of Wimbledon 2021 with one match remaining – will Hurkacz or Medvedev play Federer? We have some fantastic match-ups on our hands. I will make a more detailed video, but here are my initial predictions.
Djokovic d Fucsovics – This will be Novak's toughest match and he might drop a set, but that's all.
Khachanov vs Shapovalov – Shapo plays like he is on a mission and I think he is hard to beat in this form.
Berrettini vs Auger-Aliassime – Like Shapovalov, Berrettini has been extremely impressive and I think Auger-Aliassime has expended more energy. Berrettini wins.
Federer vs Medvedev (my guess) – I think Medvedev will be a bit too tough for Roger, but it will be a hard-fought match.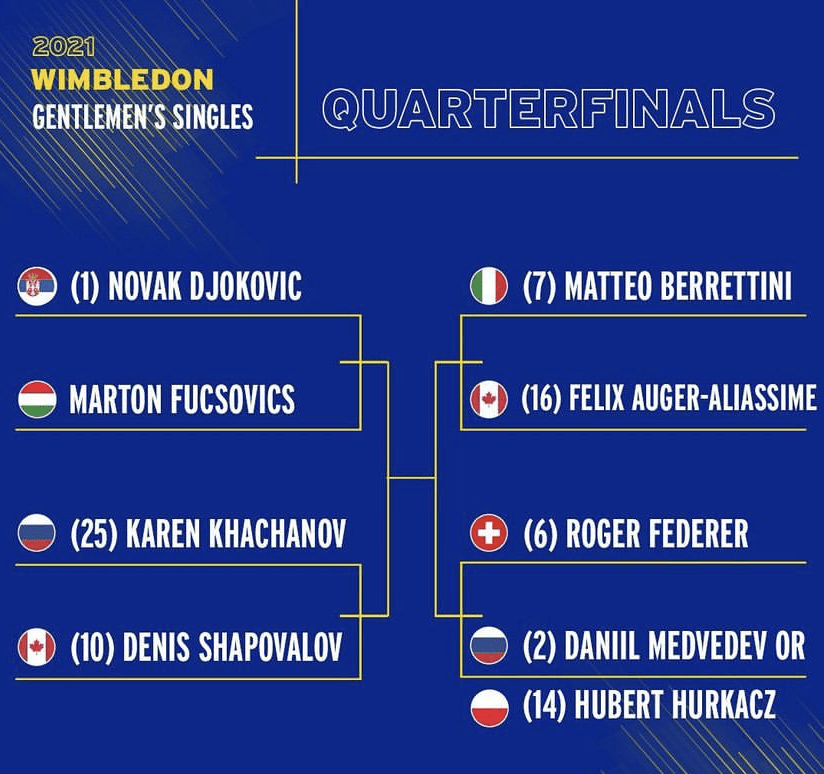 Women's Quarter-Finals Wimbledon 2021
I think the tournament's two most impressive players so far face off in the quarter-finals: Jabeur vs Sabalenka. Finesse vs Power. I think Jabeur will outsmart Sabalenka here.
Barty vs Tomljanovic – Aussie encounter! Tomjlanovic has been playing well, but I think Barty is a number too big.
Muchova vs Kerber – Kerber is back in biz! She has won Wimbledon before and I think she can make it two. Kerber.
Pliskova vs Golubic – Pliskova is not known for playing well in slams, but this time she is hitting all the right notes. My prediction says Pliskova.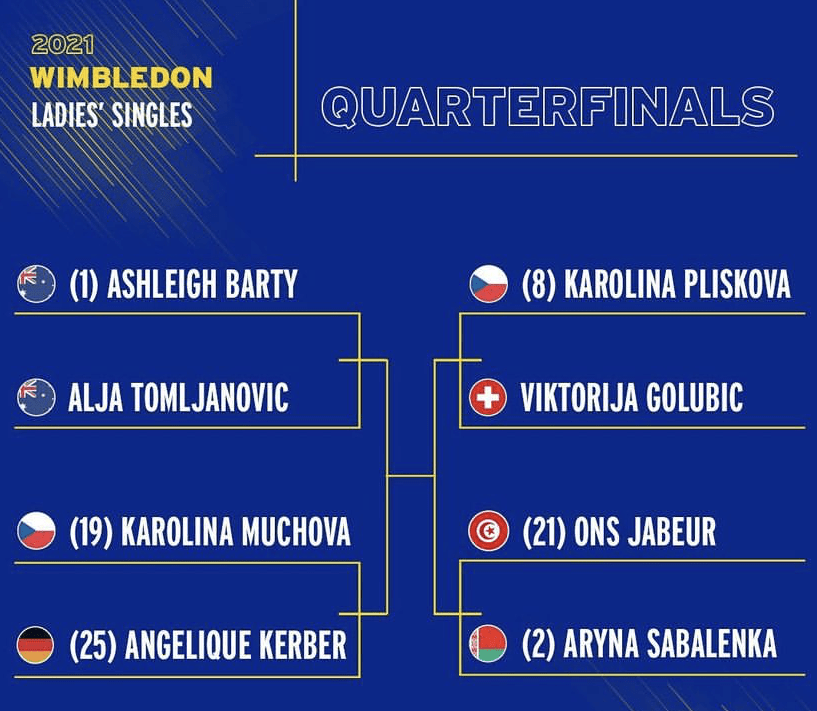 More detailed analysis to come in tomorrow's vlog!