Early this morning I published my Wimbledon Semi-Final Predictions 2021. Some exciting matches to look forward to.
I didn't go for any shocking updates for my Wimbledon Semi-Final Predictions 2021. They are all pretty straightforward. The one I am not feeling too sure about is the match between Hurkacz and Berrettini, but I have picked Berrettini for the finals all along so I will stick to that although Hurkacz looks good.
If you prefer watching/listening over reading, please check out my daily vlog below.
Let's start with the women's semi-finals.
Wimbledon Semi-Final Predictions 2021 Men's tournament
For the women's semi-final predictions, check this post.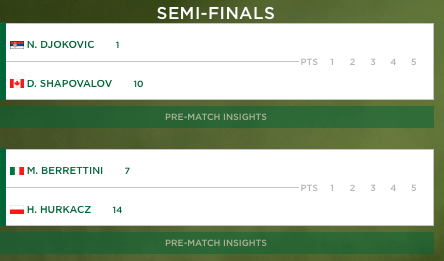 Shapovalov vs Djokovic – Djokovic is definitely a level above the rest, so I can't really see anyone beating him at this point. Shapovalov plays aggressive tennis where he goes for broke and if he has a good day, he can perhaps take a set, but not more than that in my opinion. Djokovic is like a steam train moving along steadily to his 20th grand slam title.
Berrettini vs Hurkacz – Berrettini was my favorite for the finals ahead of the tournament and he has pretty much been fulfilling the hype around him after winning Queens in dominating fashion. Hurkacz, on the other hand, has been spectacular throughout and beating Federer in straight sets must have filled him with even more confidence. Still, Berrettini has the firepower and the mental fortitude to ride this one out – but it might go five sets. So I will predict Berrettini in five. But I am not surprised if Hurkacz wins.
Who do you pick for the finals and do you think any player has the game this tournament to threaten Djokovic? And if Djokovic wins, can we then put the GOAT debate to rest and acknowledge Djokovic as the best tennis player so far? I think it looks more and more likely that this is the case.