Our pickleball expert, Rush Walters, is back with a pickleball paddle review, this time dealing with the Diadem Warrior Edge.
Pickleball Paddle Review: Diadem Warrior Edge
You can purchase the pickleball paddle Diadem Warrior Edge from our partner, Total Pickleball.
Specifications
Head Dimensions (Length x Width): 16.4 x 7.5 in.
Paddle Thickness: 16 mm.
Grip Length: 5 in.
Standard Weight: 8.0 oz
Paddle Material: Polypropylene Honeycomb
Notable Features: Etched Carbon Fiber Surface, Aero Edge Guard
I did not think much of it when I first picked this paddle from my pile of paddles to review. I thought maybe it was one of those simple recreational paddles no one had heard of, and boy was I wrong. Before taking the paddle out for a spin, I looked it up to see what I was working with. I saw that it cost around $175, then I realized this isn't just some run-of-the-mill paddle; this is a Warrior, the Warrior Edge specifically.
When it comes to the strong characteristics of the paddle, I want to start by recognizing its ability to spin the ball. I have yet to play with a paddle that can produce a better/similar amount of spin compared to Joola's Vision CFS 14, but the Warrior Edge gave the Vision CFS 14 a run for its money. Both paddles boast a carbon-hitting surface.
Control Control Control
The Warrior Edge seems like Diadem took a power-focused frame and then combined it with a spin-focused hitting surface and control-focused core. The combination of features results in a paddle that delivers great soft touch, control, and spin, with a large sweet spot that gives an ample amount of power for an overall control-focused paddle. That's a mouthful, it is self-evident that Diadem took great attention to detail in the design of its Warrior Edge.
The Warrior Edge quickly scored a 5/5 in spin, soft touch, control, and dinks. Along with its sizeable etched carbon fiber surface, the paddle also boasts a thick 16mm frame. The thicker the frame, the better soft touch it provides. I enjoyed using this paddle in the kitchen because it has the ultimate soft touch, spin, and even enough pop, delivering power due to its core and sizeable hitting surface. Win, Win, Win!
The only downside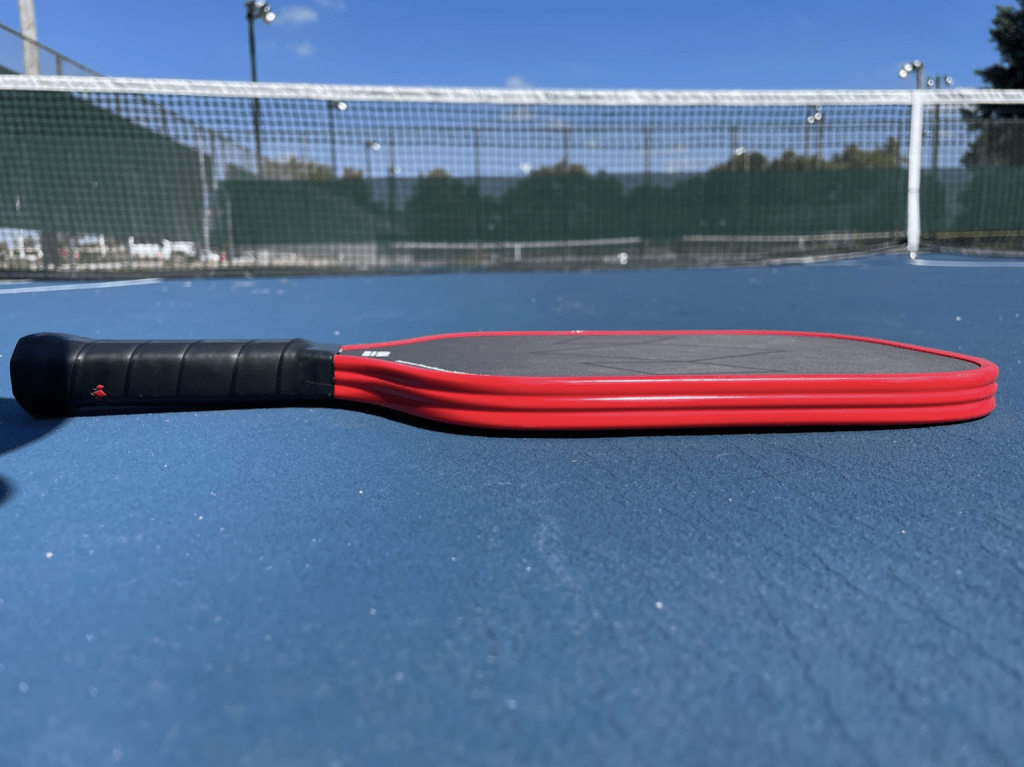 The only downside that I have to be honest about when it comes to kitchen-play is its maneuverability. According to Diadem.com, "the Edge is incredibly maneuverable, allowing for quick resets and recoveries." They also designed the paddle with an Aero channel guard, making it more movable because it is the larger paddle, but I have played with faster paddles. I do not 100% agree with Diadem's statement from above because it is a big paddle, 8.0oz and 16.4 x 7.5 on the hitting surface. That being said, for the paddle being as big as it is, it is reasonably maneuverable. Still, I have played with paddles that are significantly faster to move in the kitchen, such as Stiga's Aviox Carbon Nomex paddle. You can see my review of Stiga's paddle here.
The paddle also received a 4/5 on power and deep shots because it is not a "power paddle." It is a control-focused paddle with a significant amount of spin. Under the deep shots category, it also scored a 4/5 due to its lack of power in this area. I was certainly surprised and happy with the amount of power it offered, but it was not built as a power paddle. I had to put a little physical power behind my swings from the baseline, but I was ok with that because I had great control in placing my shots. The control came in handy when attempting 3rd shot drops and aiming my serves.
Performance
Time Tested:__3.5+hrs____
Date(s) Tested:__9/14 & 9/25___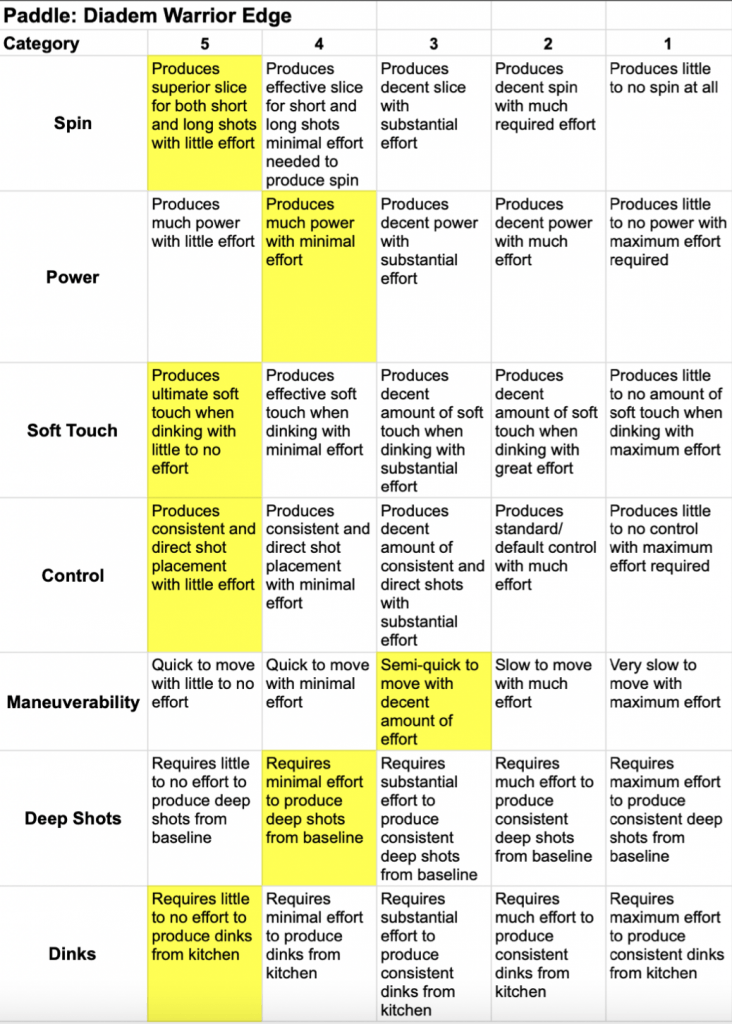 Final Grade: 31/35 88% B
Grading Scale:
A 100-90%
B 89-80%
C 79-70%
D 69-50%
F 49-0%
Conclusion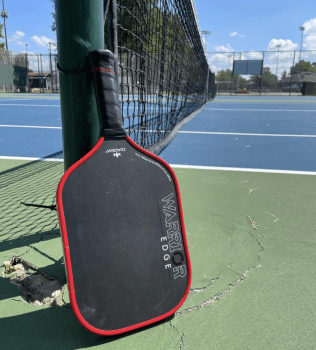 Overall, I would add this paddle to my lineup. As I have mentioned in my previous reviews, I strive to play with control over power style. This paddle is most definitely tailored to my playing style, but I do admit I had to get used to its thick 16mm core. I would recommend this for upper intermediate to advanced players because although it scored a 5/5 on many categories, you, as the player, need to know how to use these features in your swings and game-play strategy. Hands down, though, I loved using it near the kitchen.