Rush Walters is back with another pickelball paddle review, this time of the interesting Joola Method CTS 12 paddle.
Joola Method CTS 12 Review
The Joola Method CTS 12 can be bought from our partners at Total Pickelball. Click the link if you want to check out our other pickleball paddle reviews.
Specifications
Head Dimensions (Length x Width): 15.8 x 8.4 in.
Paddle Thickness: 12 mm.
Grip Length: 5.5 in.
Standard Weight: 8.2 oz.
Paddle Material: Response Honeycomb Polymer Core
Notable Features: Carbon Touch Surface (CTS)
The majority of my pickleball paddle review so far have been over Joola's paddles. When I first picked up the Joola Method 12 CTS, I thought "it must be different from the other Joola paddles due to its color." Then after getting home from playing a good amount of matches, and realizing that I already completed a review over a Joola Method I thought "crap I already did this one." I quickly realized I was wrong. Yes I completed a Joola Method review, but it was over the Method CGS 14. The CGS 14 & CTS 12 are fairly similar, but have some noticeable differences. Obviously the look of the paddle is the first thing a player would notice, but I am here to review its performance, not just its looks. I will admit I do like the white honeycomb look it has on its face though; fancy.
So here is the big question that this review really boils down to: what is the difference between the Method CGS 14 and CTS 12?
What is the difference between Joola Method CGS 14 and CTS 12?
Let's start with the name. CGS stands for Carbon Grip Surface and the CTS stands for Carbon Touch Surface. Two words: Grip and Touch. The CGS gives you more spin whereas the CTS gives you more control. Next step, 14 & 12, as I am sure most of you realize, these numbers stand for the paddles' thickness. Ideally the thicker the paddle, the more power absorption it can take and, therefore the more control it gives you. The thinner the paddle gives you more power or "pop" as some might say behind your hits.
A quality that both of the paddles shares is their surface size. Both of them have a 15.8 x 8.5-inch head, which contributes to their large sweet spot. A larger sweet spot gives players more forgiveness if their swings are slightly off.
Back to the paddles' hitting surface for a moment, this paddle made me take a second glance and its ability to spin. Although it has a carbon surface, it is not nearly as gritty as its brother, the Method CGS 14. That said, I was puzzled because I could still produce a fair amount of topspin on my serves. Then I took it to the kitchen and quickly realized that it's CTS was perfect for dinks. The paddle received an easy 5/5 score on dinks, soft touch, and control mostly due to it's CTS. Man, I could easily strategically place the ball with this paddle. I was always in control of ball placement and this paddle delivered.
How does it play?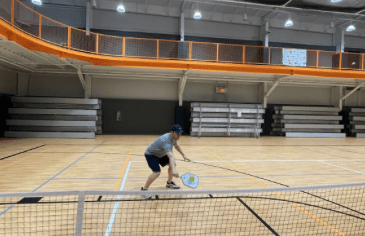 The paddle's ability to produce spin, power, and successful deep shots followed closely behind with scoring 4/5. I had a hard time grading the paddle's ability to spin. I could not decide between 5 or 4, I ultimately went with 4 because I have played with other better spin-producing paddles and realized that the spin I was able to produce was from the CTS. The grit on the paddle's surface was designed for having ample control and soft touch for dinks near the kitchen. The paddle was built with soft touch and control in mind, but from these qualities I was able to get a fair amount of spin from it too.
As for power and deep shots, the paddles' large sweet spot and 12mm thickness contributed to its "pop" of power. From the baseline I had to put a little force behind my hits but not much. Again though, the paddle was built for control and soft touch, so I was impressed with its power even though it isn't a power-focused paddle.
Only one feature scored the lowest, its maneuverability at 3/5. The Method CGS 14 scored the same in this area because of the paddles' larger head. The head makes it slower to move in the kitchen and recover to a ready position.
Performance
Time Tested:__2 hours & 45 minutes____
Date(s) Tested:__01/23/23__

Final Grade: 30/35 85% B
Grading Scale:
A 100-90%
B 89-80%
C 79-70%
D 69-50%
F 49-0%
Conclusion
To sum up this review, it seems that Joola gave a paddle a thin core, coming in at 12mm for "pop" for power, but focused it's head and face for control and soft touch. I must say it is an interesting and smart combination of features especially those who enjoy control near the kitchen. The paddle is not power focused, nor is it spin focused, but yet it still produced these features decently. Decently enough to be beneficial along with its purpose of being a control/soft-touch focused paddle.
I would recommend this paddle for one who likes the slow game. Who focuses on strategic ball placement and slowing down the game. I see some players go hard at the first chance they get, but there is something to say about playing smart over power; as they say, slow and steady wins the race.
The Joola Method CTS 12 and other pickleball paddles and products, can be bought from our partners at Total Pickelball.