Our pickleball expert, Rush Walters, is back with another pickleball paddle review. This time he reviews the Joola Method.
Pickleball Paddle Review – Joola Method
The one pickleball paddle brand I have reviewed the most on Tennisnerd has been Joola. The Joola Vision CFS 14 was my first official paddle. Well, I supposed I technically owned two Niupipo paddles, but I just consider those as ultra-beginner paddles. My wife bought me a pack of two Niupipo paddles for Christmas one year, and I can remember thinking, "I'll just start with these. If I get more serious about the sport, I'll invest in a more advanced paddle." Coming from tennis, I already had a racquet sports background. Therefore I picked up pickleball reasonably quickly, and it wasn't too long until I made my first big paddle purchase, the Joola Vision CFS 14.
You can purchase the Joola Method pickleball paddle from Total Pickleball.
Specifications
Head Dimensions (Length x Width): 15.8 x 8.4 in.

Paddle Thickness: 14 mm. 

Grip Length: 5.5 in.

Standard Weight: 7.8 oz

Paddle Material: Response Polymer Honeycomb Core 

Notable Features: Carbon Grip Fiberglass Surface
Getting back to the Joola Method, starting out, the first significant noticeable feature that this paddle displayed was its large head. The larger the head of the paddle, the larger the sweet spot it provides. I was also impressed by the amount of spin I was able to produce with this paddle, so much so that I would lean towards it having a higher ability to produce spin and control compared to power. Don't get me wrong, the paddle does produce power, but it seems as if Joola took the design of a spin/control-focused paddle and just gave it a large sweet spot in order to increase its power and shot-forgiveness; an exciting combination to say the least. I love Joola's extra grippy carbon fiber surface, it feels like sandpaper and truly grips the ball.
How does it perform?


The Method scored 5/5 on both control and spin. When compared to its brother, the Joola Vision, I'd argue that the vision had a better amount of strength when it came to spin and control because it was specifically built for those features. Nonetheless, the Method still earned a 5/5 in these areas because it strongly delivered.
Not far behind was its ability to produce power. The paddle is powerful, but it was not built with power in mind. I have played with stronger power-focused paddles. The method scored 4/5 on power, as well as almost everything else: soft touch, deep shots, and dinks. The paddle's large head compensated a lot in these areas because the larger sweet spot gives players forgiveness in these areas and increases the ability to perform stronger drives from the baseline for deep shots, ample area for a soft touch in the kitchen, and nice pops for dinks near the kitchen as well.  
The paddle received a middle-of-the-road score on maneuverability, 3/5. The score truly comes down to the size of the paddle's head, it is big. Undoubtedly, I could still get around, but moving the paddle from side to side was more work compared to paddles with a smaller width.
Performance Rubric
Time Tested:__4+ hours____
Date(s) Tested:__10/3 & 10/25___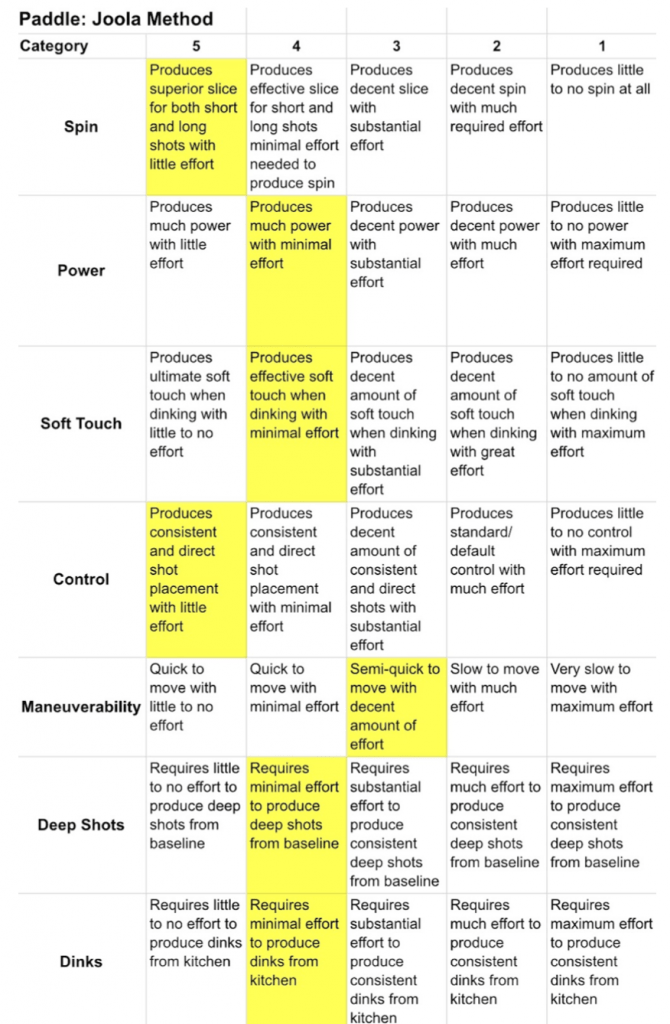 Final Grade: 26/35 74% C
Grading Scale:
A 100-90%

B 89-80%

C 79-70%

D 69-50%

F 49-0% 
Conclusion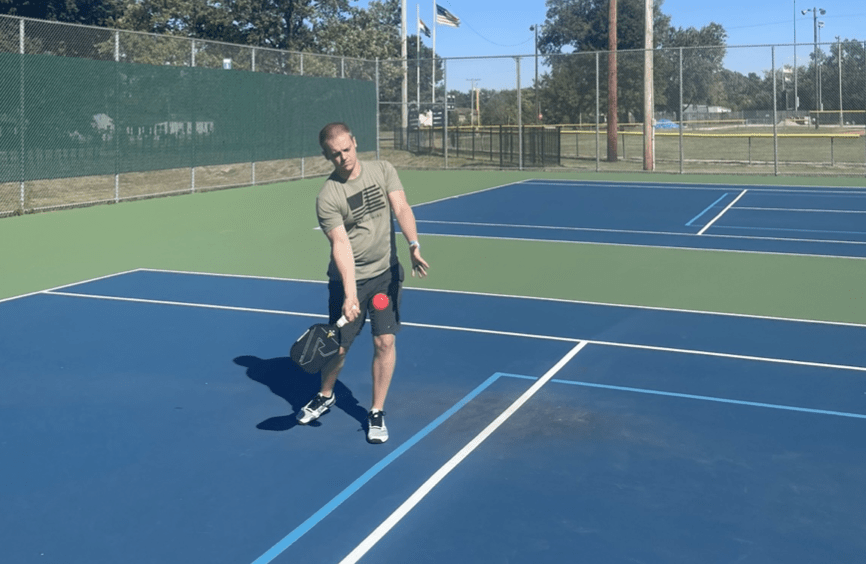 Overall, I would prefer to play with Joola's Vision, but the Method's larger head was a nice touch. As I said earlier, this paddle had an interesting combination of features. The paddle's carbon fiber grip surface truly adds to its ability to produce spin and control. Adding the larger sweet spot essentially amplified its power, dinks, deep shots, and soft touch. While I'd choose the Vision over the Method, I would definitely pick up this paddle again for a match or two.