Our pickleball player, Rush Walters, is back with a pickleball paddle review of the Joola Solaire FAS 13. An interesting paddle!
Pickleball paddle review: Joola Solaire FAS 13
Check out the Joola Solaire FAS 13 at our affiliate partner Total Pickleball.
Specifications
Head Dimensions (Length x Width): 16 in. x 8 in.
Paddle Thickness: 13 mm.
Grip Length: 5.5 in.
Standard Weight: 8.2 oz
Paddle Material: Response Polymer Honeycomb
Notable Features: Fiberglass Abrasion Surface
How does it play?
Firstly, I tested this paddle with multiple singles matches against my dad. He is a beginner. Therefore I could push the limits without worrying about losing too many points ?. If I lost to my dad, I would never hear the end of it.
Secondly, in terms of performance, the Joola Solaire FAS 13 is relatively similar to the Joola Solaire CFS 14. The big difference between the two is the surface of the paddles. As abbreviated in the paddles' title, one has a FAS Fiberglass Abrasion Surface and the other has a CFS Carbon Fiber Surface.
I like carbon surfaces because they grip the ball better when it comes to spin and control. I like that the FAS surface gives a player spin without sacrificing too much power, whereas the CFS sacrifices power to give you more control and spin. It is as if Joola took the Solaire CFS and gave it a wider surface, thinner head, and a mind a little bit slicker surface. Nonetheless, I could still produce a decent amount of spin and control with the paddle without sacrificing too much power.
A forgiving paddle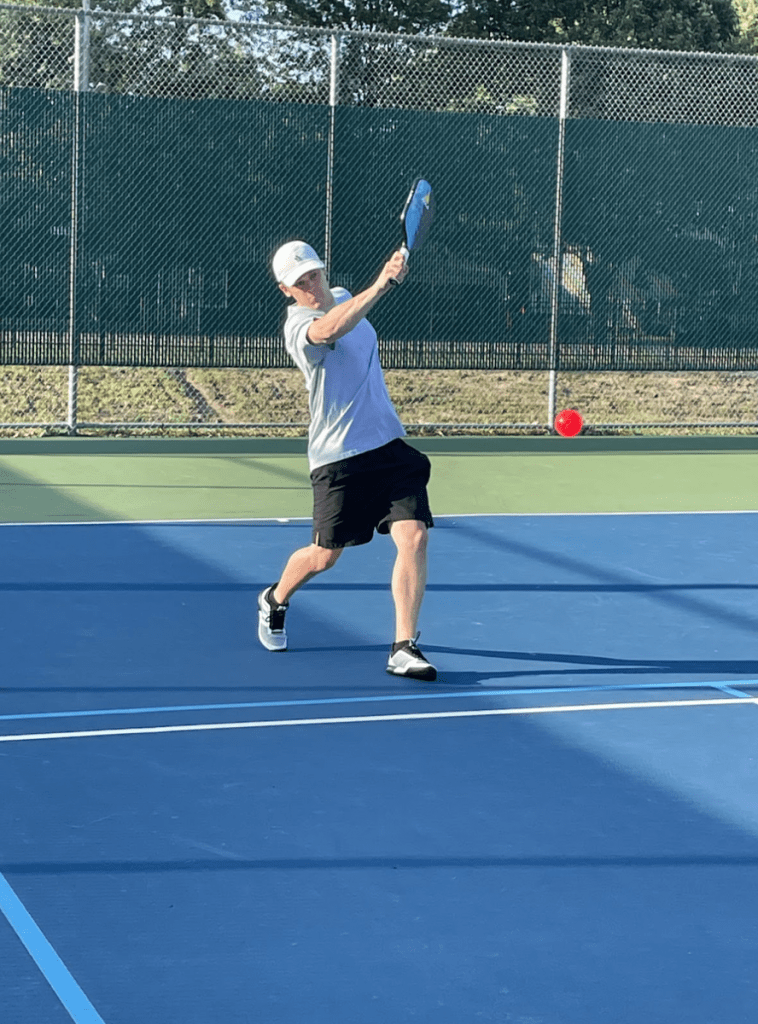 As with most paddles and tennis racquets, the larger the head, the bigger the sweet spot, therefore this paddle is more forgiving than small head paddles. Although I played with Joolas that produce more spin, I still gave this paddle 5/5 for spin because it was designed with spin in mind; its Fiberglass surface delivered.
Both power and control scored 4/5, but I'd argue that control is more prevalent. I gave them the same score because they were reasonably close in measure. Due to the head being big, maneuverability scored the lowest. You could only move decently quick, nothing surprising. Soft touch was also low because although it has a grippy surface, the surface is meant for spin rather than touch. I had to put a decent amount of effort to get the ball over on my dinks. If I tried to do a drop shot, the ball fell short. Having a softer touch would have increased my potential for drop-shot dinks. Deep shots proved to be reasonably strong. I attribute this to the paddle's power and big sweet spot. The 13mm head thickness also contributed to my control at the baseline.
Performance
Time Tested:__5+hrs_
Date(s) Tested:___7/6, 7/8, 7/13/22__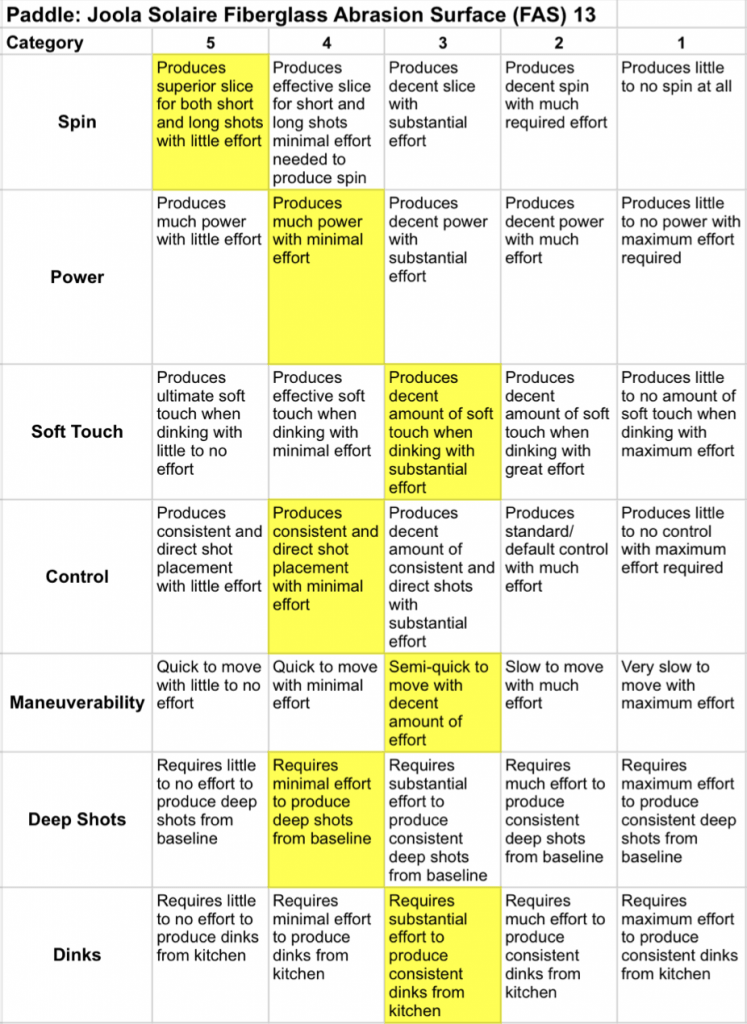 Final Grade: 26/35 74% C
Grading Scale:
A 100-90%
B 89-80%
C 79-70%
D 69-50%
F 49-0%
Conclusion
Overall, the paddle is very well-rounded. The paddle does lean towards spin and control, but it still produces a decent amount of power; therefore, it is very well-rounded. The paddle has all the aspects of a good paddle. According to the rubric, it could improve in certain areas, but it still provides the player with a small range of viable performance. I would recommend this for the intermediate to advanced players.
Check out the Joola Solaire FAS 13 or other paddles and pickleball gear at our affiliate partner Total Pickleball.