Aryna Sabalenka won the Madrid Masters after only dropping a set during the entire tournament. But what is Sabalenka's racquet?
Sabalenka is a force in the women's game. When she is on and her shots are firing, there is seemingly no stopping her. That's how it was in Madrid, where she blazed through the draw to land in a final against world number one, Ash Barty (click the link to find out about Ash Barty's racquet). She had lost to Barty in Stuttgart and was hungry for revenge. And what a revenge she got! In the first set of the match, she was completely unplayable, hitting only one unforced error, loads of winners and serving Barty the first bagel in four years. It impressed most tennis nerds enough to ask: what is Sabalenka's racquet? 🙂
Sabalenka's racquet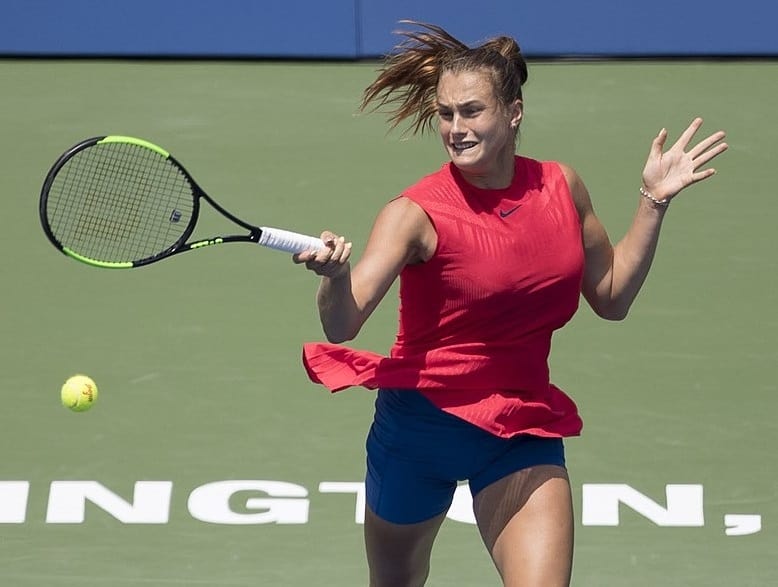 Figuring out pro-player racquets is quite difficult unless you manage to buy them somewhere or there is a stringer or customizer who has worked on the players' racquets and is willing to share. In Sabalenka's case, I don't know the specs nor the tension. I do know that she is using a relatively small head size in the women's game, where most players use a 100 sq inch tweener-style frame.
Sabalenka endorses the Wilson Blade 98 V7 18×20 but uses a Wilson Blade pro stock (thanks to Bogdan for correcting me), which means that it's likely an older version of the Blade painted to look like the latest one. It's difficult to know which one, but there are pictures of her using the Blade 2013 many years back, so it could be that one.
Sabalenka uses the 18×20 version and she has it strung with Luxilon Big Banger Alu Power 1.25.
Since she can produce so much power herself, she needs the kind of control that this setup brings.
You can check out Sabalenka's current gear page at Tennis Warehouse, Tennis Warehouse Europe or Tennis Only (AUS).
Or check out the Blade Pro and other Wilson Pro Labs racquets at Wilson.com (any purchase through my links will send a small commission to Tennisnerd at no cost to you).
How far can Sabalenka go?
This is what her coach Dimitry Tursunov (remember his blog? That was great!) said about Sabalenka in 2018:
"She could be that person that changes the game the way Serena changed the game, or the way Monica Seles changed the game, or the way Steffi Graf changed the game," Tursunov said in 2018. "She's bringing a lot more physicality, a lot more power, but also controlled power. There's a lot of girls who can hit hard but, generally, they tend to not move well or they're just kind of one-dimensional."
This quote comes from the WTA Insider.
"Now working with coach Anton Dubrov and fitness coach Jason Stacy, Sabalenka has discovered a way to play her blistering power game consistently. Since the tour restarted after the pandemic break last summer, Sabalenka has won four titles and made her first Slam quarterfinal in three years, narrowly losing in three sets to Serena Williams at the Australian Open."
Sabalenka is ranked 4th in the world but has never gone beyond the 4th round at a Grand Slam. Is it time to make the change at the French Open? There is no doubt that she is putting the pieces together and she has the game and firepower to win a slam title in my opinion.