I've been watching the Next Gen Finals in Milan and I've been impressed with Argentinian 20-year-old Sebastian Baez and his game.
Sebastian Baez stands out on the ATP Tour. How so? Well, he is 1.70m or 5'7′, which is the same height as Diego Schwartzman and Yoshito Nishioka, two of the shortest players on the tour. This is counter to the trend that top tennis players are getting taller. Just look at the current top 10.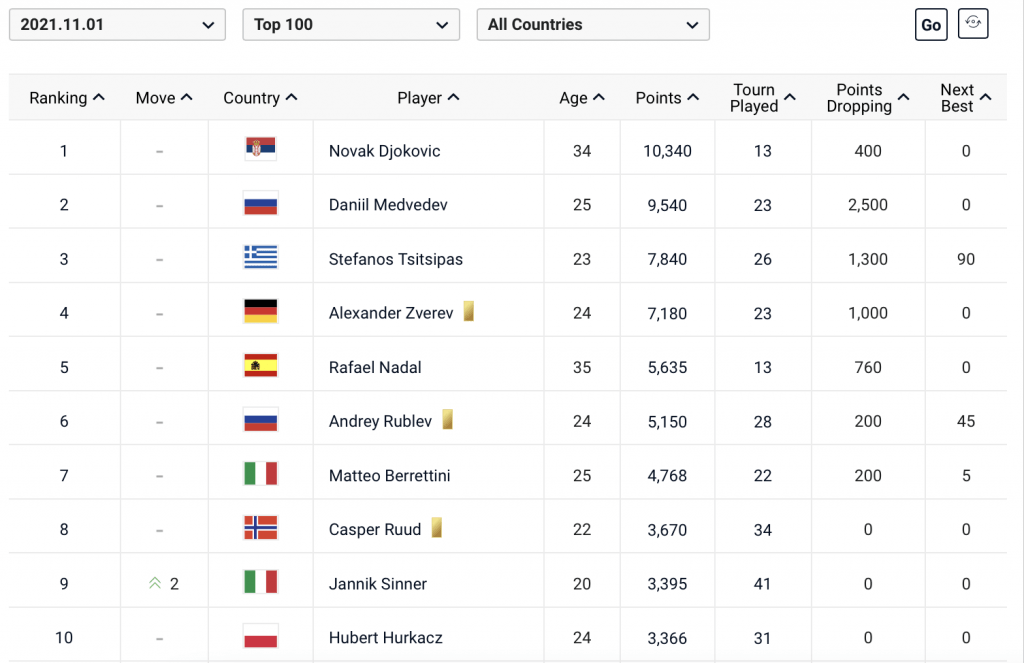 The average height of these guys is something around 1.90. This is a 20 cm difference from the shortest guys on tour.
What difference does it make? As a taller player, you get a higher contact point and thus easier power on serve. Your reach and leverage = natural power is improved too. But historically, you can't move as fast as shorter players.
But in today's game, players like Medvedev and Zverev defy what we used to know about really tall tennis players. They move amazingly well and can hit impressive serves as well as defend from the back. How do you beat these guys?
You need to bring impressive variety, strategy, movement, and a powerful all-court game. Schwartzman has that and that is what has made him reach the top 10. I think Baez is almost like an even better Schwartzman.
Baez in numbers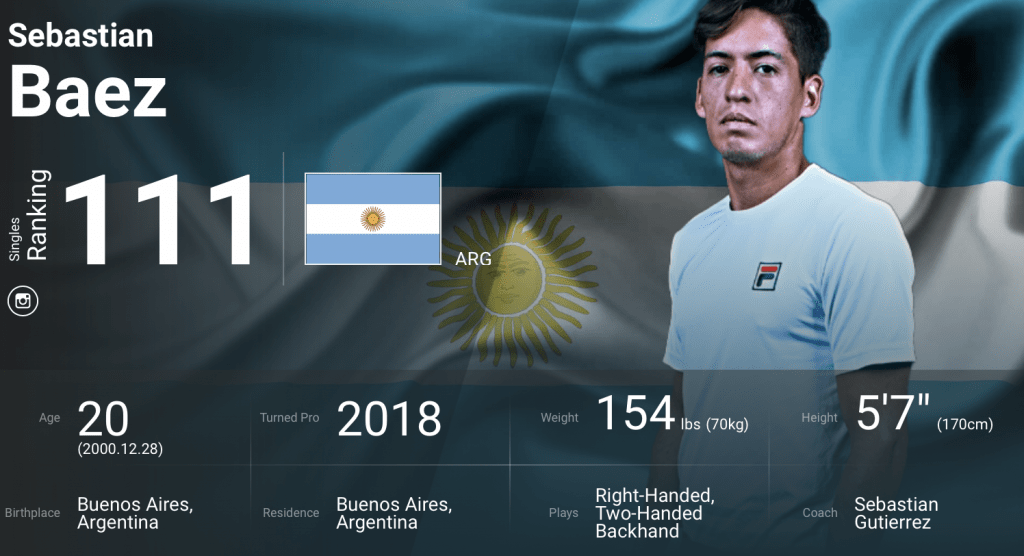 Broke into Top 300 and Top 200 in 2021, achieving career-high No. 111 after winning the 5th Challenger title of season and career in his hometown of Buenos Aires.
At age 20, became the youngest of 6 Argentines and 15 players overall to win 5+ titles in a season since the start of the ATP Challenger Tour in 1978.
Made ATP Tour debut at 2021 Santiago as Q (l. to Rune) and earned 1st win at 2021 Hamburg as LL (d. Moutet).
Became World No. 1 junior in March 2018 and went on to reach the 2018 Roland Garros boys' singles final.
Playing in his hometown of Buenos Aires, earned the gold medal in boys' doubles at the 2018 Youth Olympic Games w/Diaz Acosta.
Baez is mentored by no other than Juan Martin Del Potro.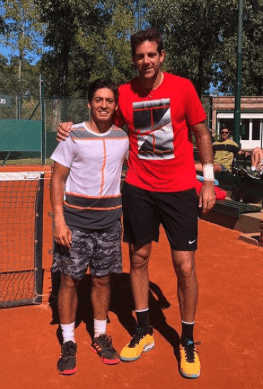 What racquet does Sebastian Baez use?
Baez plays with a Yonex VCORE 100. He made the switch from a Babolat Pure Drive a few years back so my guess is that he is using the 2018 flame red version and not the current 2021 edition. I also don't know if it's extended or standard length, but I wouldn't be surprised if it's a VCORE 100+. Shorter players like Schwartzman tend to use longer racquets for more power on groundstrokes and reach on serve.
I'm actually testing an extended Yonex VCORE 100+ at the moment and will get back to you with a full review when I'm done testing. Regarding Baez strings, I will make an educated guess that it's a Yonex string like a Poly Tour Strike, but really I have no idea.
What do you think of Baez' game? I will definitely keep an eye on him and his lightning footspeed and elegant groundies in the future.