Frances Tiafoe had a great Vienna ATP 500, beat a bunch of top players, and narrowly lost in the final against Zverev. His performance seems dependant on the energy from the crowd, of which he got a lot in Vienna. But Sinner thought he went too far and distracted him. What is your take?
Frances Tiafoe is a creative player who thrives on the bigger stages against the top players. He sometimes finds it hard to bring the same kind of motivation when the stakes aren't as high, but in Vienna, at the ATP 500, he had the best tournament of his career. He beat Tsitsipas (which he also did at Wimbledon), Schwartzman, and Sinner to name three players and against the latter, he came back from the brink of defeat.
What is Frances Tiafoe's racquet?
Sinner was leading 6-3 5-2 but somehow Tiafoe managed to energize the crowd and then himself to turn the ship around. In the 13 final games of the match, he won 11 and lost 2. Sinner was a bit salty afterward (by right?):
"In my opinion Tiafoe, he exaggerated today; he did too much. One thing is when you do the show. The other is when there is no more respect. I don't know what happened, but today I think it went a little further."
Tiafoe didn't agree, he just did what he likes to do when he is on a tennis court: enjoy himself.
Was Tiafoe disrespectful?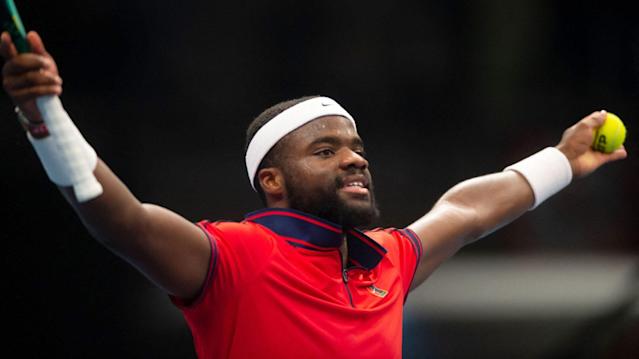 I think tennis needs players that are more energetic and better at getting the crowd involved. Kyrgios at his best is a prime example, but then he also has days where he goes the other direction and is disrespectful to the game. Tiafoe seems to have a better middle ground. He really went all-in, exhibition-style in the match against Sinner. Was it too much? Maybe. But it's up to the umpire to say when enough is enough. You're allowed to do whatever you need to win as long as it is in the rulebook.
The issue for Sinner is that he let it get to him. Sinner has a mad talent for striking the ball hard, but he is not the guy that is going to get the most engagement from the crowd. Tennis is sport and sport is entertainment. Without crowds, there are no sponsors and no prize money. So the players need to keep that in mind. They rely on tennis being attractive, but they also need to win. It's a tough balance at times.
I prefer watching players with unique styles and who are prone to smiling and having fun even in a competitive match. It sells tennis in a good way. Sometimes a tight score is enough, but if you can get both, tennis really shows itself from its best side. I think Tiafoe managed to navigate that balance well in Vienna.
How far can Tiafoe take his game? Well, he is 41 in the world now (at best 29), but it's hard to see him reaching the top 10 since he is game is heavily dependant on his mood. But I'm sure he can do some nice strides in Grand Slams and Masters, maybe a Masters title if he can string together a magic week sometime in the future?
What do you think about Tiafoe's behavior against Sinner, was it fine or did he cross the line?