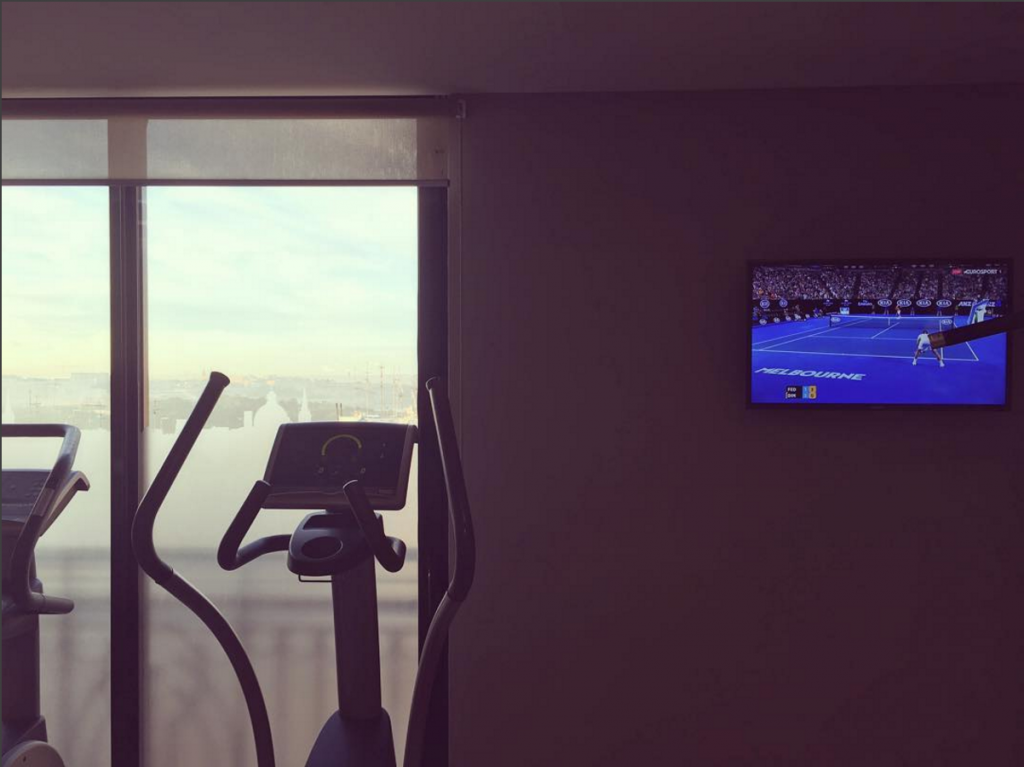 This is how my mornings look these days. Gym and tennis. Or rather, gym while watching tennis. Also, the view from the window is not too bad over the beautiful island of Malta.
Some notes on what happened earlier today:
Murray played Ferrer in what was destined to be a grueling encounter. Both players are top in the "fitness category" on tour and are obviously spending lots of time in the gym. Ferrer is a consistent and hard-working player whom I admire not for his shotmaking, but for his hard work and attitude. I even wrote a post on it back in 2011.
However, playing against top ten players his record isn't great. He simply lacks the weapons to bother the top guys consistently but he's always making them run. Murray isn't the most aggressive player on tour and lacks a bombastic serve, but he can still flatten the ball out with more confidence than Ferrer who relies heavily on his top spin.
The match was indeed tough and hard-fought and after close to two hours, it was one set all (6-3 6-7 with Murray's numbers first). But early in the third set the roof had to close due to impending bad weather and this was quite clearly to Ferrer's disadvantage. He likes the courts to be slower and the conditions to be hotter. Murray is better at attacking and taking the ball on the rise and is even more at home on faster courts. That's why it wasn't surprising that Murray managed to finish the two final sets 6-2 6-3.
Considering Murray has either Raonic or Monfils in the semi-finals, I believe it looks like he'll reach his fifth (!) final in the Australian Open. The question is: Can he then beat either Federer or Djokovic? He'd lost to them in that situation before. Federer once in 2010 and Djokovic four times: 2008, 2011, 2013, 2o15.
The plot thickens…