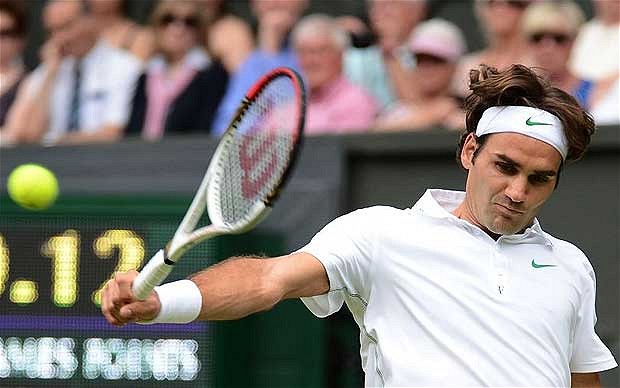 Sometimes we doubt Federer's resolve and hunger to keep on winning tennis matches. He has been prone to leave the court mentally in critical stages the last few years and the way he deflated against Djokovic in the French Open semifinal doesn't exactly fill a Federer fan with confidence.
Against Julien Benneteau in the third round of Wimbledon yesterday there were plenty of moments to doubt Federer's form and will to win. He looked nervous and slightly sloppy while the Frenchman, possibly inspired by Lukas Rosol's amazing upset against Nadal was on fire, smacking down heavy groundstrokes, moving in to the net and giving Federer absolutely no time to get into a rhythm.
Federer lost the first set and I was thinking: "A bit unfocused, but he'll win in four", but Benneteau saved Federer's breakpoints and somehow got the better of him in the tie-break. Suddenly Federer was down two sets to none and things looked grim.
Federer said in the interview afterwards that this was when he relaxed and decided to see it as the match had just started, similar to how he played when he was two sets down against Del Potro in the French Open. He started to play better and won the third set easily, but in the fourth he was again tested when they reached a tie-break and the score 6-6. Federer was two points from defeat, but instead of giving his opponent match point he played one of the best returns of the match and managed to set up set point on his own serve. There his nerves didn't bother him and it was two sets all. It wasn't difficult to see why Benneteau deflated in the fifth, losing it 6-1.
I think this match showed us that Federer wants to everything in his power to have the chance to win Wimbledon and get the #1 ranking again. And that he has the mental strength to do it. But he can't play like he did yesterday against Djokovic or Murray, because then there won't probably even be a fifth set.
Go Roger, play hard, fight hard, get back to #1.