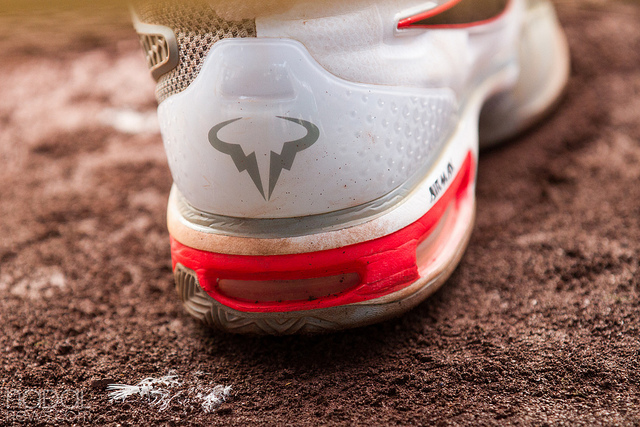 I wrote a few tweets yesterday with the hashtag #whereisrafa which was rather the opposite to my previous post "Nadal back in biz". Why? Well, he shockingly lost his clay court encounter with Andy Murray 6-3 6-2.
I will write that again. Andy Murray beat Rafael Nadal, also known as the King of Clay, on clay, 6-3 6-2.
Crazy stuff. But not really. Murray looks confident as f#%"! on the red stuff after a win in Hamburg and a wedding in Scotland while Nadal has seemed out of sorts throughout 2015. And it's not like Murray doesn't know how to wield his PT57A (his racquet), he has won two slams and this was his tenth Masters title. It shouldn't be that shocking, right?
But it's Nadal's fault. He's been too good for too long on clay and you're impressed with anyone who takes a set against him, even if his name is Roger Federer (or especially if his name is Roger Federer!). So this just shows us that also the Bull from Manacor can be human. Problem is, we don't want any of our favourite tennis players to be human. That's why I cheered every single dominant match that Federer won during his golden years. It was the magic of the maestro. A mythical air of invincibility that tennis has thrived from. After all, Federer, Nadal, Djokovic and Murray has close to reached superhero status with their dominance since 2005. It's not for nothing we can call them the fantastic four.
So what does this mean for Roland Garros? Even die-heard Nadal fans feel it's all too ominous. It's like there's no way he can win his tenth French Open. But they have to remember that when the tournament starts, some things change:
* Nadal's confidence after winning the tournament nine times.
* Best of five sets usually speaks in his favour.
* Djokovic is fighting not only Nadal, but both history and possibly an imagined curse.
A new tournament is always a new tournament. Even if Nadal doesn't win Rome, he will enter Roland Garros and feel like he has a chance. Heck, he's one of the favourites. Even in his own humble mind.
Maybe we'll even see the real Rafa again.