Who is Omni Kumar? This question has been put upon us after Kumar's impressive run so far at the Winston-Salem Open.
Who is Omni Kumar?
385-ranked Kumar got a lucky loser entry into the main draw of the Winston-Salem Open and has since beat Arthur Rinderknech 6-3 7-6 and Botic van de Zandsculp 6-3 7-5. This is two quality ATP wins before he has even won a match on the Challenger tour!
Kumar is 21 years old, a California native, a lefty and looks shorter than his listed 1.75 cm height (5 foot 9). Despite his lack of height, he still hits huge serves. This is important since most shorter players believe you can't serve big, but Kumar shows you the opposite. He also has an interesting technique on the backhand where he holds it with two hands until contact and then releases. Santoro-style. Seeing more unorthodox techniques and game styles on the tour is refreshing, in my opinion.
"It's surreal. It hasn't even sunk in yet. I played the best tennis of my life, and the crowd was behind me," said Kumar, after his first victory. You can see some highlights from his win here, on TennisTV (or just search YouTube, I guess).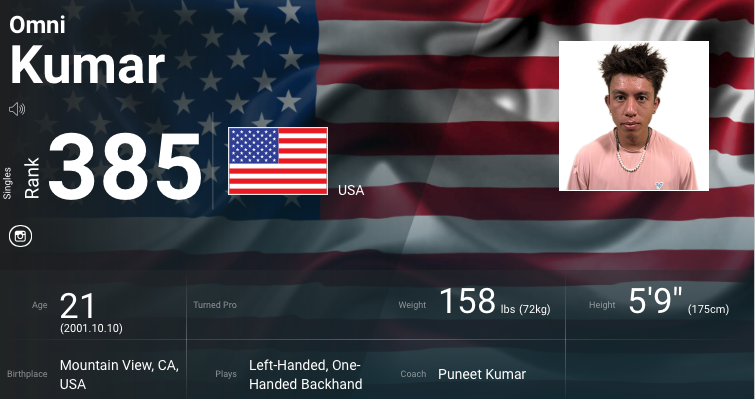 Info about Omni Kumar
It's not easy to find further info about Omni Kumar. Omni Kumar's racquet looks to be a Babolat Pure Aero 2019 where he doesn't wrap the overgrip all the way up, which is rare for players using two hands on the backhand.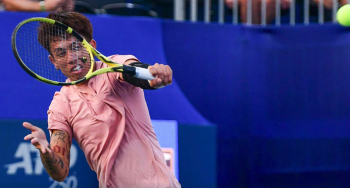 His coach is most likely his father, Puneet Kumar.
He is kind of one of those players that has come a little bit out of nowhere, but you can see that he has a dangerous game and can be a threat to more established players on the tour. It will be interesting to follow his progress in Winston-Salem and beyond. His ranking will surely take a big jump upward this breakthrough week.