After the big howler of the tournament so far, where Denis Istomin beat reigning champion Novak Djokovic, I'm sure the Australian Open draw looks far more interesting for a few players. Let's look at the next round through the lenses of the bookies at Bet365.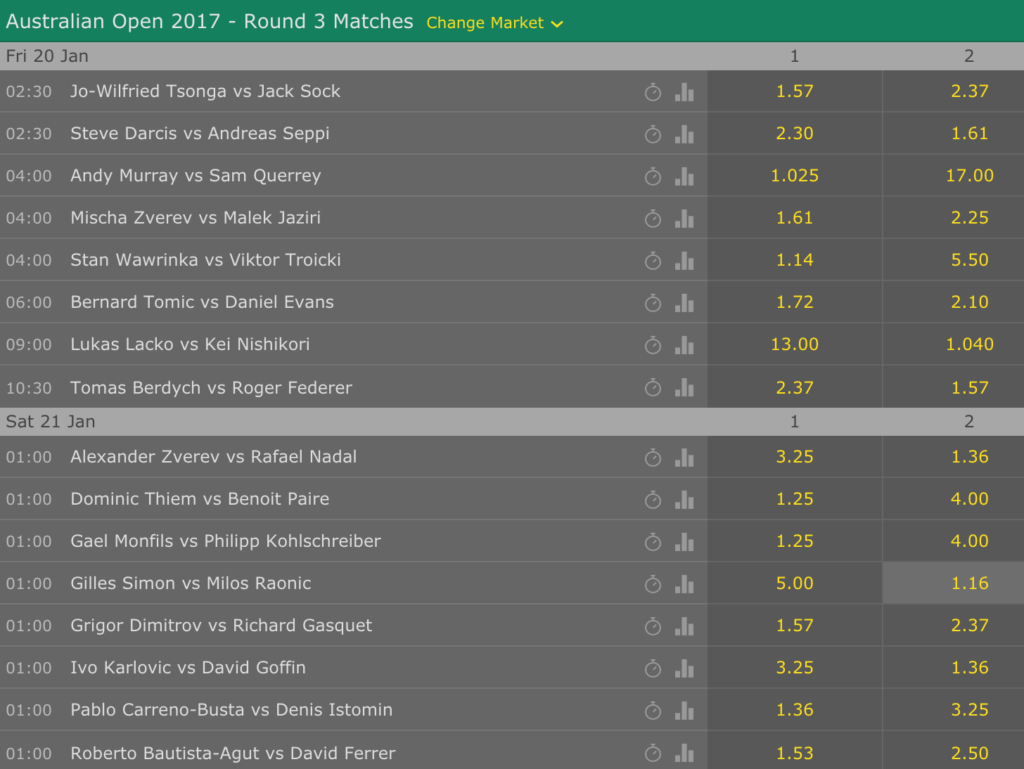 First up is big hitters Jack Sock vs Jo-Wilfried Tsonga. Sock has looked like he's in great from so far with some impressive wins, but we know how capable Tsonga is when he's seeing the ball as big as a bowling ball. I still think Jack will sock it him.
Andreas Seppi came back from the dead against Kyrgios in a impressive display and should be the favorite against Steve Darcis.
Andy Murray had an injury scare in the previous round but looked fine during practice and is surely seeing his chance at capturing his first Australian Open crown with Djokovic gone from the draw. Sam Querrey beat Djokovic in Wimbledon last year, so the question is: can he bring the big game one more time? Still, like the bookies, I only see a Murray win.
Older brother Zverev beat John Isner in five sets in the match of his life, can he recharge his energies in the rather welcoming draw of Malik Jaziri? Mischa Zverev looks like a different player with his brother Alexander making a presence on tour so I think he'll bring another W home to the Z family.
Both Viktor Troicki and Stan Wawrinka fought hard in their previous matches and I'm sure they'll feel some of that in their legs. I'm sure this will be a good one, but Wawrinka ages like a fine red wine throughout a grand slam and this is the time he starts accelerating his form.
Dan Evans is making waves in Melbourne with his nice brand of positive tennis. He has a tough opponent in the tricky Tomic, but I still think he is better at getting the crowd on his side than the home favorite. My pick is Evans to win.
Lukas Lacko can play good tennis, but surely not enough to beat Nishikori, right? Kei looked great in his last match so he should be fit and ready to win.
And then we have the blockbuster in round 3, a match which is usually reserved for quarter- or semi-finals: Berdych vs Federer. Can Federer improve on his previously slightly choppy game? This is an excellent opportunity for Berdych of course, but last season he was far from giant-beating form. Every bone in the body wants Federer to win, but I think he's just too rusty for Berdych's firepower.
Another great match is Alexander Zverev vs Rafael Nadal. Both players have looked confident so far and I'm sure this will be a long and gruesome match. But Rafa looks ready to rumble so I'm going to pick him as the winner in the end.
Paire played well against Fognini but Thiem was simply spectacular for most of the match against Thompson. I think this is Thiem's time.
Monfils vs Kohlschreiber has potential to be a well-played match. Really hard to predict. But I think Monfils is stronger mentally and that's why he'll outlast Kohli.
Gilles Simon vs Milos Raonic. I'm not a big admirer, but a believer in Raonic's chances to become number one in the world. I don't see how Simon can stop him.
Dimitrov vs Gasquet is the battle of the beautiful one-handed backhands. I really have a feeling that 2017 might be Dimitrov's year so I'll pick him this time. Entertaining match to watch for tennis aficionados.
Karlovic vs Goffin is an open match. If Karlovic has a good serving day he can beat anyone, but Goffin has to be the favorite to win and I think he will.
Carreno-Busta vs Istomin. It is usually tough for a player to follow up the kind of accomplishment that Istomin did by beating Djokovic. That's why I think he'll be a bit flat against Carreno-Busta. The Spaniard to win.
And last but not least, we have the battle of the Spanish conquistadors: Bautista-Agut vs Ferrer. This will be a long and tiring fight and those are usually won by Ferrer.
If you're into tennis betting, you can check out the live odds and streaming at Bet365.
Those are my quick and dirty thoughts around the third round of the Australian Open 2017. What do you think? Please share your thinking in the comments section.