The Wimbledon Draw 2022 is out! Tennis fans are ready for mouthwatering grand slam action in the coming fortnight.
The Wimbledon Draw 2022 was held on Friday 24th of June, and it's time to break down some of the potential key matches for the third major of the year.
You can scroll through the Wimbledon Draw 2022 on the official tournament page.
Men's Tournament
1st Quarter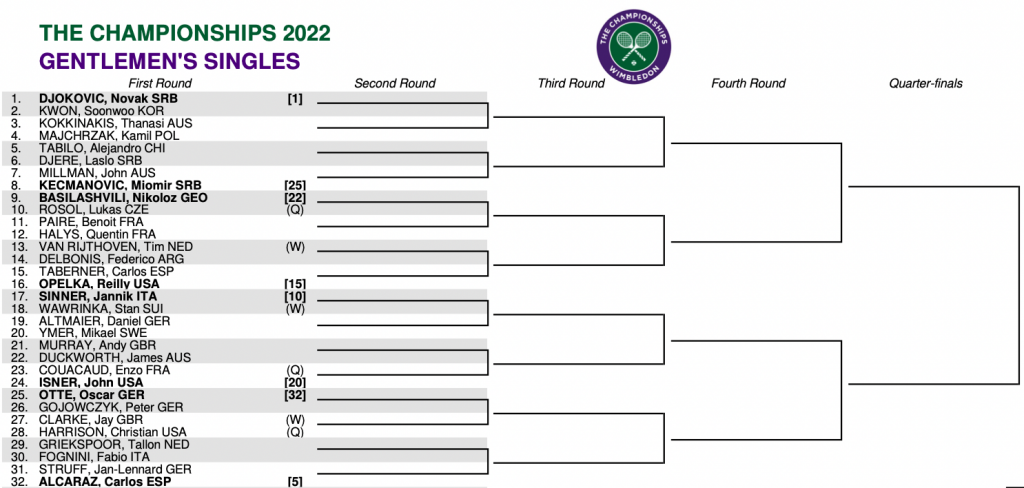 If we start with favorite Novak Djokovic, you could argue that he has a decent draw. He begins against Kwon but can have a potentially tricky 2nd round against Kokkinakis. A possible quarter-final opponent is Alcaraz, but I still doubt that Alcaraz will be as good on grass as he has been the rest of the year.
Tim Van Rijthoven, who had such a stellar performance in Hertogenbosch/Rosmalen, winning the tournament as a wild card, is in the same quarter of the draw as Djokovic. But he might run into Opelka if he gets through his first-round match.
If Basilashvili gets into gear, he can be a tricky R16 opponent for Djokovic, but he is not exactly an open book in terms of form/mood, etc. I'm feeling pretty confident that Djokovic gets through the 1st quarter unscathed.
Good first match in Wawrinka vs Sinner. Neither player is super happy on grass, but Sinner should be in more stable form overall. Murray could get through this quarter if he is physically fit. The way he played at Boss Open was encouraging, but the injury to pull out of Queens was a bit of a downer. Alcaraz looks like a pretty solid bet to get through the draw, but has a somewhat tricky first opponent in Struff with a big serve and attacking game. Struff is a bit prone to choking, however. The most dangerous opponent for Alcaraz is another German. In form Oscar Otte loves the green and can beat pretty much anyone on a good day.
I'm going to go out on a limb here and predict Otte in the quarter-final against Djokovic. But I would love to see Alcaraz vs Djokovic.
2nd Quarter

At first, this looks like the "clay-court" part of the draw with players like Ruud, Vinolas, Baz, and Busta. But there are some strong grass-courters here too.
Bublik, on a good week, can reach the quarters, but Fucsovics' first round is a tough draw. Tiafoe is an excellent grass-court player and my bet to reach the quarters alongside Hurkacz.
But there are some dark horses. Dimitrov is a guy you can never count out and if he puts it together, he can reach the quarters. Tommy Paul is a solid grass-court player and Cameron Norrie battles hard on any surface. Mannarino can string together some magic on the grass as well.
In the end, I will go for Hurkacz and Tiafoe in the quarter-finals. But quite an open quarter.
3rd Quarter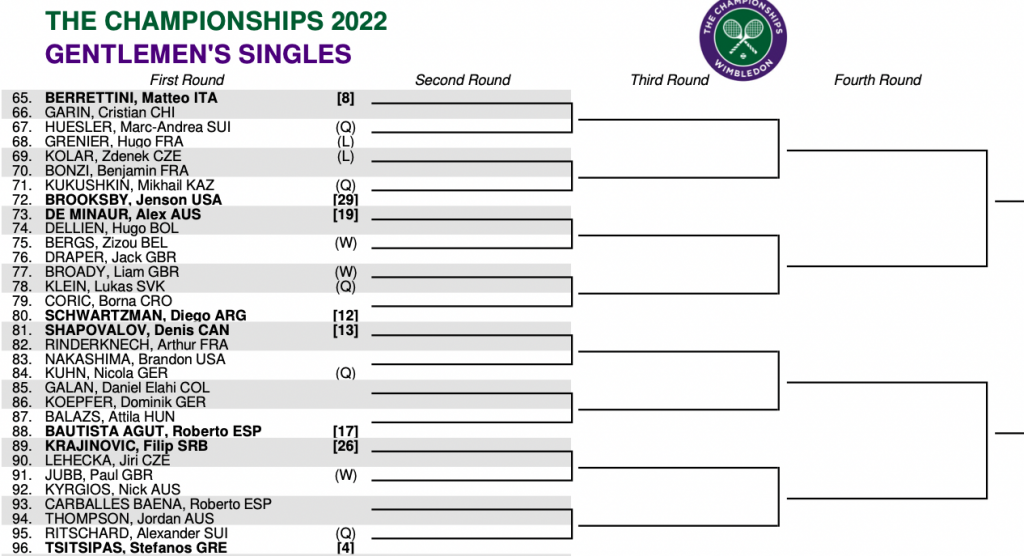 This quarter of the Wimbledon draw 2022 is serious! Berrettini is my second favorite to win the tournament after Djokovic. Shapovalov has been completely off form lately but played well last year and can snap into it when the championships start. Tsitsipas is playing well in Mallorca on his least favorite surface. He is facing Bautista-Agut in the final, so the Spaniard has also found his best tennis.
Then we throw in Nick Kyrgios, who looks more focused than ever. This part of the draw is simply fierce. I think the top seeds will prevail and we will see Tsitsipas and Berrettini in the quarter-finals. It would have been fun to pick Kyrgios, but he still seems a bit too up and down to be a safe bet for the quarters in a grand slam.
4th Quarter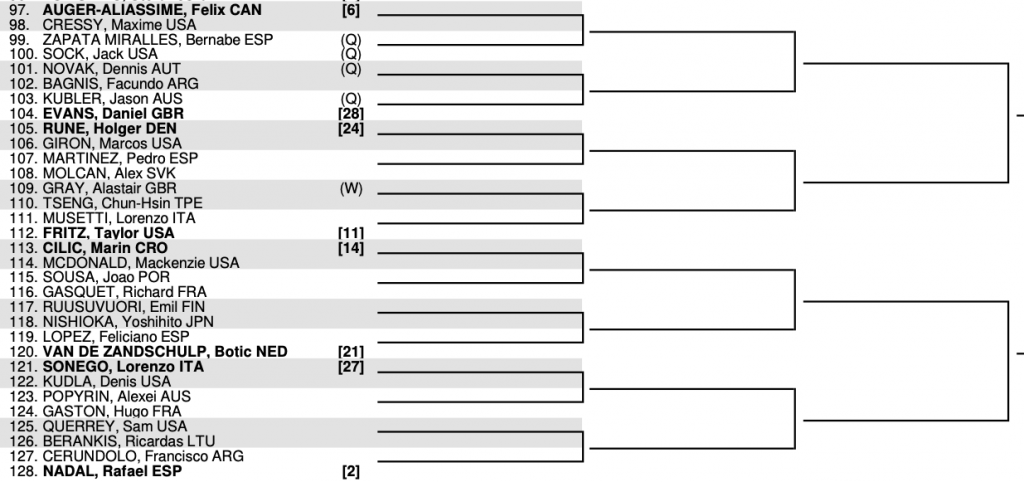 Maxime Cressy is in the finals of Eastbourne ATP and a nightmare first-round opponent for Auger-Aliassime. Still, I think the Canadian will prevail, but it might have to go five sets. Interesting to see Jack Sock back in a Grand Slam draw, but the grass is not his fave surface and it's hard to see him go far in this tough draw.
Besides Aliassime, there are many seeded solid players. Taylor Fritz is about to defend his title in Eastbourne and plays well on grass, Marin Cilic has reached the final and seems to be in good form, Holger Rune played well in the French but more unclear of his grass-court game, Dan Evans likes the grass and can play well on it. Sonego can beat anyone on a good day.
But the big question mark this quarter is how well Rafa can play. Has the new treatment on his famous foot worked wonders? I'm sure his confidence is sky-high if he isn't bothered physically. And the motivation to go for the third grand slam of the year should be enormous. Still, he is least happy on grass, and hard-hitting Cerundolo won't be a picnic (but Rafa should win). Despite Querrey being good on grass, I also find it hard to see him stopping Nadal. And the more wins he gets, the more dangerous he becomes.
Let's go for the "obvious". Nadal and Aliassime in the quarter-finals. It will be another interesting situation for uncle Toni.
Summary
These Wimbledon 2022 predictions leaves us with the following quarter-finals:
Quarter-finals
Djokovic vs Otte
Tiafoe vs Hurkacz
Berrettini vs Tsitsipas
Aliassime vs Nadal
Semi-finals
Djokovic vs Hurkacz
Berrettini vs Nadal
Finals

Djokovic vs Berrettini
Winner
Djokovic
Not my gutsiest prediction ever, but this is how I feel about it. A Djokovic vs. Nadal final would be mouthwatering, but I feel that Nadal might not go all the way here. It's not easy to be confident of Djokovic either as he hasn't played any grass-court events, but I'm sure he is highly motivated to catch up in the grand slam race.
If Nadal wins this one, it's 23-20-20, and the race looks won for the Spaniard.
What do you feel about my predictions? Keen to hear yours!