What's up with Auger-Aliassime? I mean that in a positive way. Suddenly he is like a new player who beats everyone.
Felix Auger-Aliassime (FAA) was the huge talent that came up short in finals. Not so anymore. He has won two tournaments in a row and is in his third final today in Basel against another in-form player, Holger Rune.
When FAA won the ATP Cup together with Denis Shapovalov (also in a final today in Vienna, against Daniil Medvedev), it seemed like the streak of not winning a final was over, and it unlocked something mentally. He is now ranked #9 in the world, has three ATP titles, and is looking to win his fourth today. This should send him to the ATP Finals in Turin for the first time.
This is what he said to the ATP tour:
"So far, it has been very close to perfect [in Basel]", said Auger-Aliassime, who has dropped just one set this week, in his on-court interview. "I've been serving amazing, not getting broken once yet. There's still one match to go, but it's been a fantastic week, [I have] played some great tennis, and again today against the best player in the world. It's an amazing win, so I'm really happy with my level, and hopefully, I can go all the way."
Felix Auger-Aliassime's racquet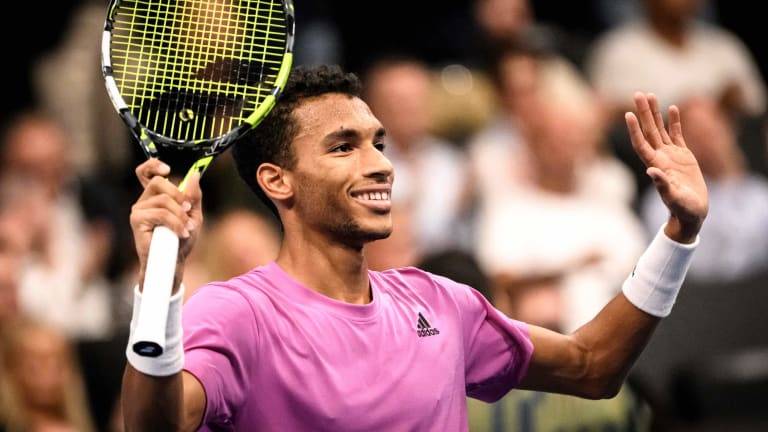 Click the link for the specs and info about Felix Auger-Aliassime's racquet. It is painted to look like the new Babolat Pure Aero 2023, but is really a Babolat Pure Aero VS from 2017 customized to FAA's specifications. Rune and Alcaraz are using the Babolat Pure Aero VS from 2020, so it's clear that the 98 sq inch Babolat Pure Aero racquet is doing well on the ATP tour at the moment. It's a racquet that allows for fast acceleration and has balanced power/control ratio with the thinner beam and 16×20 pattern compared to the standard Aero's thick beam and 16×19 pattern. It is becoming a modern classic.
It's clear that FAA loves the indoor hard courts and he should be a threat for the Paris Masters next week. But he might have played too much tennis during the last couple of weeks to compete well. Time will tell.