My friend Matthew, who I hit with in a bunch of my videos, is looking at portable stringing machines. These are some of his options.
Before we look into the various different portable stringing machines on the market, I just want to recommend everyone to consider learning to string. It helps a lot when you want to test new strings or just save money from going to the stringer. It's also always fun to learn something new. When I started out I just bought a used electronic Alpha stringing machine and learned the hard way, but now there is plenty of content on YouTube as well as professional courses like the one from Nikki (listen to my podcast with him) at Unstrung Customs.
I wish I had a course like that to start me out, but even without it, you can get started stringing in a relatively short time. But first of all, you need a stringing machine and some basic tools.
Sadly, not many online shops like Tennis Warehouse offer many options when it comes to stringing machines. One of the best selections I've found at Racquet Depot, where they actually sell two versions of the Pro Stringer.
Pro Stringer
The most premium-looking portable stringer is the Pro Stringer. The sturdy design and the many accessories look like it will do the test also on the pro tour (which the company also claims). The price is a little bit on the steeper side though, around €1000 for the 2.0 and €850 for the 1.0. But if money is no object, I would have gone for this one.
Pro Stringer claims a racquet can be strung in less than 20 minutes. It features high precision constant pull electronic tensioning, where the tension head can be set from 30lbs to 75lbs for tennis only.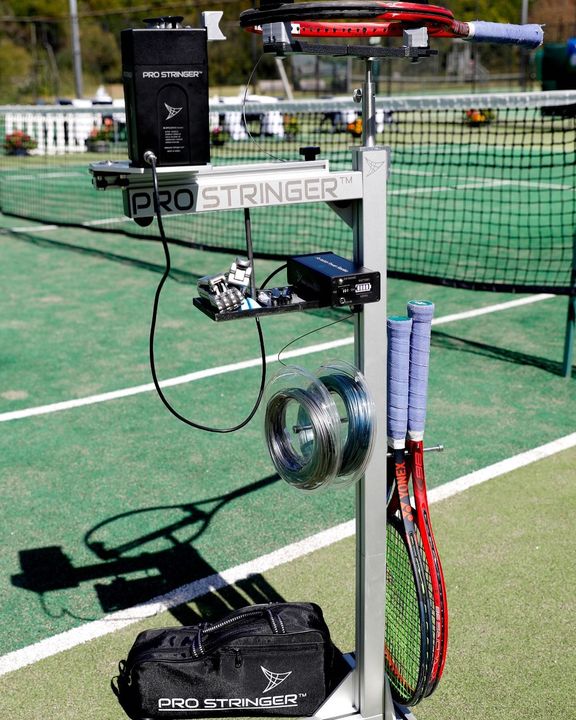 The package consists of the machine itself, mounting post, rotation bar, two frame retainers, two flying clamps, pliers, a cutter, power adaptor, and a carry bag.
Check out Racquet Depot or ProStringer.com for more info.
MiStringer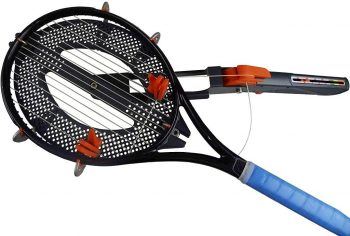 The interesting part about these portable stringing machines is that they have approached it a little bit differently. The best way to find out how they work is by checking out videos on their website. For the MiStringer, click here.
MiStringer comes with a patented EZ-Pull tensioner that allows you to string up to 75 lbs. In contrast to all other systems on the market, EZ-Pull does not use a traditional, compressed spring to adjust the tension and therefore does not need any calibration.
This is from Mi-Stringers website:
When holding a string the patented Lock Clamps of MiStringer are attached to the mounting table. Minimum pressure is required to hold the string tightly, even at high tensions. In all other machines, the clamps are either floating or fixed to the base of the machine and need to put a lot of pressure on the string to hold it.
MiStringer comes with a 6-point mounting system and is made out of high compression aluminum molding and steel. It weighs 3 kg or 6 lbs.
It also comes with a special tool for weaving crosses (the more time-consuming part of stringing) that allegedly speeds up the weaving of the cross strings by 200%.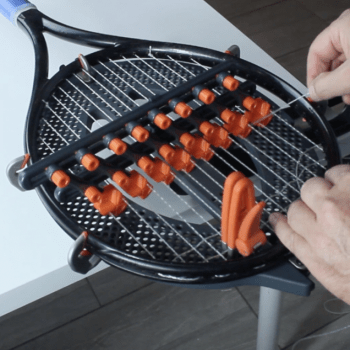 Comes with a base with integrated EZ-Pull tensioner, a mounting table, 2 Lock Clamps, a table fastener, the String Weaver, 2 Allen wrenches, a carrying bag.
Price: 379 USD (419 USD with the cross-weaver tool).
EasyStringer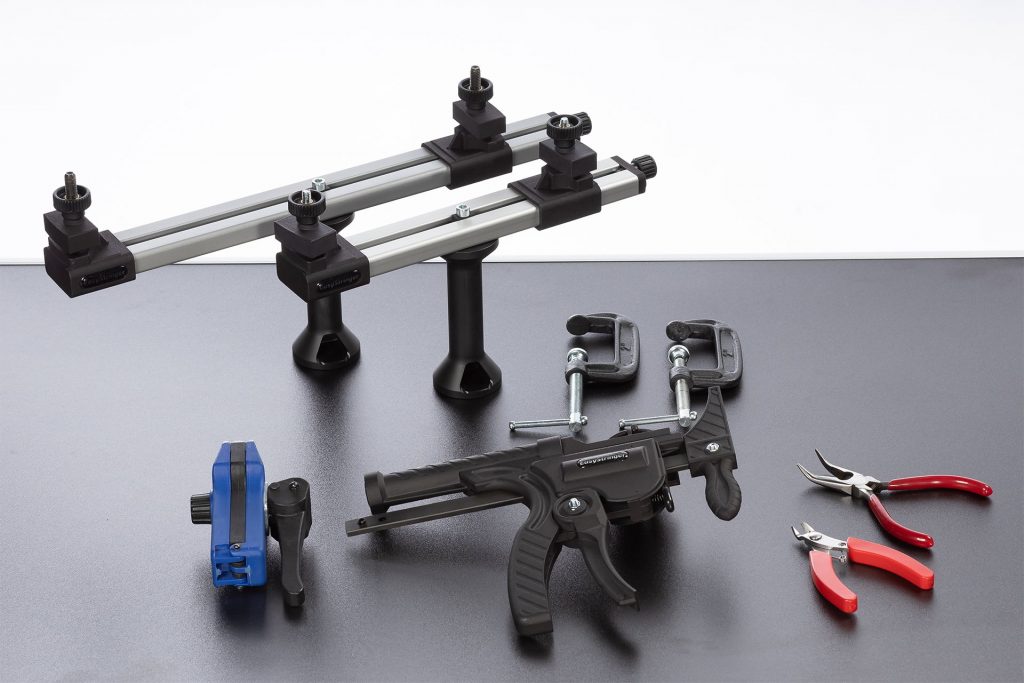 Like I wrote above, all these stringing machines come with a slightly different approach. The Easy Stringer is perhaps the most creative one. Where the tensioner is actually looking more like a gun.
The EasyStringer tensioner pulls only the string so it doesn't need 4 or 6 support systems. EasyStringer has a 3 support systems, 2 in the bracket support and 1 in the tensioner.
The EasyStringer works with a manual constant pull mechanism. The tension meter is connected directly to the string.
EasyStringer set 1 includes
1 x Stringer for tennis and badminton (universal)
1 x Support Bracket for tennis and badminton (universal)
1 x Cocraft Press Clamp
2 x EasyStringer Floating Clamp, color black
1 x EasyStringer bag
A floating clamp is different when fixing a tennis or badminton racket, so be sure to check which purpose the device comes from.
Price: €319 from Easy Stringer or Functional Tennis
Summary
I'm not sure which one I would have gone for myself of these portable stringers. It would have been fun to review them at some point, but I can't afford to just buy three machines for this purpose. Maybe I can get a demo somehow? Or maybe you have experience with some of these machines and want to share your thoughts with fellow tennis nerds?
It's fun to see different portable stringers out there with various approaches and pros and cons. Keen to hear which one you would buy and why.
If you don't need a portable machine, there are plenty of other stringing machine options to look into. I hope to do so in some future content.
Thanks for reading, please subscribe to me on my YouTube channel or Instagram and if you want to support the work I do, please consider doing so via Patreon.com/tennisnerd