A lot of people have been signing up for a free TopCourt trial membership. Why not? You get a 14-day free trial to demo the product.
I was skeptical at first, but as more and more content has been coming in, I'm pretty much sold. One reason is that I'm a sucker for drills I can do with a coach or a hitting partner. I used to be one of those guys who only played practice matches every time I stepped out on the court. Often with a new racquet in my hand. No wonder improvement was slow and frustrating. Nowadays I really try to focus on improving all different parts of my game, from strengthening my body and mind to working on my weaknesses over and over again. I'm not sure everyone is into online instruction and have the desire to take the learnings from videos over to the practice court, but why not give it a go with a free top court trial membership?
Get your free 14-day TopCourt Trial by clicking here.
TopCourt Coaches
The current roster of TopCourt coaches are:
Fernando Verdasco
Lindsay Davenport
Genie Bouchard
The Bryan Brothers
Taylor Fritz
Belinda Bencic
Sloane Stephens
Monica Puig
Ajla Tomljanovic
Brad Gilbert
Petra Kvitova
Andrey Rublev
Elina Svitolina
Sofia Kenin
Paul Annacone
Reilly Opelka
Aryna Sabalenka
Casper Ruud
Tommy Paul
Sam Querrey
Jelena Ostapenko
Mackenzie McDonald
Iga Swiatek
Corentin Moutet
Caty McNally
Katie Boulter
Phew! That's a long list! Videos are updated periodically. I have been watching a little bit of everything. From volley drills that the Bryan Brothers have done to Verdascos forehand and Ajla Tomljanovic backhand. I'm still waiting for a player with a one-handed backhand to join the roster. Are we going extinct? Is the two-hander dominating that badly?
I digress. I wanted to add a bit to previous TopCourt review.
TopCourt Pros and Cons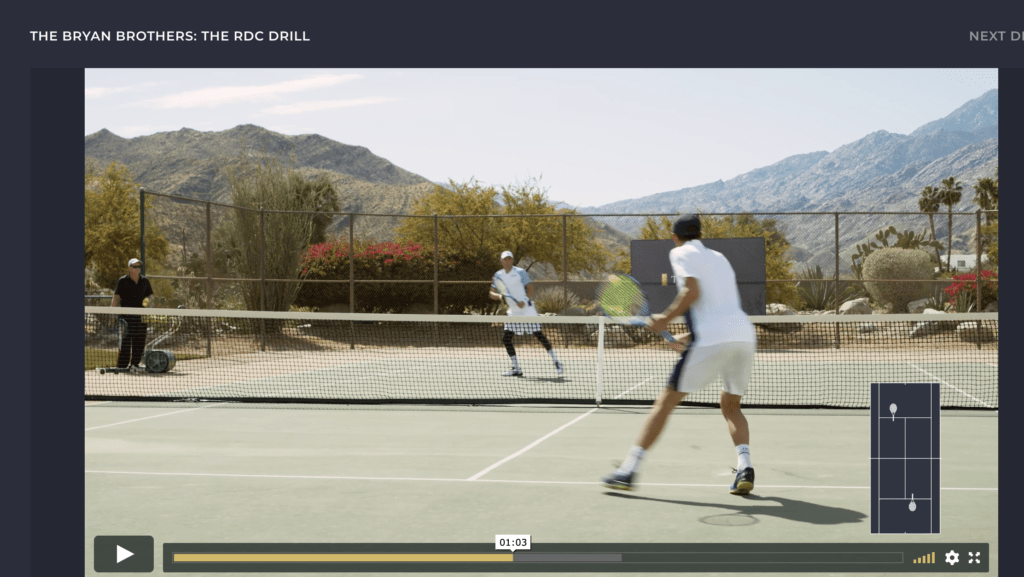 + Great production quality
+ Fantastic coaching line-up
+ The videos are short and sweet and well summarized
+ New content uploaded regularly
– You can't pay monthly, but need to commit to a year ($15 a month equals $180 total – which is not too bad compared to other online coaching fees)
– I haven't yet seen any materials towards beginners or lower-level intermediate players – it seems focused on pretty solid players from 4.0 at least (the rest you can find on YouTube I guess)
– No one-handed backhand players (yet)
Ideas for improvement:
Monthly subscription model
Downloadable materials like pdfs with drills and tips.