I have been testing the Top Level Tennis online course programs for a couple of weeks. Here is my Top Level Tennis Review.
Top Level Tennis is, similar to TopCourt that I wrote about before, an online course program featuring top level tennis players and coaches. The roster of coaches and players is not as vast and as strong as TopCourt, but the content is a bit more extensive and you can get training plans and other info in written form as well (downloadable pdfs). The listed coaches right now are Wolfgang Thiem, Boris Becker, Dominika Cibulkova, Urszula Radwanska and Marco Panichi (not available yet). As you can see there are no currently active players on the coaching list as of now and the coaches are more European focused (Top Level Tennis is a Polish company) compared to TopCourt which is more American-focused.
If you struggle with English accents, Top Level Tennis might be a bit challenging as none of the coaches are native English speakers. This might be a non-issue to you, but I wanted to point that out.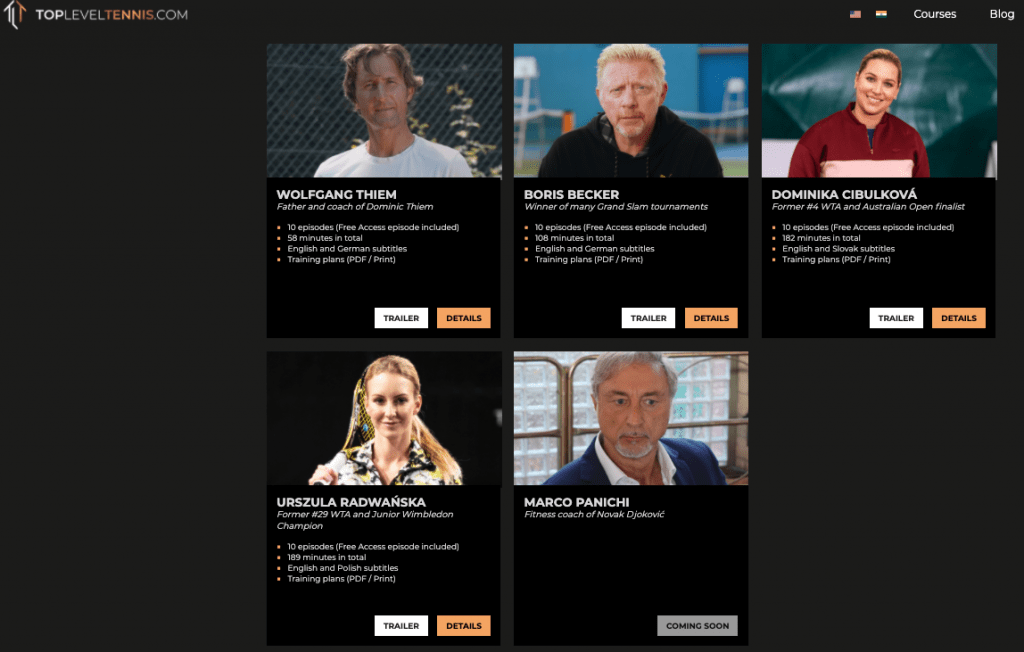 The production quality of the content is generally high. Each coach has structured various different lessons, from hitting a forehand (from basics to more advanced information) to how you organize a good setup with coach and parent for young and talented tennis players. So there is a wide variety of content live now, not quite as varied as TopCourt, but you there are plenty of videos to watch.
Top Level Tennis Review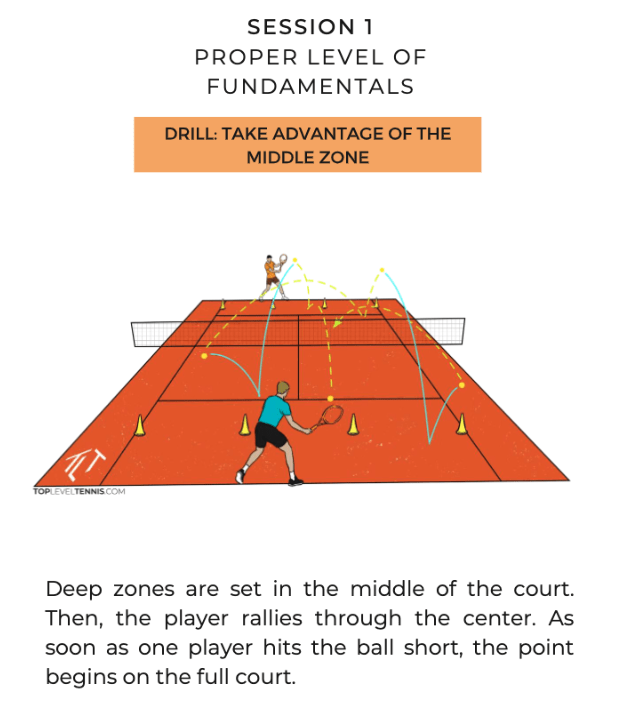 I enjoyed watching Top Level Tennis videos. Boris Becker is a polarizing figure in tennis, but I find him interesting to listen to as he compares the old forehand vs the modern one and so on. The videos are mainly structured in the way that coach has one or two younger players demonstrating their ideas. There are quite a few interesting pieces of information here and I assume they will be adding more and more content over time.
I would have preferred if the content would perhaps be structured in smaller pieces – for example – hitting through on the forehand, what grip you should use, and so on, instead of just a general video on the forehand from both Thiem and Becker for example. I do appreciate the written content, which you can see in the screenshot above, although I think the font size could have been a bit smaller.
It would also have been interesting to see active or more recently active players as Top Level Tennis coaches as well. Or perhaps a more detailed plan on upcoming content and coaches, so you know what you're in for when you sign up.
But I think the best idea is to get a feel for the content is to check it out for yourself. If you register on the website you get access to half of one episode from each course.
And if you like the content and want to purchase a Gold membership from Top Level Tennis – you can get 10% off if you use the discount code TENNISNERD10. A Gold membership is $89, so it is about half the price of TopCourt.
Summary
I think it's interesting to see new online tennis courses being introduced featuring influential coaches or players. How does it stack up against the many YouTube tennis coaches out there? Well, it depends. I think it's up to the person and what you struggle with. Some coaches resonate better with you than others and it's a very personal thing. It depends on how they communicate, what you struggle with and how the content is structured. There are many tennis courses and coaches out there and you need to watch the free materials and figure out what works best for you.
I did like some of the content on Top Level Tennis, while other videos did not resonate with me as much. The same goes for TopCourt. So give it a try and see how you like it.