Thanks to Tennis Warehouse for inviting me to have a French Open Experience together with Adidas and other content creators.
The French Open Experience
Having been a tennis nerd my whole life and running Tennisnerd for quite a few years, it's perhaps strange that I have never visited the French Open before. I don't know why. It just hasn't happened. Well, now I was invited to an event with Adidas and Tennis Warehouse and got at least a couple of matches at the famous Roland Garros. You can watch a video detailing my experience here.
AdiHouse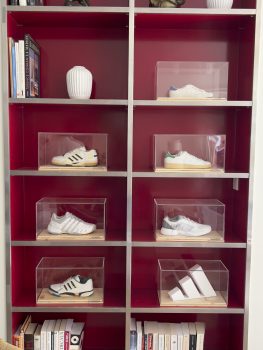 When I get invited to events, it is usually about product launches since that is where my expertise is and this was not that much different, but not so product-specific. I got the chance to sit down with the product managers to discuss their shoes and apparel range, focusing on the current French Open collection. It was interesting to hear about all the work that goes into creating a shoe or an apparel line. There is always more going on behind the scenes and lots of kudos to product teams worldwide who work hard on products that they don't often get public credit for.
I did a small interview with the product managers of Adidas at the AdiHouse and will publish that in the near future on my YouTube channel.
At the AdiHouse, I also got to interview Jo-Wilfried Tsonga, one of my favorite players when he was still active. My impression of him is that he is a nice, down-to-earth person and despite me not speaking French, he was easy to talk to.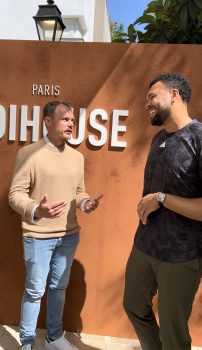 So thanks to Team Adidas for inviting me to the AdiHouse and giving me an insight into their process and the effort that goes into their product lines.
Roland Garros
This was my second trip to Paris in two weeks. Last week, I was at the launch of HEAD's new campaign "Your game is our game", but that was short and intense and didn't allow for any visits to Roland Garros. During this trip, Henrik Wallensten and I got tickets for Rebecca Peterson's match from Rebecca and it was great to be able to cheer her on right next to the court. Sadly, she had a tough match and after a 90-minute first set, she ran out of steam in the second.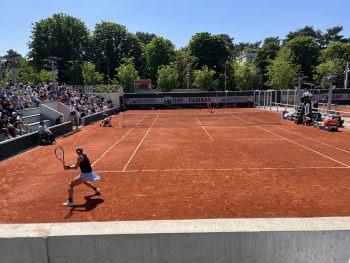 But with an entry to the French Open, you can walk around quite a few courts and if you're early in the day, get some excellent up-close action and have some nice food and drinks before it gets rather crowded and it can take a while to get a seat at some courts. Included in the tickets we got from Rebecca was entry also to the Simone Mathieu court and there we could watch Tiafoe play Karatsev. On the bigger stadiums, you obviously get further away from the play, but there is also more of an atmosphere. Both are great, it just depends on what you like.
It was a very hot day in Paris and watching tennis puts you straight in the sun, so if you go to events during the summer, make sure to bring plenty of sunscreen.
Watching Alcaraz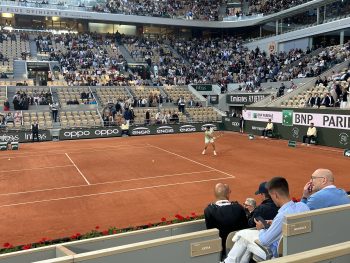 On day 2, we had VIP tickets to the night session. Luckily, it turned out to be the match between Alcaraz and Shapovalov. I have been lucky enough to watch most of the top players live, but I have never before seen Alcaraz and he has become one of my favorite players.
With VIP tickets, you get access to the loges, which in this case meant free drinks (champagne for most, it seems). This is obviously a nice feature, but the real star of the shoe was the excellent close-to-court-side seats. And watching Alcaraz up close makes you even more impressed by what he brings to the sport. The physicality, the touch, the spectacular shot-making. It was all there in a pretty one-sided match that did include plenty of spectacular rallies. Still, Shapo was struggling with injury it seemed like, was shaking his arm (looked like some forearm or elbow issue) and got some medical attention in between the games.
Not sure he would have made it a close match anyway, but with that kind of handicap, Alcaraz is just too much and the Spaniard won 6-1 6-4 6-2.
This match concluded two excellent days in Paris and I can only recommend tennis nerds out there to visit this beautiful city and tournament if you haven't already. It was exactly what I hoped it would be.