We are getting new Angell K7 racquets in 2021. Besides new paint and plus length models, there is also a new K7 Cyan racquet.
The Angell K7 Racquets 2021 are available to buy right now at Angell Tennis. There are three models: K7 Red, K7 Lime, and K7 Cyan. They all come with plus-length 27.5 models. The K7 Cyan also comes in a lighter, LT version.
I have reviewed both the K7 Red and Lime favorably and really rate those racquets high for comfort, feel, and performance. They are both racquets I could happily play a tournament match with. But since those racquets are 98 sq inches (16×19 and 18×20), it's nice to see the K7 family grow with the addition of 100 sq inch racquets Cyan and Cyan LT.
If the Cyan racquets play as well as the Lime and Red, I think they could be an interesting competitor to other arm-friendly and modern racquets like the HEAD Gravity and Wilson Clash.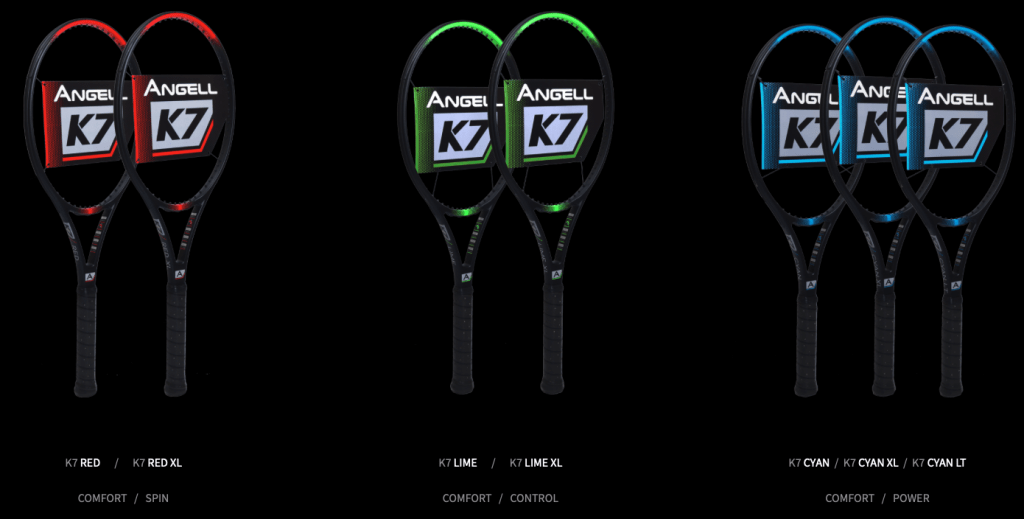 Angell K7 Cyan
You can find the specs of the Angell K7 Cyan racquets below. If you want to check out the specs of the Angell K7 Red or Lime, my reviews are here: K7 Red, K7 Lime, and you can find more info on the Angell Tennis website.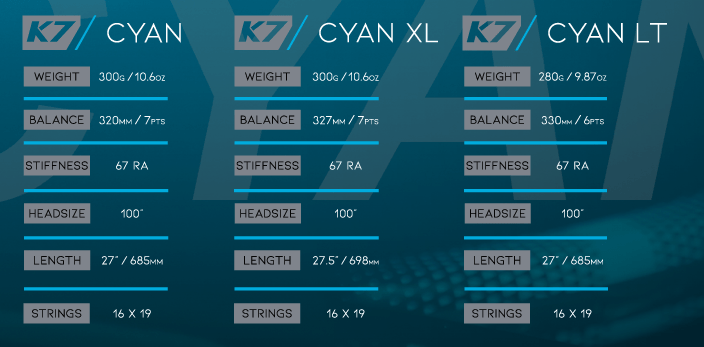 What I liked about the Angell K7 series of racquets is the comfortable feel, which still allows you a decent connection with the ball. I hope this feeling persists in the Cyan models.
The marketing lingo says:
Constructed from a unique Aramid and Carbon fiber matrix, the K7 CYAN LT offers easy access to spin with super fast racket head speed. As the material of choice for most bulletproof protection products, Aramid fibers provide all the dampening and shock absorption needed, whilst the high modulus carbon delivers the abundance of power that all Angell frames are renowned for.
I am keen to see if this holds true and take the Angell K7 Cyan for a spin.