The Babolat Pure Aero La Decima Racquet is here. In 2017 Rafael Nadal won his tenth Roland Garros title, also known as "La Decima". This is obviously a great marketing opportunity for Babolat to launch a "La Decima Pure Aero" racquet and bag.
So what is new with the Babolat Pure Aero La Decima Pure Aero
racquet if you compared it with the traditional Babolat Pure Aero
? Well, nothing really. It's just a paint job. Similar to what Wilson did when they blacked-out the Wilson Pro Staff RF97 Autograph and increased the price. The Babolat Pure Aero La Decima racquet arguably looks cool but can a paint job justify a price tag? For a lot of buyers and fans of Rafael Nadal, I'm pretty sure it can.
Is Nadal really playing with the Babolat Pure Aero La Decima racquet?
As most tennis nerds and racquetholics know, Rafael Nadal is not playing with the Babolat Pure Aero
, but with the first edition of the racquet line, the Babolat AeroPro Drive Original. He has also been increasing the amount of lead tape on the racquet to increase his power and to become more dangerous on faster courts. It would have been interesting if they had released a Babolat Pure Aero Rafael Nadal Autograph instead with an increased weight and swing weight instead of just a pure paint job.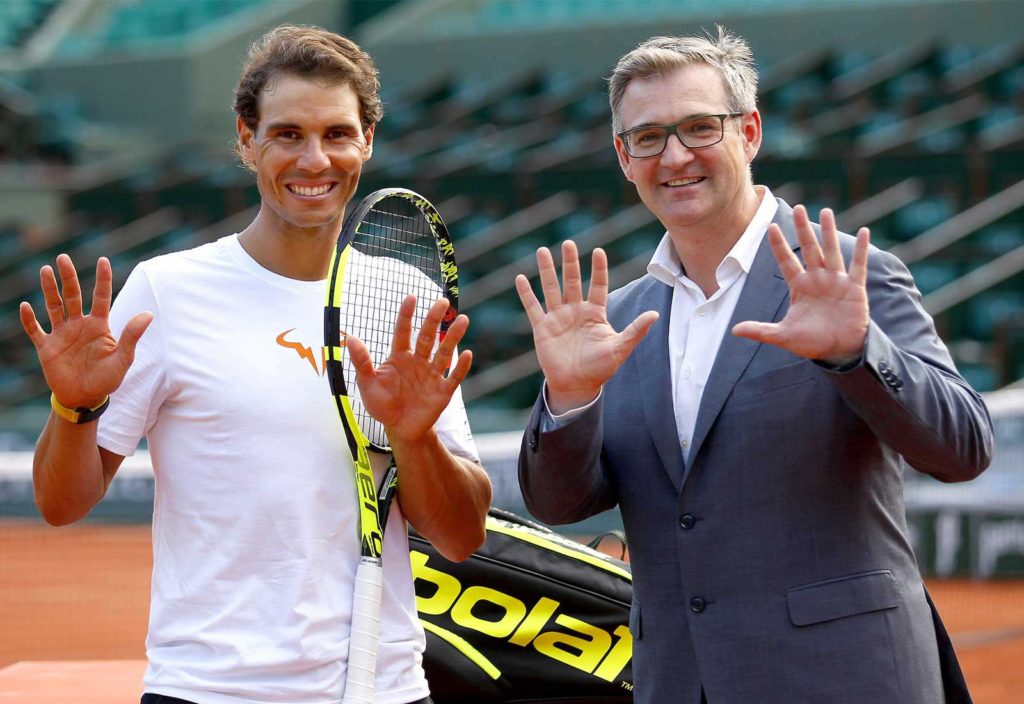 I think the bag makes a little more sense as it incorporates all his RG titles into the design.
Custom paint jobs on tennis racquets
Different paint jobs and customizations for recreational players is all the rage with the racquet companies these days. Wilson has their "Custom" program where you can get your Wilson racquet painted in the color-way of your choice for an extra 50 USD. You can also add your name. Underdog racquet company Angell Tennis has now graphic wraps and colour wraps where you can change the design of your frame by applying a wrap, similar to what is done in the car industry. I haven't tried them myself but sounds like a great idea as it also serves as a protection to the frame in a way.
So showing your identity and brand on court seems to be important for a lot of players and there's definitely nothing wrong with that as long as you're willing to pay the premium price for it. I'm no stranger to impulse buying myself when it comes to tennis gear, but in the case of limited tribute racquets, I try to take it easy.
What do you think of the La Decima release of the Babolat Pure Aero? Would you buy it?
***
Do you like Tennisnerd? Don't miss a word or video by stalking us on social media. Every like and follow is appreciated!

YouTube
Instagram
Twitter
Facebook Page
Amazon Influencer
Buy tennis gear
EU
Racquet Depot
Pro Direct Tennis

USA
Tennis Express
Do It Tennis
Amazon.com
Racquet buying guides
Here is a great racquet buying guide to get you started.
What tennis racquet should I buy?
Top tennis racquets to buy right now
The Gear of the Year 2017
The Gear of the Year 2016
Tennis racquets for juniors
Tennis racquets for kids
Popular posts
What the ATP pros play
Questions about pro stock tennis racquets
Is a pro stock racquet better than a retail one?
Do professional players change racquets?
Racquet Commitment Issues