Can you play tennis with a wooden racquet these days? Well, of course, you can, but is it enjoyable? I brought out my old Bancroft Bjorn Borg to find out…
Wooden tennis racquets went out of fashion in the early 80s. Bjorn Borg was one of the players that clung to his racquet, but then he also retired in 1983. There is a reason wooden racquets went out of fashion. They are simply very difficult to play tennis with.  The small hitting surface and the weight (400g or more) forces you to use laser-eye focus when watching the ball.
I was asked by a YouTube subscriber to bring out the old "woodie".

I was curious how much I would frame the ball. But my intention was to see it as a practice tool to dial in my footwork, eyesight and make sure to hit that tiny sweet spot over and over.
Fun and challenging
I thought of using the wooden racquet for about 20 minutes and revert back to the Tecnifibre TF40 or HEAD Pro Tour 2.0 that I am testing at the moment. But I had so much fun playing with this very heavy and flexible racquet, that I used it for most of the session!
The specs of my Bancroft Bjorn Borg Autograph were: 405g, 375 SW and 60 sq inch head size. It required me to really make sure I prepared and also forced me to flatten out my swing, almost continental style (in the end I stayed with my Eastern/Semi-Western grip).
It was a great practice session and I learned that I could actually play decent tennis (but far from by best) with a wooden racquet. As long as I hit with an ultra-flat stroke and a long continental-style swing, I managed to contact the ball properly. Generating topspin was another story. But I am sure it can be good practice for aspiring players to learn how to find the sweet spot!
Should they make a comeback?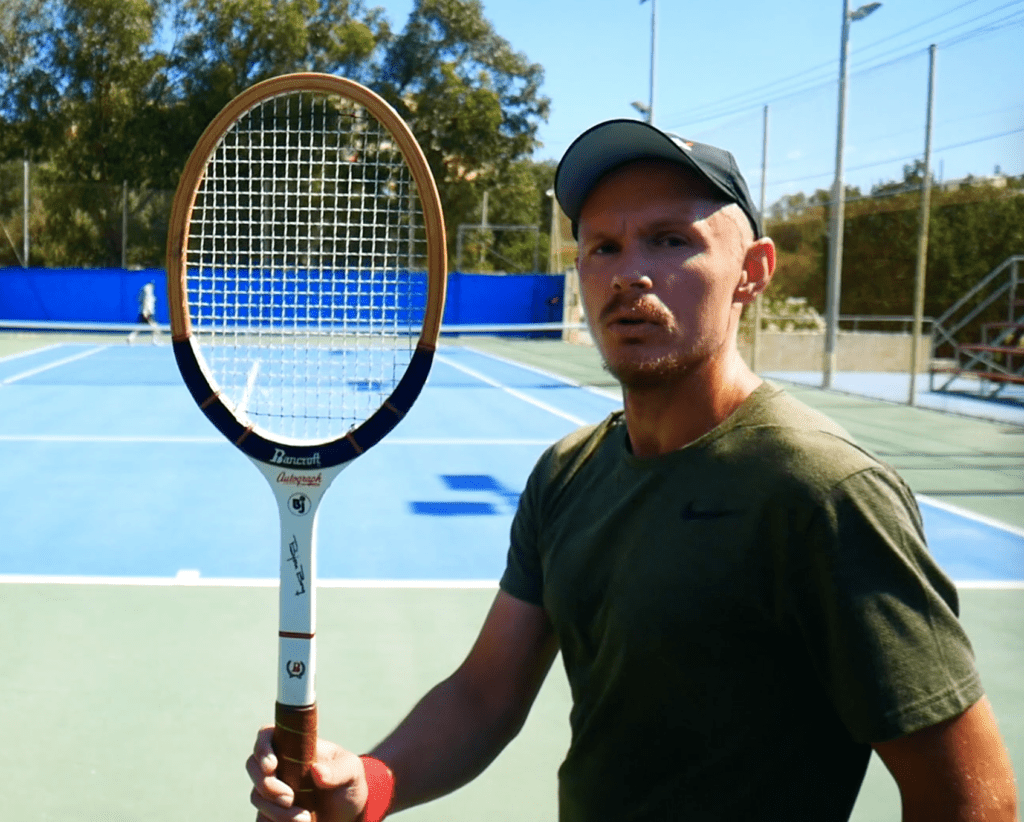 I would love to see some exhibition or club tournaments using only wooden racquets to change up the play and make it more creative and less focused on power and spin. Today's tennis can be a bit of a slugfest at times, especially with two big servers or competent baseliners on the court at the same time. I really enjoy watching players like Federer, Kyrgios, and Lopez that play a drastically different style from most other players.
So we should encourage younger players to mix it up more. Not sure if we need to change the technical requirements or rules of the sport to do so, but I think the viewers and fans of the sport would appreciate some more variety in today's tennis.
I want to end this post by giving the players who competed with wooden racquets a lot of respect and props for being able to play so well with a racquet like this. It definitely requires a lot from the user. So well done to you who mastered the woodies!
Have you played with a wooden tennis racquet recently?