One of the most popular racquet series on the market gets an update. Get ready for the HEAD Radical 2023 Auxetic.
HEAD Radical 2023 Auxetic
I have just received the new HEAD Radical 2023 racquets for play-test. They have the same mold as the predecessors, but include the new Auxetic technology, as in the HEAD Prestige 2021, HEAD Speed 2022 and the HEAD Extreme 2022. It has so far given the updated racquets a more stable yet slightly softer feel on impact. It's a minor update in terms of performance, but I would choose the Auxetic version of each line over the Graphene 360+ (except for the 2019 Prestige MP, which I preferred over the 2021 Prestige Pro). Is it worth the upgrade if you already have the 360+? It completely depends on how important your racquet choice is to you and your budget. As a tennis nerd, I would go with the Auxetic racquets.
If you want my first impressions of new racquets and lots of extra content, please check out my Patreon, where you can also ask me questions about gear and more.
What's new in the 2023 Radicals?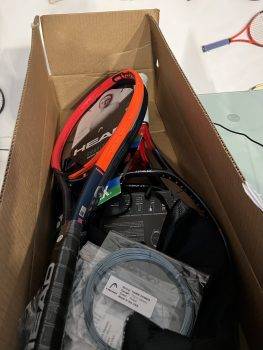 So the only real difference with the HEAD Radical 2023 is the Auxetic tech. There are no mold or string pattern changes, at least of the Radical Pro and MP that I am testing at the moment.
However, the cosmetic is new and in my opinion looks a bit fresher than the 2021 Radicals. It's perhaps not in the category of a "stunner", though.
HEAD's Auxetic updates are generally minor improvements in all their lines, silos and racquets. It's a gentle shift in the right direction. We will most likely see a more drastic upgrade in some lines in years to come now that they have ushered in the era of Auxetic.
I will also be testing the new HEAD Hawk Power string in the Radical Pro. Stay tuned for more. Please subscribe on YouTube and Patreon to get the latest in the Tennisnerd universe.