The tennis industry has become ripe with collaborations. Now we get Minions tennis racquets by Wilson. Gotta love the Minions, right?
I have previous written about the Wilson x Britto racquets and there has also been a Wilson Bape collaboration (and if I remember correctly a Supreme collab a while back). Wilson are not alone to do this. Prince has created Hydrogen Tattoo design version of their Textreme Tour 100 with o-ports. Lacoste has designed a tennis racquet together with Tecnifibre in the L 2.0. And Prince is doing an ongoing apparel collection with Dave Grutman of Miami (and partly Kardashian-based) fame. Their branded four-in-a-row game "even" got a story post on Instagram from Kourtney Kardashian, which puts millions of eyes on the brand (if those are relevant eyes, is another story). And here are the Minions tennis racquets by Wilson.
Racquet for kids…mainly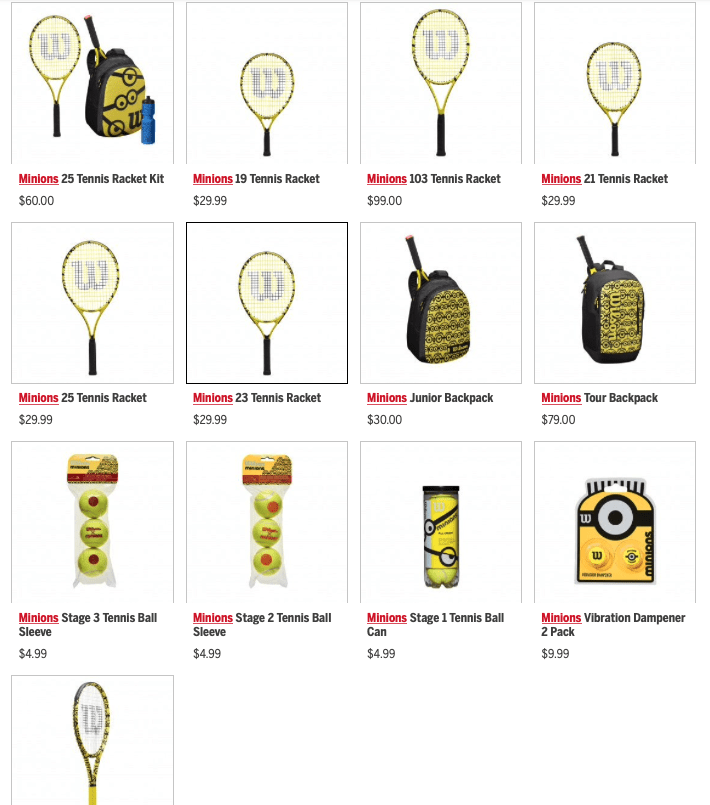 Kids love the minions, so this seems to be a pretty lucrative idea. And the racquets stand out with their strong yellow design. But there won't only be kids' racquets, there is also a 103 sq inch adult version (link to Wilson.com where you can buy it and other racquets) and there is also a Wilson Ultra 100 in a Minions paint job that you can buy from Tennis Warehouse Europe.
Would you play with a Minions-inspired tennis racquet?
Some people get frustrated with these collaborations or brand and product cross-overs, but I think it's just a natural part of business. My opinion is this: whatever gets more players inspired to play tennis, I'm game for. And if a Minions' tennis racquet can get more kids happy to get onto a tennis court, then we're all winning. I genuinely care about the sports and want what's best for it. And I think many tennis players see it the same way, we love tennis and want it to grow and be healthy.