Andy Murray discusses his racquet on Twitter, yeah you read it. He had a Twitter convo with Brad Gilbert about his racquet setup.
That's why we love Andy Murray, right? He doesn't shy away from taking his opinions or emotions publicly, which is endearing to me. The topic is timely, because it's obvious that he has done the physical work to be ready for Wimbledon and he looks to be in great shape, but he still didn't get the results he wanted. I discussed the topic of a Murray racquet change in this post/video some time ago. I reason that he should try to do a Federer and try go get more power/spin out of his racquet.
Yes, Murray's playing style is different from Federer's, but he has been using his PT57A his entire career and although it's one of the best racquets ever made when it comes to control, it does require sublime footwork and timing to be used in the best possible way. It seems like it works better for aggressive-minded players like Karatsev, Ivashka and Francisco Cerundolo these days than the "older" crop of players like Simon and Murray.
The Twitter conversation between Murray and Brad Gilbert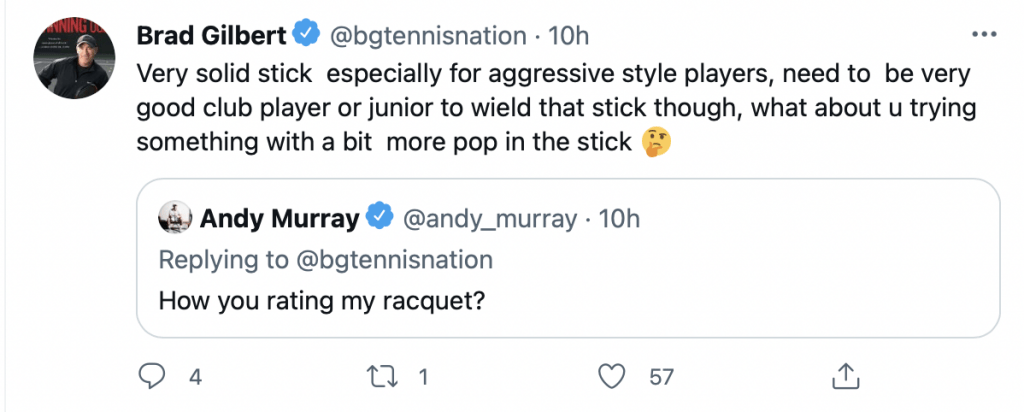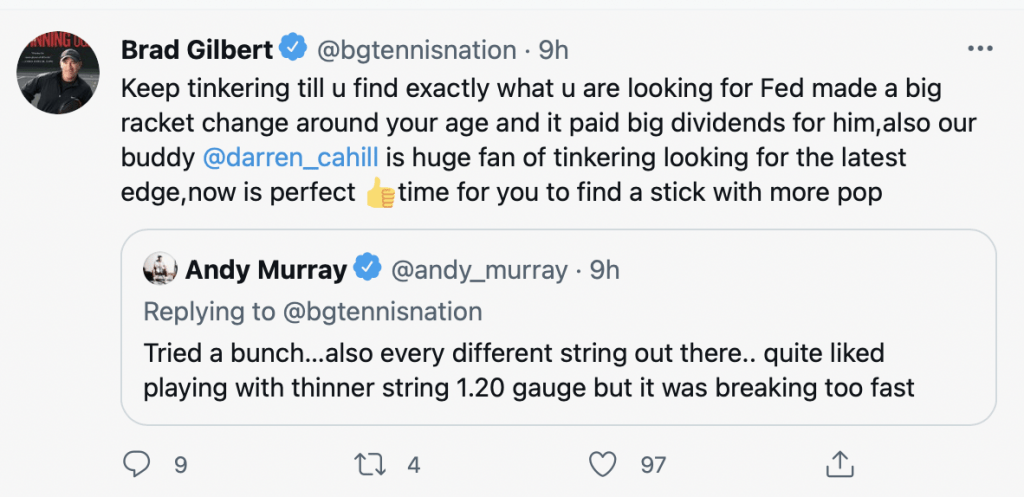 It's consoling to hear that Murray can be as lost about his tennis gear that us mere mortal tennis nerds! I personally think he is doing the right thing to tweak and test. If I would consult Andy, I would either look at getting him to try a Radical Pro/Prestige MP style racquet with a 16×19 pattern in 27.25-27.5 inch length. Just to get a bit more for free. It might completely change his game (lose confidence in his strokes) and not work out at all, but this is the time to experiment and see what a new racquet setup can bring to his game. He still wants to give it a go and push hard on the court and then the racquet change could give him some fresh air to bring into his last push on the tour.
@Andy – reach out! We will find a way! I believe in you! 🙂
Should Andy Murray change his racquet?