What can we learn from the Atlanta ATP String Tensions in 2023? There are some things in the sheet that raises eyebrows.
Atlanta ATP String Tensions 2023
Before we get into the string tension sheet, I want to thank Kevin Sala for the picture. If you have some info you want to share, you can either contact us here or send info via Instagram @tennisnerdinsta.
I like how the sheet in Atlanta is drawn beautifully on a white board. The person who does this has some really brilliant handwriting!
Don't pay too much attention to the racquets, because writing "Ultra" or "Aero" gives the stringer all the information he/she needs, but it's not in terms of pro player racquet info.
Atlanta ATP 250 Tension sheet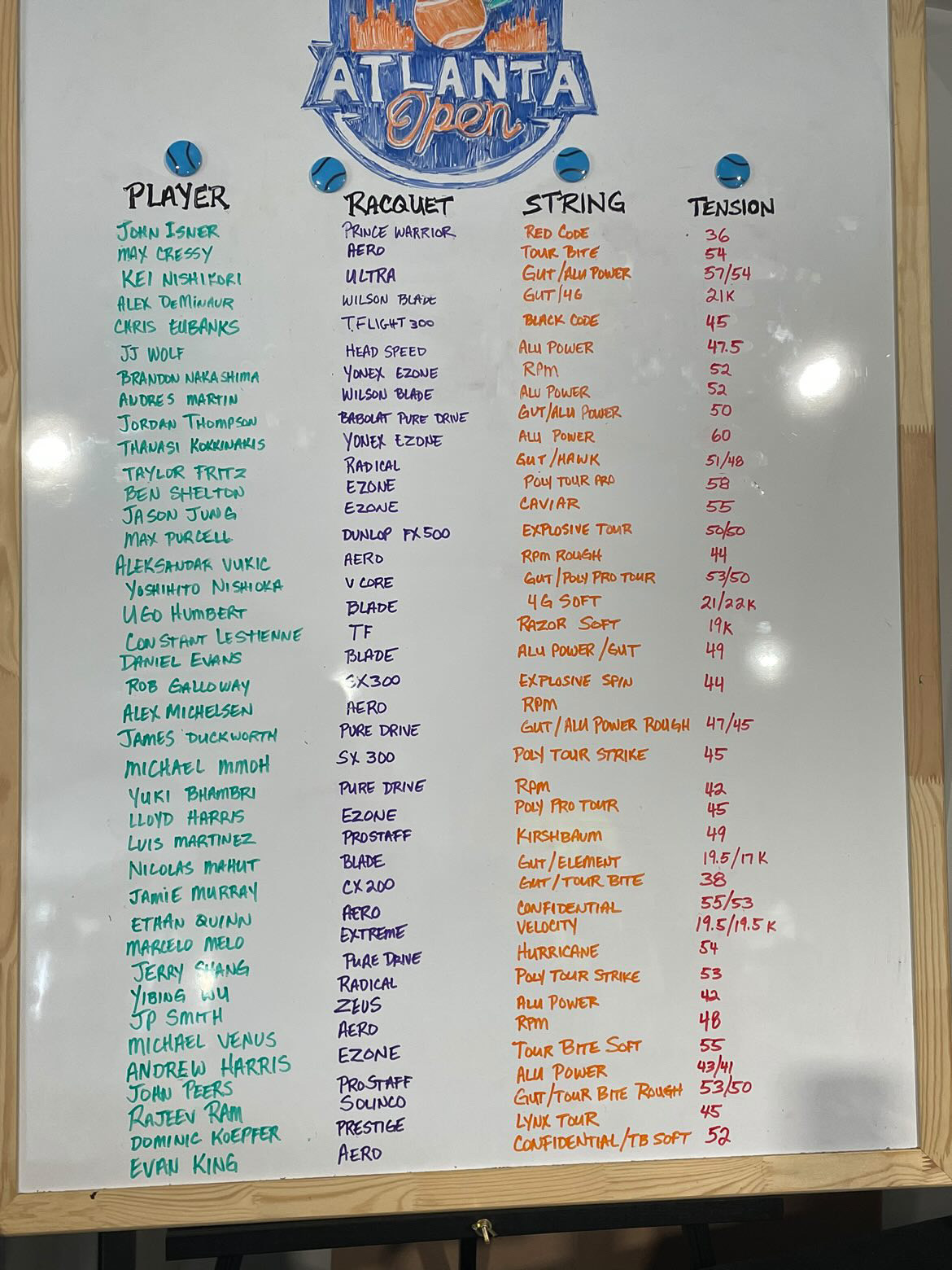 Skimming through the sheet, we see that gut hybrids are still popular and there are a few of them here. It's my feeling that tensions are going down on average. Marcelo Melo's 19.5 kg Velocity (multifilament!) is very surprising. But doubles players seem to use lower tensions overall. Just look at Nicolas Mahut and his gut/element combo below 20 kg!
An interesting poly hybrid is Confidential and Tour Bite Soft in Evan King's racquet. Also fun to see one of my favorite strings Toroline Caviar on the ATP Tour in Jason Jung's racquet.
If you look in the tension column, it's clear that there are a lot of tensions below 50 lbs (below 22.5 kg). Players are hitting with more spin and need more power, which a lower tension can help you generate. You get a little bit of a trampoline effect from the strings, which is better for comfort and power but can be difficult for players to control unless you hit with loads of spin.
A lower tension will help players that want to serve big, like John Isner (36 lbs), but at the same time, you have Maxime Cressy (54 lbs) with a more traditional string tension. It's a matter of taste, style and technique.
Mannarino has been seen to string as low as 19 lbs in recent tournaments! He controls that using shorter swings and excellent timing. Remember that pros restring their racquets daily and will play with a fresh string bed. If you don't want to restring often, making a very low tension work for you might be tough.
But maybe this sheet inspires you to drop your tension a bit for more power and comfort?
What is your string tension?