Cameron Norrie is having the season of his life so far with his first title win. But what is Cameron Norrie's racquet?
Like with most pro-player racquets, it's a tricky one to answer. If you're new to this topic professional tennis players don't change their equipment very often, instead, the manufacturer paints the racquet to look like the latest retail racquet to be able to sell more racquets. Before they used to write that a certain player "uses" this racquet, but now they're calling it "endorses" instead due to a Babolat lawsuit in 2009. Cameron Norrie's racquet should be a Babolat Pure Control Tour, which is what he was using during his junior/college years. One easy way to see that it is not a Babolat Pure Strike 98 V3 is to zoom in and count the strings on his racquet. On closer inspection, Norrie uses 16 main strings and 20 cross strings, a clear indication that it is still a Pure Control Tour.
Cameon Norrie's Racquet Specs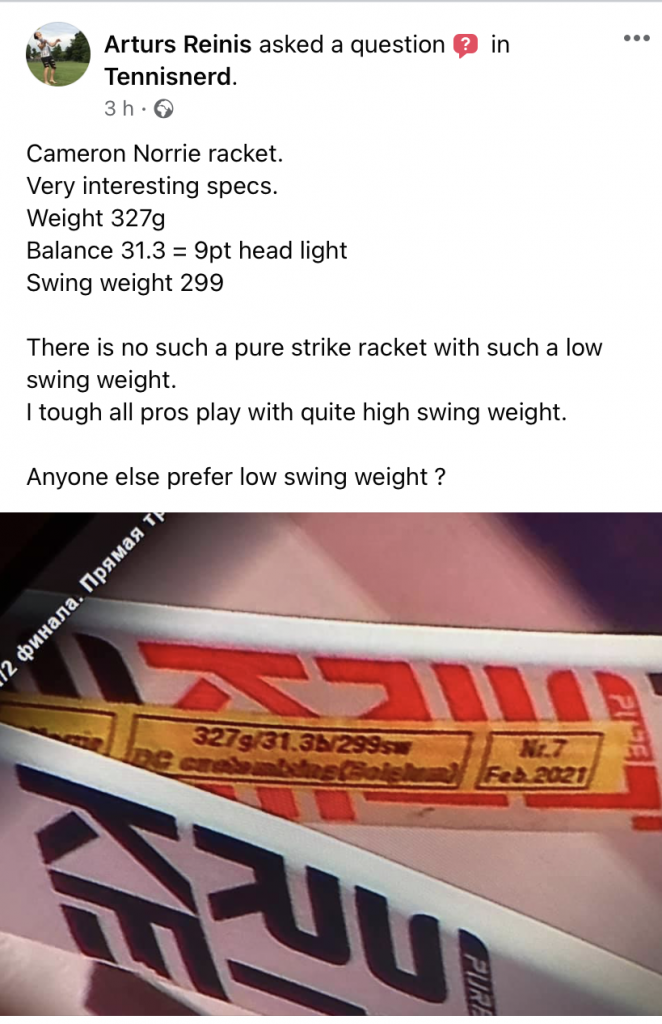 This player sticker (from DC Customizing) was posted on the Facebook Group "We are all Tennisnerds").
His unstrung specs: 327g, 31.3 pts balance (9 pts HL), swing weight 299.
When he adds strings and overgrip (looks like Luxilon Alu Power to me), the specs should be around: 350g, 32 cm balance, and 330 swings weight. Not a very heavy racquet for an ATP pro.
It's actually towards a spec I usually like myself, 350g  and 32 cm balance with a 330 SW.
Norrie's rise in the rankings
Cam Norrie has had a spectacular year so far. A first ATP tour title in Los Cabos, he reached the final at Queens (lost to Berrettini), and he also reached the final in Lyon where he lost to Tsitsipas. During the clay-court season, he reached another final, in Estoril, where he lost to Ramos Vinolas. There is an obvious potential for more with Cameron Norrie. He doesn't have a huge game, but works hard, plays smart, and finds ways to make it difficult for the opponent.
How far can Norrie go? Difficult to say, top ten would be a stretch, but I think he can hover around the top 20 consistently and win a couple more ATP titles.
Facts about Cameron Norrie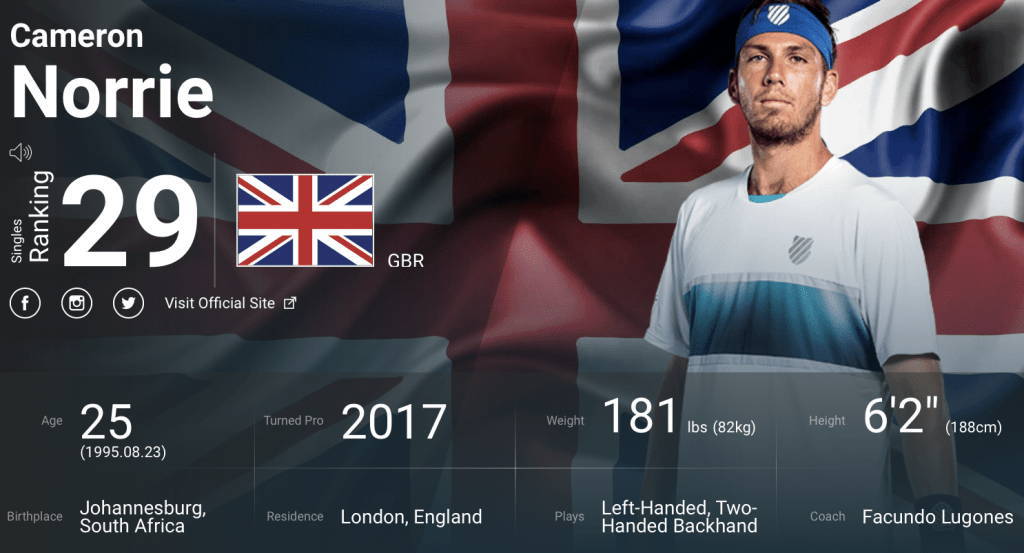 *Born in South Africa, grew up in New Zealand, became No. 1 collegiate player in USA at Texas Christian University, and has represented Great Britain since 2013.
*Began representing Great Britain in 2013 after playing most of his junior career for New Zealand.
*Idols growing up were Andre Agassi and Rafael Nadal.
*Favourite surface is hard, shot is backhand and tournament is Wimbledon.
*Attended Texas Christian University for 3 years (2015-17), finishing college career as No. 1 player in the nation.
What do you think of Cameron Norrie and his game?