Emma Raducanu is playing in Madrid this week and a stringer posted Raducanu's racquet specs. Possibly inadvertently.
Thanks to Alex Grant for sharing the pics from @racketspec on Instagram. As I've talked about in my previous content about Raducanu's racquet, she is using a Wilson Steam 100 BLX. But Raducanu's racquet specs were not well known until now. Her racquet is painted to look like a Blade 98 16×19 and her unstrung specifications are: 305g unstrung, 286 swing weight, 31.5 cm balance point. If you add strings and over grip, you're looking at something like (approximating here, it depends on the string of course) 328g, 318 SW and 32.3 cm balance point.
It's a fairly light spec for a pro player, but you see these types of lighter racquets more frequently on the WTA Tour. I've actually been asked many times to do more content about WTA Tour players because that's what most mere mortal tennis players should use. I will do my best to hunt down some more WTA player specs for you and if you have any to share, please post in the comments or message me on Instagram.
What can we learn from Raducanu's specs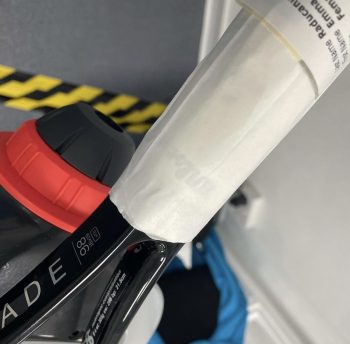 WTA players tend to use lighter racquets, so nothing really new or shocking there.
Most club level players should use racquets with lighter specs than they do. It's nothing wrong with a heavy Prestige if you love the feel and can generate your own power, but it shouldn't be a "macho" thing. Powerful, lighter racquets can help you get free depth and spin on your shots, which will help your tennis.
Just beware that some light and powerful racquets are know to create more tennis elbow problems. It's not always the case and depends heavily on the string and the player's technique, but it's good to be aware of.
I've ranked some of my favorite power racquets here.