Big congrats to Lorenzo Musetti who won the Hamburg ATP, defeating Carlos Alcaraz 6-4 6-7 6-4 in a great match. But what is Lorenzo Musetti's racquet?
Lorenzo Musetti's Racquet
Lorenzo Musetti's racquet is painted like a Boom Pro, which he did try for a while but it's actually an Extreme Tour pro stock called PT 348.1. The PT stands for a different layup than the standard Extreme Tour which is called TGT 348.1. It supposedly flexes differently, but that's hard to say without actually testing and measuring the frame.
What you can say about both the Extreme Tour and the Boom Pro is that they are fairly similar racquets. A while back, Nikki Roenn and I compared the Radical MP vs the Extreme Tour and found them fairly similar, with more power and spin potential for the Extreme but with a more consistent string bed for the Radical.
The Boom Pro is even more lively than the Extreme Tour. The string bed offers more movement and the racquet generally plays more powerful than the Extreme. This is likely what Musetti found when he tested them both side by side.
Specifications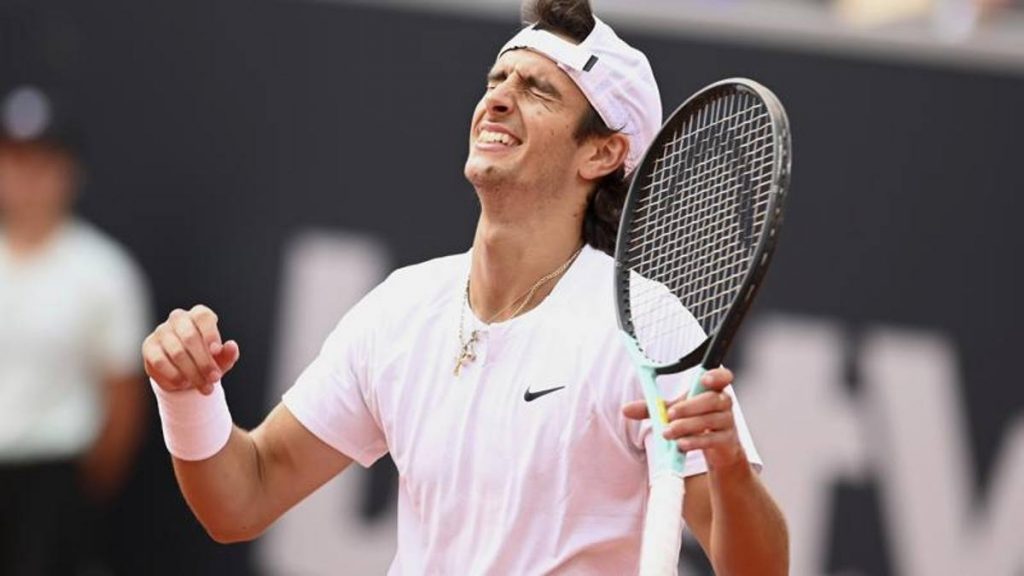 Sadly, we don't know the exact specifications of Lorenzo Musetti's racquet except for that it weighs 320 grams unstrung. Swing weight and balance remains. If you know these things, don't hesitate to contact us. He strings the racquet with a combination of HEAD Hawk Touch in the mains and HEAD Lynx Tour in the crosses.
You can buy the HEAD Extreme Tour at Tennis Warehouse and Tennis Warehouse Europe at discounted prices right now.
Musetti's win in Hamburg was his first tournament win and it bodes well for the 20-year-old. He broke through some years back but has had a tougher time to produce solid results of late.
It was especially impressive how he lost many match points and the second set and then came back to win the match against a player of Carlos Alcaraz quality.
This is what Musetti said after his win:
"I have no words because it was a roller-coaster until the end. I had so many match points. Carlos was so good on the match points, [I had] so many chances," Musetti said in his on-court interview. "But I think the key of the match was to keep calm and [have] all the patience [with] myself because it was really not easy. Carlos was putting so much effort in the match points when he was down, so it was not easy to find the energy to come back.
"But I cannot describe what I am feeling right now. I think I am still dreaming."
Let's see what this amazing tournament win can do for Musetti's confidence going forward.