These are two racquets I've been enjoying recently and it's time for a comparison review. The HEAD Extreme Tour vs Babolat Pure Aero VS.
The modern game of tennis is a lot about generating topspin to make the ball dip inside the lines. There are plenty of extreme spin racquets out there and if you want to know about the best ones to maximize your topspin generation, check out this video and post: The Best Racquets for Spin. In this video, I also talk about the best racquets for a mix of spin and control and that's where this head-to-head is highly interesting. Both these racquets are on the list for my next match racquet of choice, the HEAD Extreme Tour vs Babolat Pure Aero VS.
If you want to check my separate reviews, check out some of the links below.
Babolat Pure Aero VS review
Babolat Pure Aero VS compared to Pure Strike 98
HEAD Extreme Tour Nite Review
Spec check
These racquets spec out pretty closely, which is why it's interesting to compare them.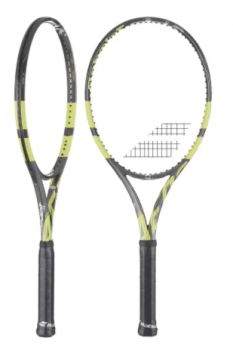 Babolat Pure Aero VS specs
Head Size: 98 in / 632.26 cm
Length: 27in / 68.58cm
Strung Weight:11.3oz / 320g
Balance: 12.75in / 32.39cm / 6 pts HL
Swingweight: 321
Stiffness: 67
Beam Width: 21mm / 23mm / 22mm
Composition: Graphite
Power Level: Low-Medium
Stroke Style: Medium-Full
Swing Speed: Medium-Fast
Racquet Colors:Yellow/Metallic Silver
Grip Type: Syntec Pro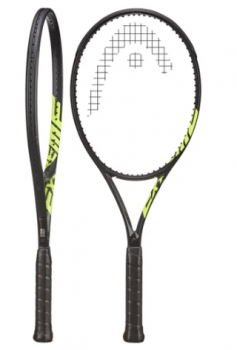 HEAD Extreme Tour specs
Head Size: 98 in / 632.26 cm
Length: 27in / 68.58cm
Strung Weight:11.4oz / 323g
Balance: 12.79in / 32.49cm / 6 pts HL
Swingweight: 318
Stiffness: 65
Beam Width: 22mm / 23mm / 21mm
Composition: Graphene 360+/Graphite
Power Level: Low-Medium
Stroke Style: Medium-Full
Swing Speed: Medium-Fast
Racquet Colors:Black
Grip Type: Hydrosorb Pro
These racquets have a similar beam profile, stiffness, weight, swing weight and balance. They are both made for players who want some extra topspin potential and some power without going all the way to a regular Pure Aero or an Extreme MP.
The key difference is the string pattern where the Extreme Tour is 16×19 and the Aero VS is 16×20. But they are both relatively tight patterns for spin racquets, so the level of topspin and launch angle is very similar.
How do they play?
I have played some of my best tennis in recent times with these two racquets and I find it difficult to say which one I like best. The Aero VS is a bit stiffer, which is something to take into account for players with sensitive elbows, but it's not a harsh racquet in my experience. The power level is perhaps a tad higher with the Aero VS due to the stiffness, but they do play very closely there.
The biggest difference in playability for me is how different they move through the air. The beam of the Aero VS is even more aerodynamic which makes it whip through the air even faster, but it perhaps doesn't feel as natural on flatter shots. I notice this especially on my one-handed backhand, where the Extreme Tour is more natural. On the other hand, I feel like my forehand is whippier and probably even better with the Aero VS. Hmm…
They are both excellent racquets on touch shots. I feel connected to the stringbed and have no issues on a deft volley with either frame.
On serve, I got good pop on both racquets but perhaps a tiny bit more on the Pure Aero VS. It's the stiffer layup and slightly thicker beam that does it.
The slice feels a bit more natural to me with the Extreme Tour, where I feel like the Aero VS' more extreme beam profile makes it not carve through the air quite as nicely as the Extreme Tour.
Summary
This is a TIGHT race. I could play a tournament match with either frame and be perfectly happy. My game is perhaps a bit more versatile with the Extreme Tour as I feel like my one-hander is better with that frame, but I get a bit more power on both my serves and forehands with the Aero VS, which is my bread-and-butter.
Decisions, decisions!
At the time of writing, I don't know which one I would personally go for. I seem to enjoy and play well with both frames. They give me a bit more power and spin potential than my Prestige MP, which is exactly what I was looking for.
These are not the only 98 sq inch spin racquets out there obviously. The Tecnifibre IGA Signature is also a nice option and the new VCORE 98 was definitely a good update although, that racquet is a bit too muted for my personal taste.
I think both the Extreme Tour and the Aero VS are excellent examples of modern control racquets that have captured a serious fanbase. Just look at players like Musetti (Extreme Tour) and Alcaraz (Aero VS). It's rare that high-ranked pros play with currently available retail racquets but in this case, they do (although they are obviously customized to their liking). I think that says a lot.
Two great frames! Which one would you pick?
You can buy these frames from Tennis Warehouse, Tennis Warehouse Europe, and Tennis Only through my links and I get a small commission if you do (for which I say THANKS!).