Are mid-size racquets obsolete? Or can they be used even in today's fast-paced and top spin heavy game? I would say it depends on who you are as a player. There are plenty of nice things to say about this mid-size racquet in this Angell Custom TC 90 racquet review.
I have used plenty of mid-size racquets over the years such as the HEAD Prestige Classic, Wilson Pro Staff 90 (used the k-Factor version, probably my all-time fave midsize racquet) and Volkl Powerbridge 10 Mid, which are some of the best ones in my opinion. Now I have transitioned to a 100 sq inch racquet with my customized 90s (not square inches, but years) Soft Drive, but I still have a soft spot for midsize sticks. That is why I was excited about this Angell Custom TC90 racquet review.
A lot of people wonder if the midsize racquets are still viable in today's game. I would say it depends. They are definitely more difficult to use than 98-105 sq inch racquets, but if you have the right game for it, they can really be tremendous weapons. It did not take me long to feel that I had to stay aggressive with the Angell TC 90, but if I did, I could benefit from skidding slices, excellent touch on volleys and the power to put away shots, as long as I prepared my feet properly.
Angell Custom TC 90 Racquet Review – Spec sheet
The specs of my Angell Custom TC 90 makes it possible to both play it stock, as well as add some lead tape to it for more power/stability.
Unstrung specs:
320 grams
10 pts head light balance
70 RA (you cannot order different RA for the TC 90)
This way I felt like I could add some lead tape to the frame if I wanted to. The 330 gram version would be my normal choice otherwise, and since I usually end up in that spec range anyway, I might as well have ordered that one from the get-go.
The stability of the TC 90 in stock form surprised me to be honest. I had no trouble directing volleys or trading ground strokes with heavy hitters, so in the end I did not have to add much lead tape to reach the spec I wanted.
I strung up the TC 90 with Wilson's champions choice
(Wilson Natural gut
in the mains and Luxilon Alu Power Rough
in the crosses). This combo did not disappoint in this "classic" racquet. I would urge you not to put a poly string in a midsize frame, I think you kill the feel and make them too low-powered to use. You can go for a multi-filament or a synthetic gut/poly combo if you do not want to splurge on the natural gut string.
Angell Custom TC 90 Racquet Review – Performance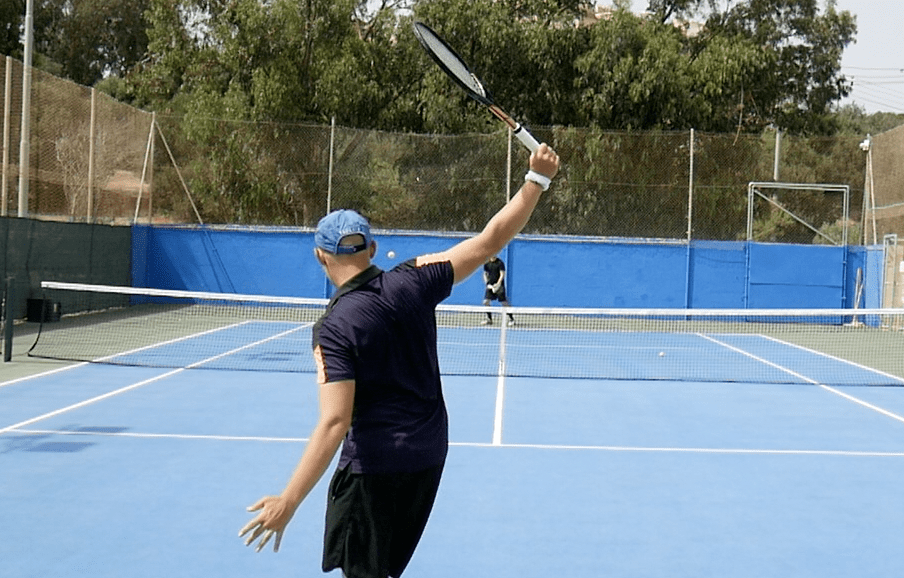 Coming from the test of the Angell Custom TC 100, I need to adjust my swing a bit. The 90 sq inch head size does not leave a lot of room for errors with its small sweet spot, so it certainly helps to shorten up the swing and go for flatter shots. The racquet also made me want to attack the net as soon as I got the chance. Trading ground strokes from the baseline made me want to miss my Soft Drive a bit, but as soon as I started to mix up my game and move in, I really appreciated the top notch feel of the Angell Custom TC 90.
I think the string pattern is just about right. It offers you some extra spin but without sacrificing control. I also did not notice the 70 RA when playing with a gut/poly hybrid. If I had strung it up with my standard string (HEAD Hawk Touch
), I guess I would not have appreciated it as much as I did. So this is a comfortable frame as long as you stay away from the poly.
Angell Custom TC 90 Racquet Review – Manoeuvrability
What I love with midsize racquet is the manoeuvrability. They move so quickly through the air that it really makes you want to serve and volley all day long. The racquet was great on serves and it was up to me to get close to the net and finish the point. It is also a really nice racquet when you have to really set up and attack the ball. So you could see how Federer could use a 90 sq inch racquet for as long as he did considering his playing style.
Angell Custom TC 90 Racquet Review – Just for fun or more?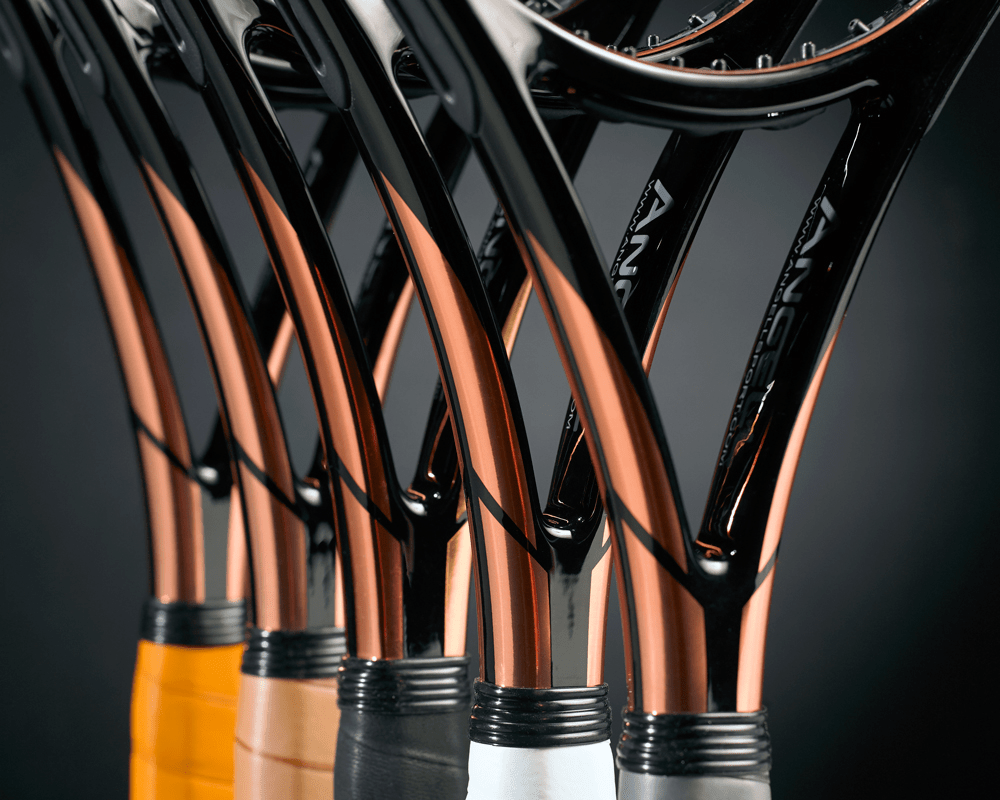 I am not a serve and volley player so I will not be switching to the Angell TC 90 for competitive play. If I was I would definitely consider it. This is simply a great racquet for the attacking player who moves well and has proper technique. Baseliners who rely on top spin or defensive skills are best to look elsewhere and the racquet requires you to be a very good player to utilize it to the fullest. It is still a fun racquet to use and a nice one to have in your bag to make sure you clean up your strokes. I feel I need a little more room for error personally however, and would hesitate to take this into a tournament unless it was played on grass courts.
Angell Custom TC 90 Racquet Review – The new paint job
Last but not least, I want to mention the glorious new paint job on the V3 edition of the Angell Custom racquets. The copper shines in the sun and I have had several people ask me "What racquet is that?" which rarely happens. So to summarize, this is a beautiful stick inside and out, if you have the game to make it shine. The mids are not dead, they are just waiting for the right player.
Angell Custom TC 90 Racquet Review – Video review
Buy your Angell Custom TC 90 V3 and other Angell racquets here.
What do you think of the Angell Custom TC 90 V3? Please comment below!
***
Do you like Tennisnerd? Do not miss a word or video by stalking us on social media. Every like and follow is appreciated!

YouTube
Instagram
Twitter
Facebook Page
Amazon Influencer
Buy tennis gear
EU
Racquet Depot
Pro Direct Tennis

USA
Tennis Express
Do It Tennis
Amazon.com
Racquet buying guides
Here is a great racquet buying guide to get you started.
What tennis racquet should I buy?
Top tennis racquets to buy right now
The Gear of the Year 2017
The Gear of the Year 2016
Tennis racquets for juniors
Tennis racquets for kids
Popular posts
What the ATP pros play
Questions about pro stock tennis racquets
Is a pro stock racquet better than a retail one?
Do professional players change racquets?
Racquet Commitment Issues