Ferenc Ferdinand Weisz is back. This time with a Artengo TR 960 Control Tour 16×19 review. This racquet has made waves on the market after Monfils' endorsement.
Artengo TR 960 Control Tour 16×19 review
Since I had seen Gael Monfils start endorsing Artengo equipment, I stand with excitement for trying this racquet that he endorses. This excitement is multilateral:
I own TR 990 Pro and TR 930 Spin Pro racquets, which are quietly different: round head, open pattern and stiff frame for producing a lot of spin and power, and I want to try something else from my well-liked brand.
My first two serious rackets in my childhood were Head Radicals which established my relationship with this head shape and box beam frame.
I'm curious what Artengo can produce for an iconic, former top 10 player.
The design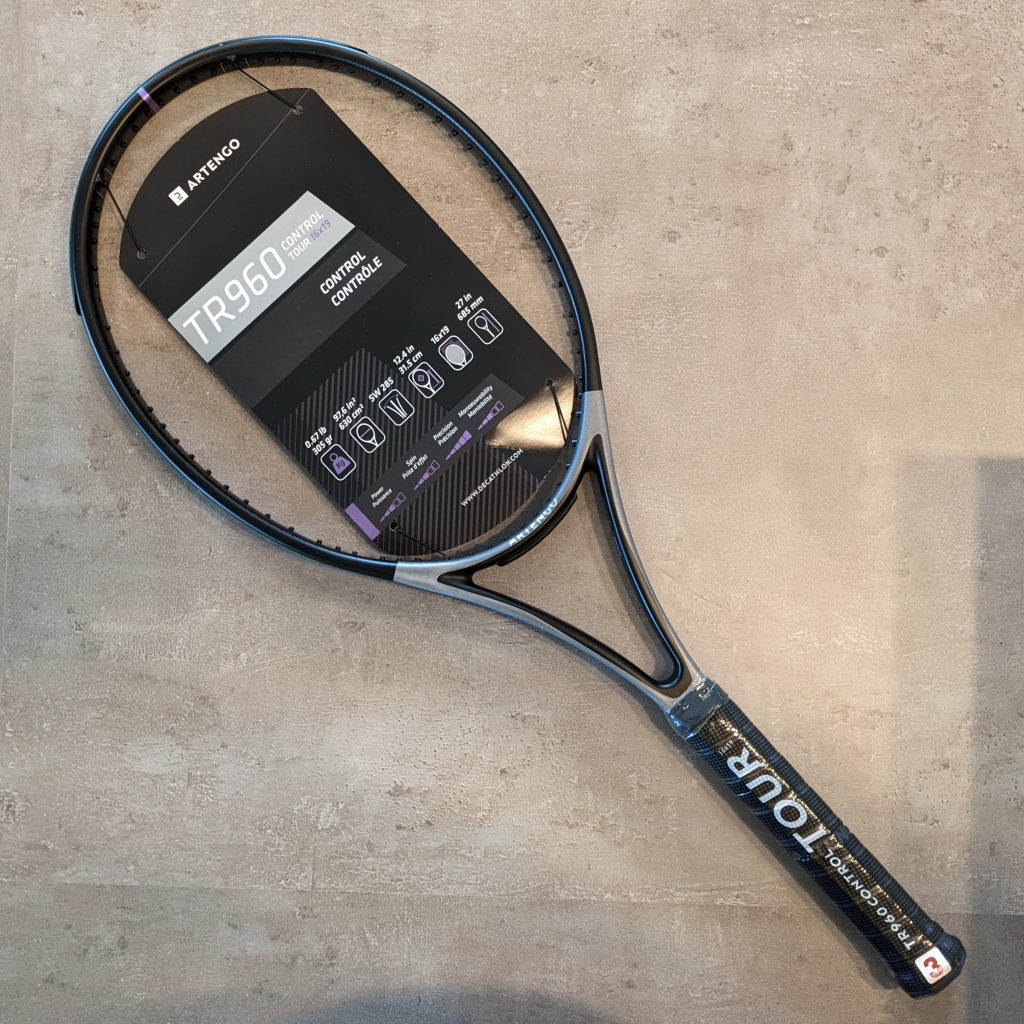 The TR 960 Control Tour is a straightforward one. The head shape is typical for more traditional HEAD and Wilson racquets. Wilson has three pro stocks which are the most common: H19, H22 and H25, where the number means beam width. These pro stocks are based on older Head frames, and Monfils also used one from these in Wilson times. The beam is straight 22mm, and no variation on the bridge and neck like on modern Head Prestige frames.
Head shape is a typical "Head." Design is also simple and fits to standard Artengo design where the throat and neck outside are painted a different color to black. Here this color is light gray and has a purple mark at 12 o'clock. I'm not completely satisfied with the paint job because the details are not the best and I find a paint chip and awl scratch on the brand new racquet. The grommet looks soft – I'm curious about durability – and the bumper is significantly shorter than on TR 930. The tie-off holes on the throat side are not in the best position, which does not allow the possibly most precise string job. I don't understand why, because I hadn't had a problem with this on my 930 and 990. Also, it doesn't prepare for gut hybrid's mains to mains, crosses to crosses knotting, like the many tour category rackets.
Specifications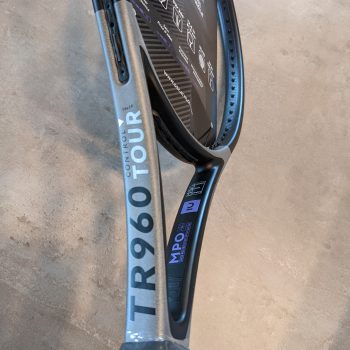 The specification is also pretty standard. Not too heavy, which allows tuning, but projecting how it's an advanced racquet.
head size: 630 cm2 / 97.6 sq in
weight: 305 g / 0.67 lb
balance: 31.5 cm / 12.4 in
string pattern: 16×19
stiffness: 65 RA
beam: straight 22 mm
I was thinking about what I will string to this racquet, then I decided on my go-to poly, Wilson Revolve 1.25/17, and 24/23 kg (53/51 lbs) tension, adjusting to a smaller head size. I put an overgrip on what I fixed with the included rubber ring, also a rubber band dampener, then went to the court. The handle is long, making it comfortable for a two-handed backhand. Buttcap is ball-like, but not so much like a Wilson.
Playing with the Artengo Control Tour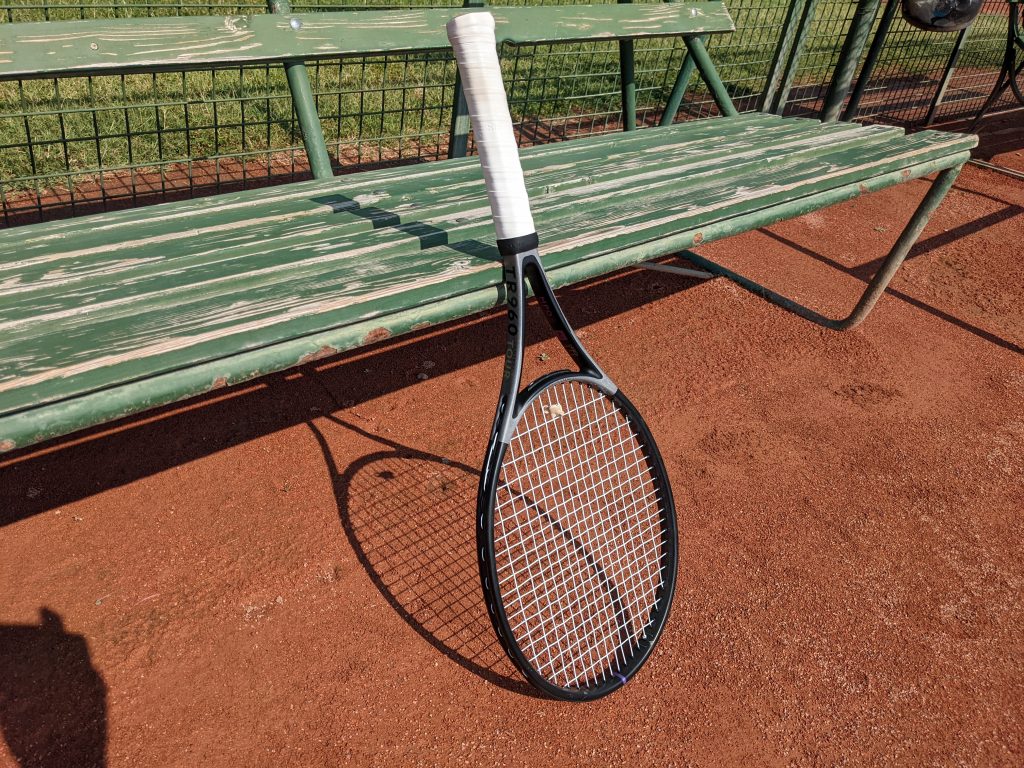 Well, it's a controlled racquet with every advantage and disadvantage of this fact. This means how much control you have over what will happen with the ball after leaving the stringbed. I usually play with power racquets, and I experienced how this stick magnifies my abilities and current condition, so this racquet is not forgiving. If you produce technically sound shot, the racquet will deliver.
For me, it took a long time to get used to this racquet, but after that, i enjoyed playing with it. I like the open pattern of the 16×19 version. This is a smart decision, because I think somebody who wants more control of the tighter pattern, can select the 18×20 version and get this. I never quite understood the dense pattern of certain 16×19 Radicals and Prestiges. In this case, some more access to spin and free power remains.
I also liked the weight and balance of these racquets despite not having good experience with racquets over 300 grams. It makes a good base for customization. The frame is not muted but doesn't provide annoying vibrations. The feel is average, but I didn't feel comfortable with this string setup. The sweetspot is small, and hits outside of this area during training with new Wilson Roland Garros balls were a bit painful. It again proved that RA is not everything. My 990 and 930's are more comfortable.
Summary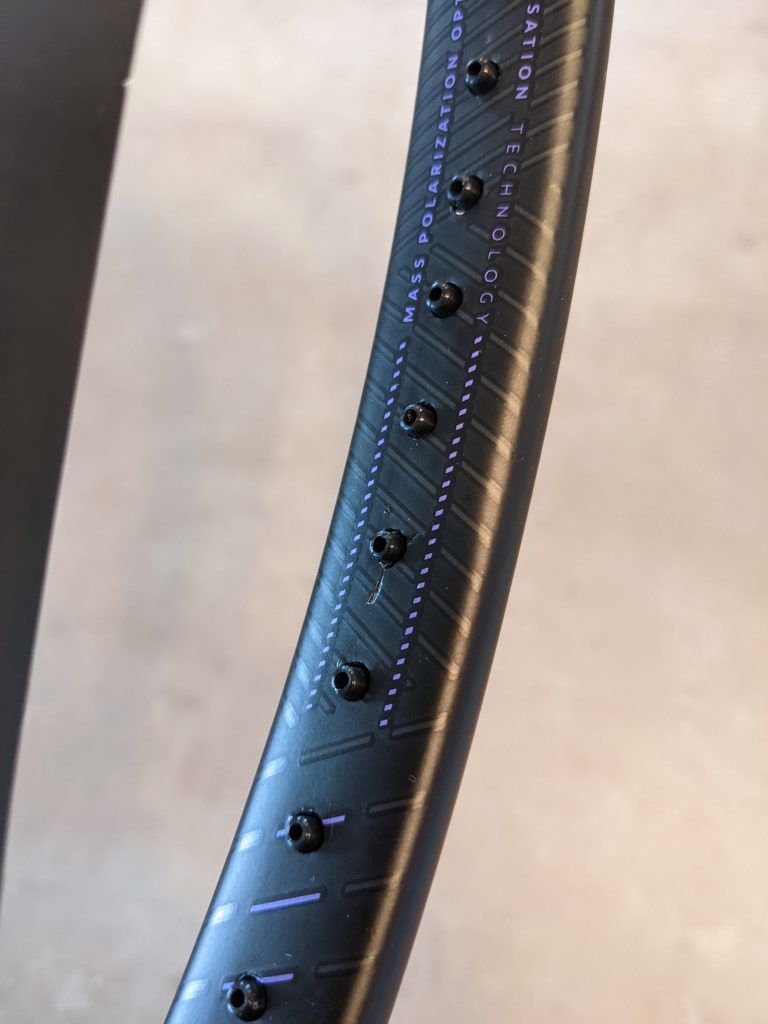 Overall it's a good racquet at reasonable price, but I'm a bit disappointed. Maybe the expectation was too high. Paint scratches next to the short bumper were the 930 was covered, bad knot positions, small sweet spot, and average feel. I expected something else. Nonetheless, this racquet can do what it was made for: give the player exactly what they put into it. The result will likely be more impressive with a softer string, lower tension, or hybrid or multifilament stringing. This racquet costs 110€ or £99.99, which is not much for a control racquet. If you're into this kind of racquet, it might be well worth just buying it and giving it a go.
Editors note (TN): I had the same feelings in terms of quality of design/paint when I reviewed the 18×20 version. But I did like the feel (I am more used to this type of racquet) and my friend Fredrik from Vintage Tennis has made the switch to this 16×19 version. But it all depends on what you look for in a racquet. If a control frame is interesting, it's worth checking this one out. At the price you might have to expect a more sloppy delivery, but in my opinion the racquet plays like more expensive racquets. Is it as sweet as my Prestige MP from 2019? Not quite, but overall it does a great job.
You can buy the Artengo racquets from Decathlon.
Thanks to Ferenc for this excellent review. Do you want to review racquets/strings or write for Tennisnerd? Don't hesitate to contact us.