Babolat has finally released a few more versions to the Babolat Pure Strike line with the Babolat Pure Strike 18×20, the Babolat Pure Strike VS and the Babolat Pure Strike VS Tour. I wonder how consumers will be able to keep all these different Pure Strike models apart to be honest. The VS line replaces the Babolat Pure Control
line so I guess they're trying to reduce the number of paint jobs and racquet lines on the market.
The reviews of the new Babolat Pure Strike has been glowing from the usual retailers such as Tennis Warehouse and Tennis Express, but some players have expressed concerns over stiffness. I had the chance to test the Babolat Pure Strike 16×19
and I must say it was a big improvement over the "boardy" Darth Maul version
, but if you're using a co-poly string it can be quite firm on tender joints. I think this is racquet that you either need to drop string tension quite a bit (I usually string around 22 kg but in the Pure Strike I might go even lower with the Solinco Hyper G – click to read my review) or try a hybrid of natural gut and co-poly such as the Wilson Champions Choice
or the Babolat RPM Blast + VS
 which are both top-of-the line string sets if you want both feel and spin. Also, a softer poly like Solinco Tour Bite Soft
or Luxilon 4G Soft
might reduce the shock to the joints quite a bit.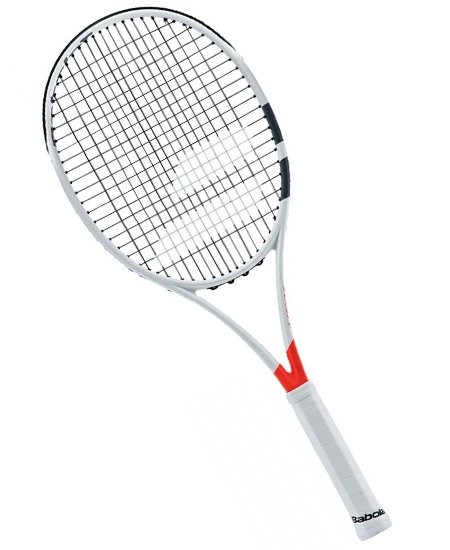 But despite the firm (which some call "crisp) feel, almost all the reviews will tell you that the new Babolat Pure Strike is a great option for the aggressive baseliner in both 16×19 and 18×20 patterns. I agree with that in general, but it's definitely not the racquet I would recommend for someone who has had arm issues in the past. There are much better arm-friendly options out there for people looking for a comfortable response. But in general I think the Babolat Pure Strikes have a nice blend of attributes that will fit a wide variety of players. (However, it's important to know that they're significantly different from the Babolat Pure Strike VS racquets.)
Like always, if you can, demo the racquet and be aware that the strings on the demo might be completely different from what you're used to so you have to have a slightly open mind about the racquet's performance.
In the featured pic: Dominic Thiem is one of the players endorsing and using the Babolat Pure Strike.