Here is another classic racquet: the HEAD Ti Radical Mid Plus. This time, fellow tennis nerd, Ferenc Ferdinánd Weisz do the reviewing.
The relationship with this racquet was a very determinative childhood experience for me. My first non-cheap alloy racquet was a Zebra Radical Mid Plus which we bought used. In this time I had a young and problematic coach, who borrowed my racquet at weekends for team championship matches. I don't know what happened to my Zebra, but once I got back a Ti Radical Mid Plus. I didn't mind that, cause I really liked it, and I felt how I have a superb stick, and that, how Agassi played also with Radical was also really motivating for a 13-year-old kid.
Now I'm 27 years old, a conscious tennis player and ambitious stringer, who has tried many racquets and strings.  After I read Agassi's book "Open", I felt I have to again play with the racquet from my teen years, so I bought it.
Head Ti Radical Mid Plus Specs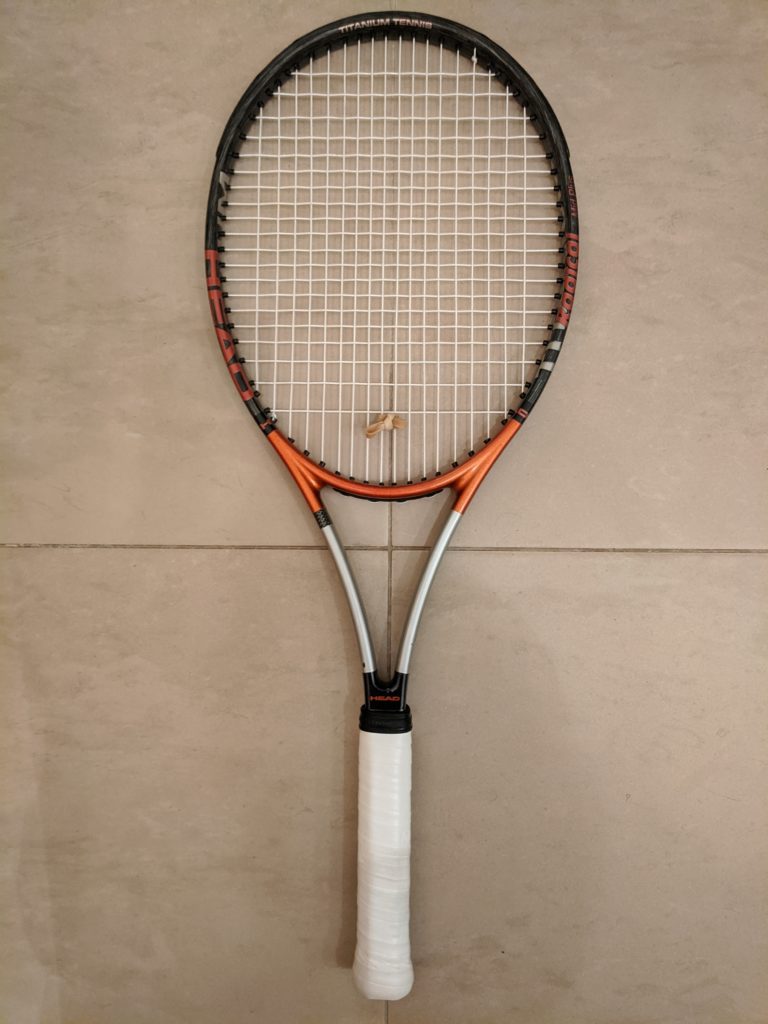 This racquet arrived after a long time. The grommets were in perfect condition, no breakage at knot positions and so on, but the bumper was a bit worn. I removed the broken grip and cut out the string. Also removed the butt cap – because something was shaking inside of it – and re-stapled it. I installed a new Head Hydrosorb grip
and strung it with my go-to soft poly (Tennisoutlet White Viper, which is the OEM version of Polyfibre TCS
) at 22 kg.
Specs (based on racquetfinder.com):
Head size: 630 cm2 / 98 sq in – actual size is 615 cm2 / 95 sq in
Strung weight: 305 grams
Balance: 3 pts HL
Beamwidth: 21 mm
Length: 27"
String pattern: 18 x 20
After the first few hits, I felt how we will be in a good relationship. The racquet is really comfortable to play with. All the ball contacts are enjoyable. Ball hitting sound is clear and low. Since I've been playing with my Artengo TR 990 Pro, I understand how the sound clarity of the racquet is important to me. The pallet shape (TK76) is also comfortable, a bit wider than my Artengo. I'm not sure making the rounder pallet a standard is the best way from Head, but all their racquets useTK82S pallets these days. A thing I like with the Ti Radical is the rectangular cross-section frame, which makes it nice to grip the throat during a one-handed backhand swing.
How does it play?

I'm a fan of the 16×19 100 sq inch head size racquets because I hit with a lot of topspin, and this is an important part of my game. A friend of mine sometimes said: "I hate your balls suddenly bouncing so high". This is a different world. These old Radicals are specified with 98 sq inch head size (which were all measured from outside the frame outside and are really a 95 sq in racquet) are clearly and visibly different from the new Graphene 360 Radical, which are a bit longer in the head. The 18×20 pattern on the Ti Radical is really tight and the throat side has room for one more (21st) cross string. This string pattern makes all the volleys are really precise and the racquets give you good feedback and excellent feel. Volleys are obviously my favorite shot with Ti Radical.
The power level is LOW. During groundstrokes it became obvious. It is not easy to hit with a constant depth. Spin is enough, but the ball bounce is not high. But flatter shots are working really well. When it comes to the slice I think the old and new Radical play really similar.
Summary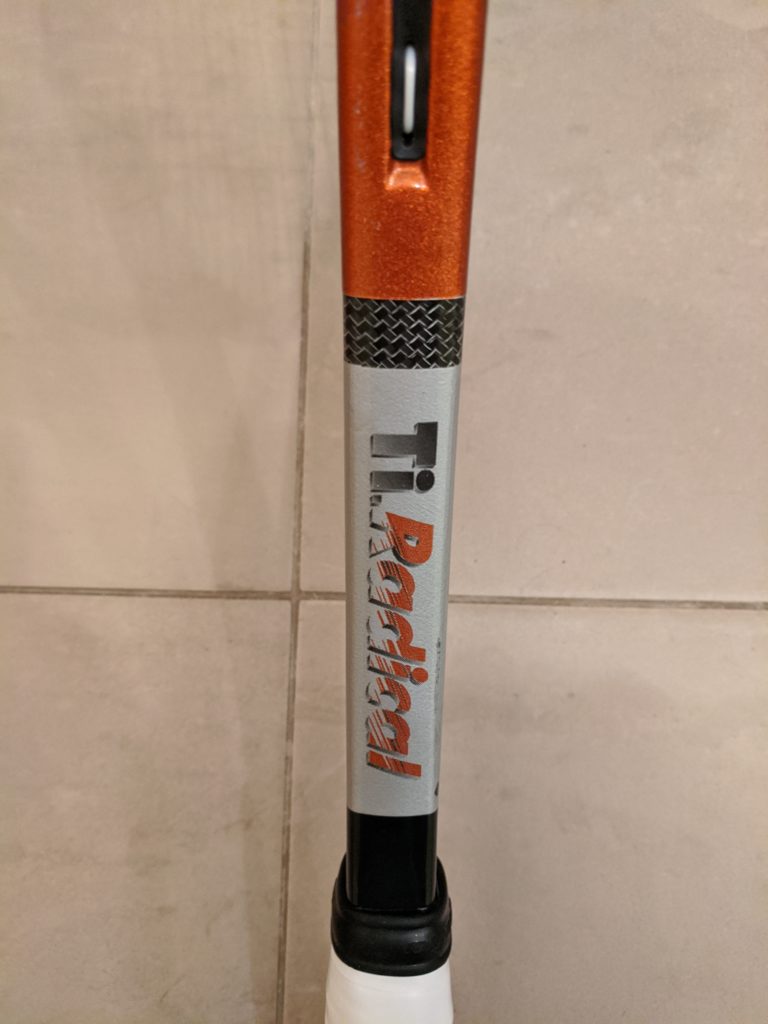 The Ti Radical Mid Plus is a really maneuverable racquet. I don't find really correct specs about unstrung weight and balance in millimeters and I cannot compare this in my mind, only rely on my hand. This seems to be an advantage. I also tried Graphene XT and Graphene 360 Radical MP models. They are definitely family members, but the new Radicals are much more spin-friendly and powerful. The old one is more composed and precise. However, I won't say that it is not an attacker's racquet. You can definitely play any kind of tennis with it, but you need to have the game.
There have been 10 Radical releases since 1999, the year of the HEAD Ti Radical. Like with all things in tennis and outside it, things evolve. But the Radical series will have a place in my heart forever.
Thanks Ferenc for this review! If you would like to write or record a review for Tennisnerd, don't hesitate to contact me at hello@tennisnerd.net. Now I am keen to hear what your favorite HEAD Radical is…