I have been testing the new Diadem FS Racquets – Elevate Tour and Nova 100. The racquets are updated with a Flex Stabilization System.
I reviewed the previous version of the Diadem Elevate and Elevate Tour and liked them a lot, but this is the first time I tried the Nova. The Elevate is the "Blade" or "Pure Strike" of the Diadem racquet line, while the Nova is the "Pure Drive" or "Instinct". You might think it sounds like clones of other popular racquet lines, but Diadem have really created some high-quality racquets.
Diadem FS Racquets – Tech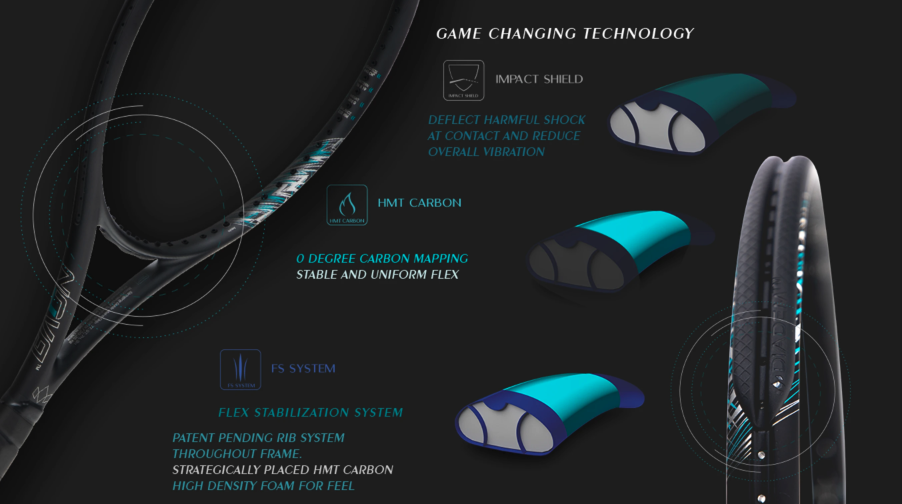 The new Diadem FS Racquets come with Impact Shield (reducing overall vibration), high-modulus carbon, and a patent-pending rib system throughout the frame that they call a Flex Stabilization System. Not actually sure what this does, but the racquets flex uniformly and feel really comfortable and stable. If you like foam-filled racquets, I am sure you will really enjoy these new Diadem FS racquets.
Diadem FS Nova 100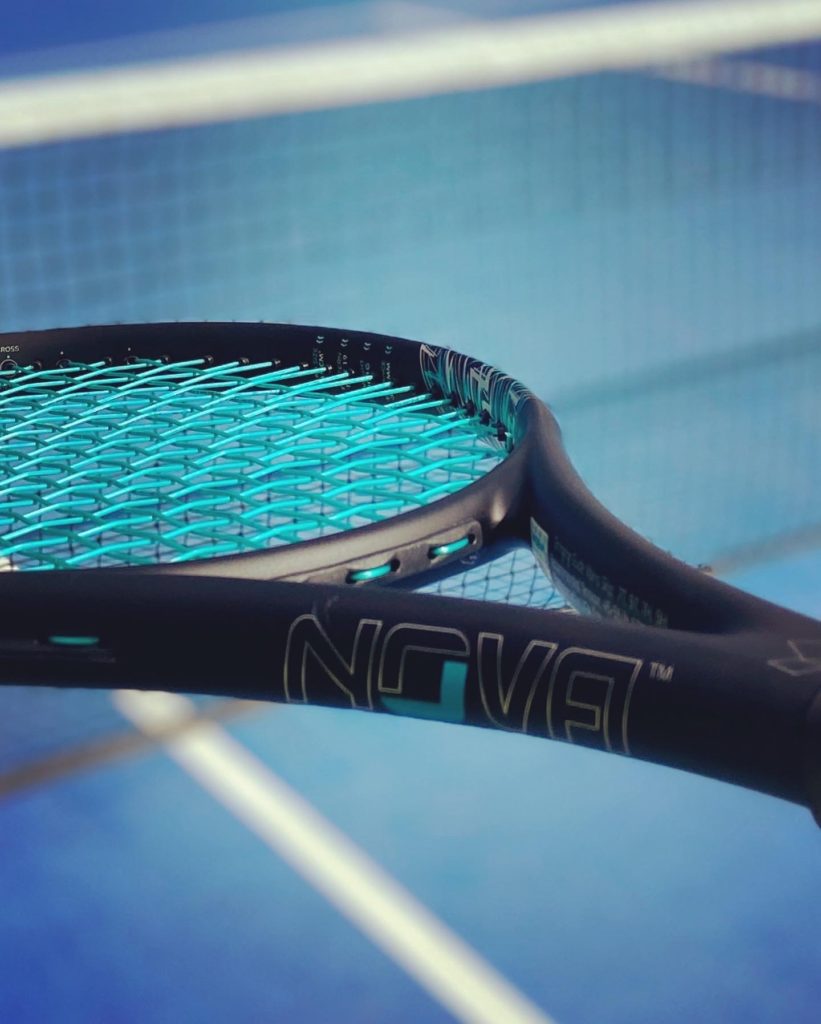 The Diadem Nova is created for beginners to intermediate players who like an easy-to-use frame with free power and spin, but without skimping too much on comfort and feel. The specs are Pure Drive-like but the stiffness is lower which in my opinion creates a better connection to the ball and a higher level of comfort. The beam is also thinner as you can see in the specs sheet below which is from the Diadem sports website.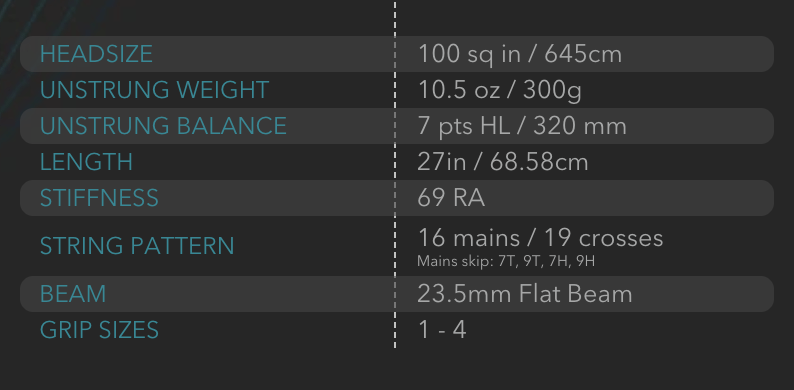 I strung up the Diadem Nova with Diadem Solstice Power
(link to Amazon) at 53 lbs or 24 kg. This star-shaped string worked really well in this racquet and they also look great together. My strung specs were: 314g, 32.5 cm and 304 SW.
I am pretty sure I got one with a lower spec as a 304 SW seems very low. This type of racquet should have a swing weight of around 315-320 to play stable and with good power so I think this might have been a problem with quality control. Most manufacturers suffer from this issue and it is a problem for most consumers. The racquet was still enjoyable and playable with the low swing weight, but when I added 4 grams of lead tape to it and bumped up the swing weight to 320 – it played much better.
Diadem FS Nova 100 – How does it play?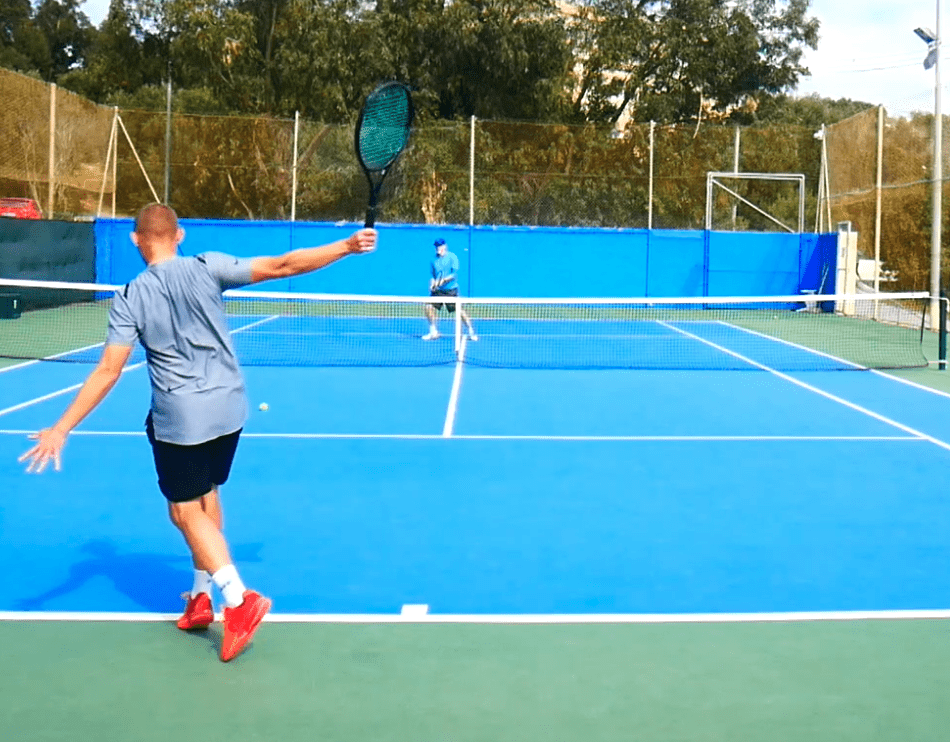 I really expected to be more of a fan of the Elevate Tour, but the Nova 100 really surprised me. Easy access to power, but not too much, good spin, but still some directional control and no issues whatsoever with comfort. I was really happy with how easy this racquet was to use. It dealt with pretty much any shot in a good manner, slice, groundstrokes, touch, volleys and serve. It felt a bit unstable in stock form due to the low specs I got, but when I added lead tape the stability was very good.
The power level is a bit lower than most racquets in this category, but only slightly so. And in my opinion, this is a good thing, as it becomes easier to control. I also really appreciated how nimble this racquet was at the net. Just an overall performer that I could easily recommend to beginners and intermediate players. Some players might want a bit more heft and control though and that is where the Elevate comes in.
Diadem FS Elevate Tour – Specs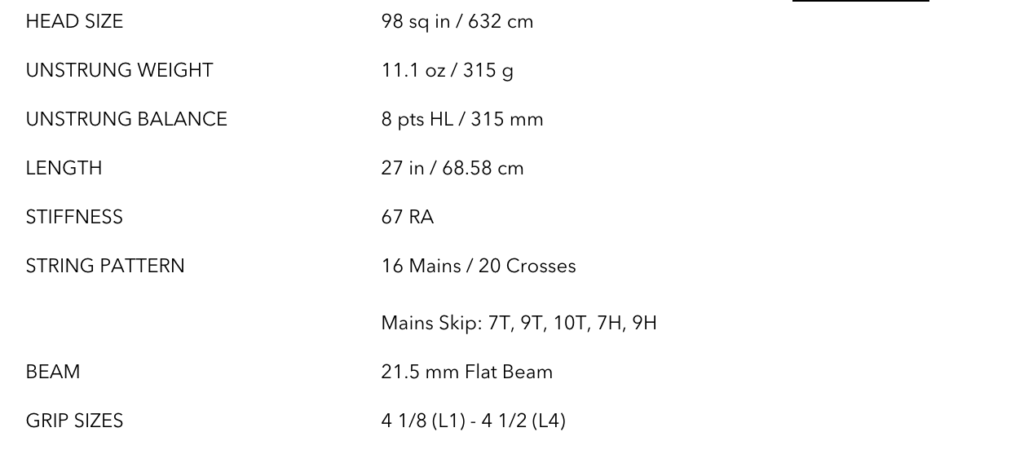 As you can see the specs of the Elevate Tour are more control-oriented and demanding. I strung up my Elevate Tour with Diadem Elite XT @51 lbs and got the following strung specs: 338g, 31.5 cm and a 330 SW. Specs that will look very appealing to a lot of advanced players. But how does this racquet play?
How does it play?
The Diadem Elevate definitely requires more from the user than the Nova. The swing weight is higher, the string pattern is tighter for better directional control and the power comes more from the weight than the slightly higher stiffness. I really thought it was highly competent as a racquet and a good competitor to higher spec frames like the HEAD Graphene 360+ Speed Pro and the Babolat Pure Strike Tour. The racquet lands somewhere in between those two racquets, a bit better comfort and feel than the Tour, but offering a bit more power than the Speed Pro.
Foam-filled racquets are usually very solid and comfortable and it is the same thing with the Elevate Tour. But not everyone likes that feel as it can be perceived as a bit more sluggish/slower through the air. If you are an advanced player though, this should not be an issue.
Like with the previous version, I really enjoyed the Elevate Tour. Not sure I detected much of a difference from the FS tech, but the racquet remains a very solid and playable frame for players who like heft and control. It did not offer any standout features as the Pure Strike Tour did with its dangerous power level, but it does most things well and offers better comfort and feel.
Summary
Diadem Sports is definitely a brand to keep your eyes on if you are looking for a new racquet. I enjoyed both the Diadem FS Nova and the Diadem FS Elevate Tour and I do like that there only two series of racquets to choose from. Simplicity wins for many customers. It also shows that there is room for new brands also on the competitive tennis gear market if you create quality products with a strong customer focus.
Have you tried Diadem racquets?