After play-testing the Donnay Pro One 97 Pentacore, which had a nice and flexible response, I was really keen to test the Hexacore edition. I was not disappointed. Read more in the Donnay Pro One 97 Hexacore racquet review.
Donnay used to be the racquet choice of Bjorn Borg, but has since been more of a "background company" on the tennis scene. They have always produced high-quality products and in a time of tennis racquets becoming stiffer, they have decided to focus on arm-friendliness. A sensible option for a tennis nerd. This Donnay Pro One 97 Hexacore racquet review will tell you that they have done a good job, but that the lack of power in the frame might not be everyone's cup of tea.
Donnay mentions HEAD's legendary PT57A pro stock racquet (based on the Pro Tour 630) in their description. It seems strange mentioning another brand's racquet in your advertising. However, HEAD has never re-issued that racquet and several brands have tried to reap the benefits by copying that design and mold. Tecnifibre did it really well with the Tfight 315 Ltd
, Wilson is relatively close with the Wilson Ultra Tour, etc.
But does the Donnay Pro One 97 Hexacore play close to the legendary PT57A?
Donnay Pro One 97 Hexacore Racquet Review – Specs
The specs of the Donnay Pro One 97 Hexacore are taken straight from the official Donnay tennis website.
Head size: 97sq"
Unstrung Weight: 305g
Unstrung Balance: 315mm
Strung Weight: 317.5g
Strung Balance: 5 Points HL
Strung Swing Wt: 314
String Pattern: 16×19
Stiffness (RDC): 57
Grip: Cushion
Rec. String Tension: 45lbs (+/- 10)
Beam Width: 21/21/21mm
Length: 27
Technology: Hexacore XeneCore™
As you can see, the swing weight is low and the RA is below 60, meaning this racquet does not provide a lot of power. Playing it in stock form will make you feel like the life is sucked out of your shots and you really need to swing for the fences. This racquet definitely is plush and on touch shots it delivers in spades. But for players who need a bit of extra help with power, it might not be your best bet.
I tried it with various lead setups. If you do not like to add a lot of weight and lead tape to your racquet, I suggest 2-4 grams at 12 o'clock. But I do not mind a heavy racquet and ended up getting my Donnay Pro One 97 Hexa up to 353 grams, and a 32 cm balance (incl lead tape, strings, dampener, overgrip and a leather grip instead of the original). It really plays nice in this form, but if you compare it to a RF97 Autograph, there is still a lack of power. This can be mitigated with a different string setup, like for example a hybrid such as a Champions Choice
that Federer uses.
Donnay Pro One 97 Hexacore Racquet Review – Performance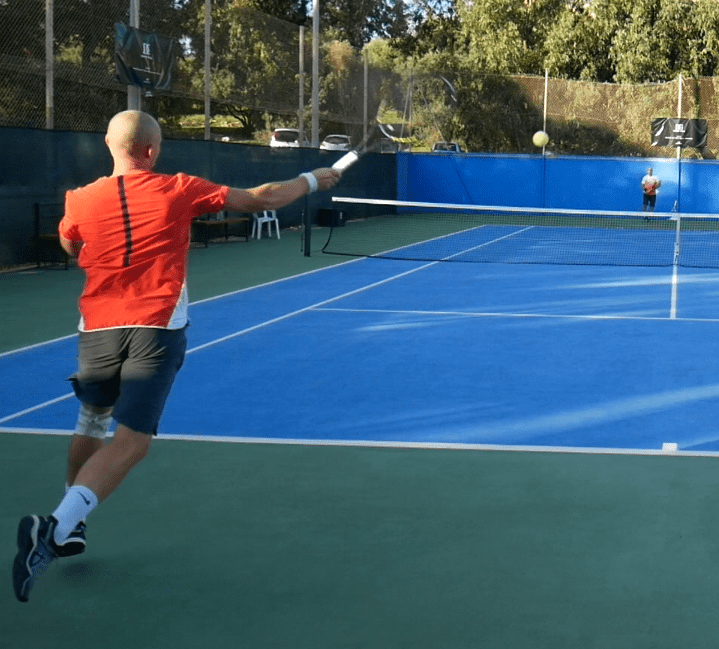 The feel of the Donnay Pro One 97 Hexacore is very nice. You get pinpoint control yet decent spin from the 16×19 string pattern. However, the power level is low and something to keep in mind if you are used to crisper racquets. If you are playing the PT57A or similar racquets already and want something with similar flex but a slightly bigger sweet spot, this racquet could suit you well.
Comfort is what Donnay says they focus on and they get the highest marks here. Not even a harsh poly would create issues for the arm with this stick. I used it with MSV Focus Hex
and it played soft. I think a spinnier poly string such as Solinco Hyper-G
or Luxilon Alu Power Rough
could work well in this racquet. If I would recommend something it would be a hybrid with poly in the crosses and something more powerful in the mains. With the buttery response of the racquet, a setup like that could be heavenly to players who enjoy flexible racquets.
I did not play my best tennis with this racquet. It is simply a bit too flexible for me and I feel that my flatter shots do not really penetrate the courts like they do with my Radicals or the recently tested Yonex VCORE 95
(read my review here). I definitely like a bit more zing on my shots to be able to be effective. Drop shots and touch volleys I could hit all day with this stick and I also enjoyed serving with it, but that final put-away shot was not there for me.
Donnay Pro One 97 Hexacore Racquet Review – Summary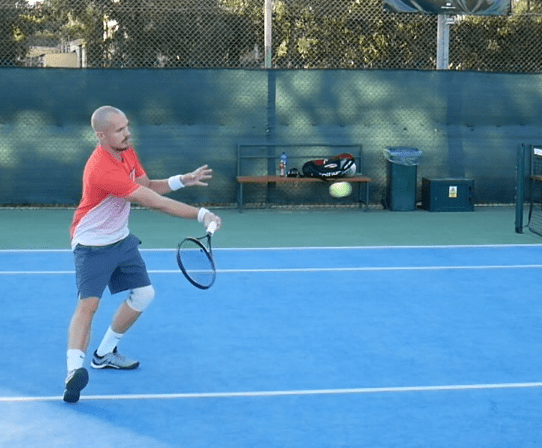 The Donnay Pro One 97 Hexacore is something so rare as a new racquet with a stiffness rating below 60. It offers great control and touch, but requires you to be a skilled player to utilize it to its fullest potential. My Norwegian friend and hitting partner, Karl, who occasionally plays on the ITF tour loves this stick, but he has the kind of game for it.
Anyone who values a little free power should probably look elsewhere, but players with arm-issues who like to caress the ball into the corners for a winner will love the feel of this racquet. It really is an old-school frame released into a market where power and spin are the biggest selling points. A daring move by Donnay that I applaud. I hope more people will venture into the flexible racquet territory. It might not be as alluring as power and spin, but it sure helps to develop solid technique and feel and will save your arm from injuries down the line.
If you are looking to buy a Donnay racquet in Europe and don't want to go through the official website, you can check out Racket1 in Norway. They were nice enough to provide me with my demo racquet.
Donnay Pro One 97 Hexacore Racquet Review – Video
What do you think of the Donnay Pro One 97 Hexacore? Is it something you would like to try? Please comment below!