One of the most impressive, relatively unknown brands I have tried, is Heysil. I enjoyed V1 and here is my Heysil racquets review V2.
Heysil Racquets Review V2
What is new in the Heysil racquets? The layup. This batch is slightly stiffer than the predecessor (check out my first Heysil review here) and this enables some more power and a slightly more stable feel. The sweet spot feels enlargened on this generation. I loved the Heysil Tour 98 V1 due to its plushness, but it wasn't easy to generate pace with it. It had that old-school feel to it. This one offers a bit more pop and although it's still demanding, it is a little easier to play than V1.
Players who fondly remember the kBlade 98 will most likely enjoy this one a lot. There is no fancy dampening or other tech, but a no-frills, dependable control racquet.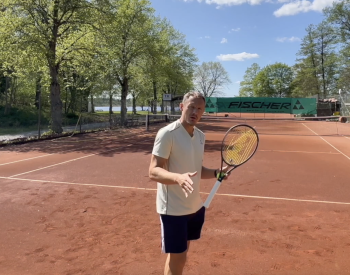 The Heysil 100 is a bit more interesting. It has the string pattern of the first generation Pure Drive (or Soft Drive), with a relatively open 16×19, but not the same high stiffness and a thinner 22 mm beam. This creates the feeling of a Gravity MP on steroids. You get good control, but plenty of room for spin. I think the slightly firmer V2 performed better than the V1, where I sometimes lost the ball. In this case, I used the Heysil Tour 100 more than the 98, while for the V1, it was the other way around.
To be fair, these changes in stiffness are not huge and won't be noticeable but most, but I did find some slight differences between V1 and V2.
Specifications
Heysil Tour 98 – check it out on their official website.
| | |
| --- | --- |
| Weight | 300 +/- 1g Unstrung |
| Balance | 320 +/- 1mm (Unstrung) |
| String Pattern | 18×20 |
| Length | 27 Inches |
| Head Size | 98 Square Inch |
| Frame Composition | High and Standard Modulus Graphite |
| Stiffness | RA 65 |
Heysil Tour 100
| | |
| --- | --- |
| Head Size | 100 Square Inch |
| Weight | 300 +/- 1g Unstrung |
| Balance | 323 +/- 1mm (Unstrung) |
| Length | 27.1 Inches |
| String Pattern | 16 x 19 |
| Frame Composition | High and Standard Modulus Graphite |
| Stiffness | RA 65 |
Summary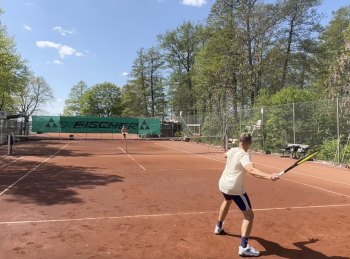 These are still excellent racquets, no matter if you already have V1 or you're interested in V2. My racquet preferences might have changed slightly or there was more of a noticeable change in the 100 because this time around, that was my favorite.  It's relatively easy to use, creates a pretty heavy ball, and has a nice sensation/sound on impact. If there is something I would change for me to make it a daily driver, it would be a slightly denser string pattern, for example, 16×20. Like with the Soft Drive/Pure Drive racquets that share the same pattern, the ball can fly at times.
Otherwise, this racquet is beautifully old-school, not dampened or harsh. It competes well with versatile 100 sq inch racquets like the Wilson Blade 100 V8, Dunlop CX 400 Tour, or Wilson Shift 300. See my thoughts about these racquets on this post about intermediate player racquets.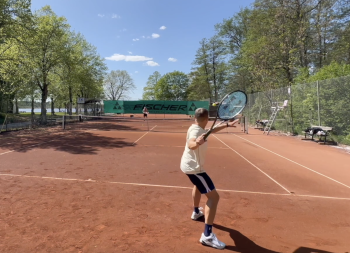 The Heysil Tour 98 demands more from the player. This is also a racquet that I might like a tad more in a dense 16×19. It is a tad more powerful than my beloved Prestige 2019, but like that one, you need to create all the spin yourself. Otherwise, the launch angle is rather low. Fans of Blade 98 18×20 and Tecnifibre TF40 who don't enjoy tons of dampening should check out the Tour 98.