It's been a loooong time coming this Prince Phantom 100G LB Review. I've been pretty busy and I also found it quite difficult to get used to.
You got to give it to Prince. They keep producing racquets that most other brands would say: "there is not much of an audience for this one, let's scrap it." That's why the brand has its fair share of die-hard fans. They do create excellent racquets, although sometimes they seem to be a bit "all over the place" with their selection. The most recent Prince review I did was the Prince Vortex, with its funky design and 14×21 string pattern. That racquet suited me better than this one. This Prince Phantom 100G LB wasn't the first racquet I went towards in my tennis bag.
The reason is simple: it's a bit too difficult to wield for me. I have never found 28-inch racquets easy to get into and I did struggle also with the Serena Williams Autograph racquet. This one offers plusher feel and more control, but I still found it difficult to maneuver and hard to generate top spin with.
Specs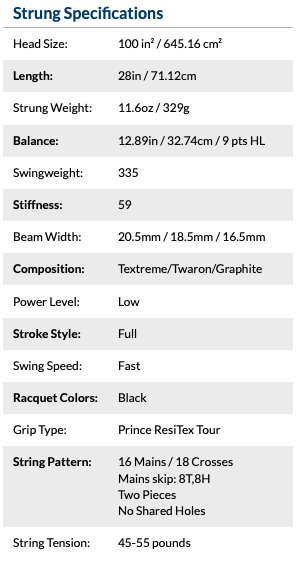 As you can see from the specs, there are not many "ordinary" things about this frame. A very thin beam, low stiffness, high swing weight, and extended length. I really enjoy the Prince Phantom racquets such as the 100P, 93P and the 97P and the 100X versions as well. But the extra length and the crossbar made this my least favorite racquet so far. It's nice on serves, volleys and offers a good feel and comfort. But when you need to rally from the baseline, the weight can hold you back a bit and it becomes more difficult to time the ball.
Who is it for?
This racquet is not intended for me. I can groove with 27.5-inch racquets but never found it easy to use the 28-inch frames. But if you enjoy longer frames, want a lot of plow-through, help on serve, good comfort, feel and touch – this racquet is good. I think advanced players with a double-handed backhand who like to attack using a flatter game can really found something nice here. The target audience is small, but it will have its group of fans for sure.
Do you like extended frames? Would you consider a 28-inch racquet? Please let me know in the comments below.
If you want to buy the Prince Phantom 100G LB, please check it out at one of our affiliates: Tennis Warehouse, Tennis Warehouse Europe and Tennis Only.