I have had the fortune to start early on this Prince Vortex review. I have been playing with this racquet for a few months already.
The Prince Vortex doesn't quite look like other racquets. The extended bridge design for elongated main strings (to improve spin) looks like something out of the Marvel universe, the different shades of blue also has a futuristic appeal, only to be broken off by a sudden tiger pattern on the side. It's simply a frame that doesn't make any excuses for who it is and what it can do on the court and you got to respect that! During this Prince Vortex review period, this racquet has kept growing on me and been a consistent buddy in my tennis bag, which is a solid sign that it's a quality racquet.
Prince Vortex Specs
I tried the 310g version of the Prince Vortex (which I don't think is available to consumers just yet). The main difference from this racquet and the 300g version (check it out on Tennis Warehouse) is that the 310g version is slightly more stable and head-light, but the swing weight and overall specs are very close.
My specs were (strung with Toroline Caviar 1.20 at 51 lbs): 326g, 31.5 cm (9 pts HL) and 316 SW.
The specs of the Prince Vortex 300 are: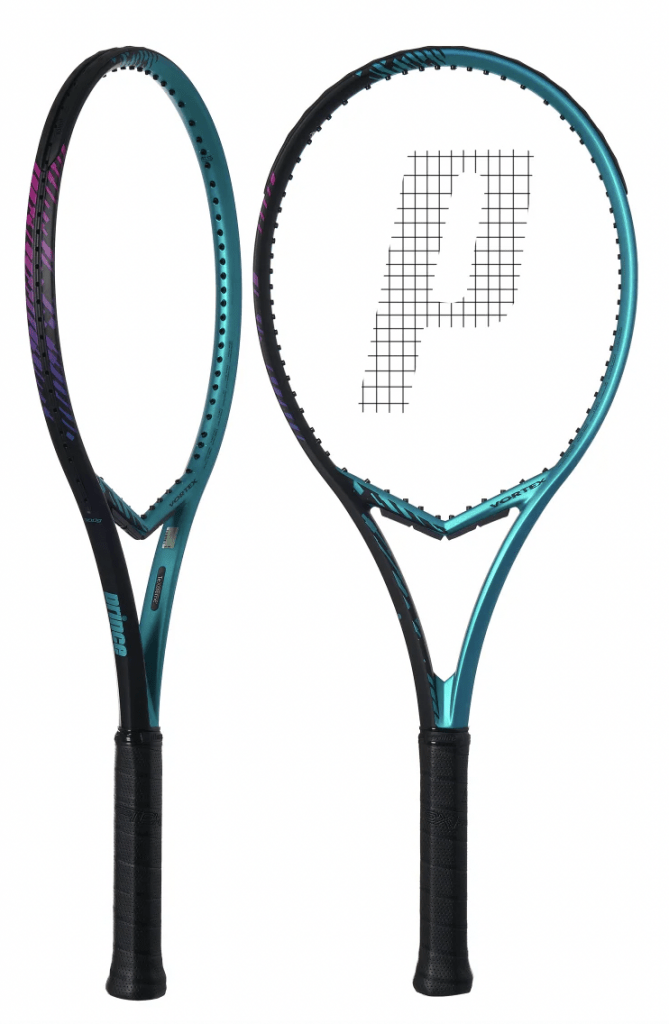 Head Size:100 in / 645.16 cm
Length:27in / 68.58cm
Strung Weight:11.2oz / 318g
Balance:12.79in / 32.49cm / 6 pts HL
Swingweight:315
Stiffness:66
Beam Width:25mm / 22mm / 26mm
Composition:Textreme/Twaron/Graphite
Power Level:Low-Medium
Stroke Style:Medium-Full
Swing Speed:Medium-Fast
Racquet Colors:Black/Teal
Grip Type:Prince ResiTex Pro
String Pattern:
14 Mains / 21 Crosses
Mains skip: 7T7H
Two Pieces
No Shared Holes
String Tension:45-55 pounds
The standout feature is the 14×21 string pattern which creates a spin-friendly, yet controlled response. The spin comes from the 14 mains (with the center mains being elongated thanks to the V-shaped bridge) and the directional control comes from the 21 crosses.
Tim from Prince, who designed this racquet, made some bold moves with this one and I think he succeded.
How does it play?
The best way to find out about the playability of the Prince Vortex is to check my video review, but overall it feels like some kind of mix between a Babolat Soft Drive and Yonex VCORE 98 and a Prince Textreme Tour 310.
Prince Vortex Pros and Cons
+ Spin-friendly
+ Still maintains decent control on flatter shots
+ Maneuverable
+ Good balance of power/control
– Some instability near the top of the hoop
– Feels a bit thick when you hit the one-hander
I almost wanted to put "hard to categorize" as a con, because I think the current line of Prince racquet is vast and diverse but somewhat difficult to figure out.
The Prince Vortex is versatile, but the identity belongs more to the spin-category, but not all the way to a Ripstick or an Aero. It feels like a baseline racquet but offers good stability on volleys and a surprisingly nice feel. Hmmm…
Summary
I like this racquet for multiple reasons. It works well in my bag next to the Babolat Soft Drive and the Prince Textreme, it kind of falls in between those two racquets. But it is hard to place in the Prince family and difficult to compare versus other racquet brands.
That's why I'm keen to hear what you think about this Prince Vortex Review and the racquet itself. Please comment below!