When I first tested the new Blade V7 98, I was struck by its comfort. But I wanted more spin/power. So here is my Wilson Blade V7 100L Racquet Review.
The update to the Wilson Blade line was very impressive. No harsh vibrations, just soft and comfortable. The 98 sq inch head size racquets both had a pretty high swing weight and low flex, so you must be an aggressive and advanced player to really benefit from the control of these frames. If you don't hit through your shots, the Blade 98 will in a way harm your game and provide easy shots for your opponents. That is why I decided to do this Wilson Blade V7 100L racquet review. Read more about this frame on the Wilson official website.
A thin-framed, flexible 98 sq. inch frame is not for everyone but luckily Wilson has some more versions of the Blade. I really "wanted" to like the Blade because I think it´s a good looking racquet and some of my favorite players (Tsitsipas and Juan Ignacio Londero) use at least the PJ of the Blade. But I must be honest with myself. At 41 years of age, I don't have the peak of my tennis in front of me. To be able to compete with the young guns I need some extra pace,  spin, and a larger sweet-spot out in the corners when on the run and defensive. I was looking through the line-up and saw that the Blade 100L with its rounder 100 sq inch head-shape and fairly open 16/19 string pattern could be spot on for me and my game. The only concern was the somewhat high flex of 69 RA.
Customizing my Wilson Blade 100L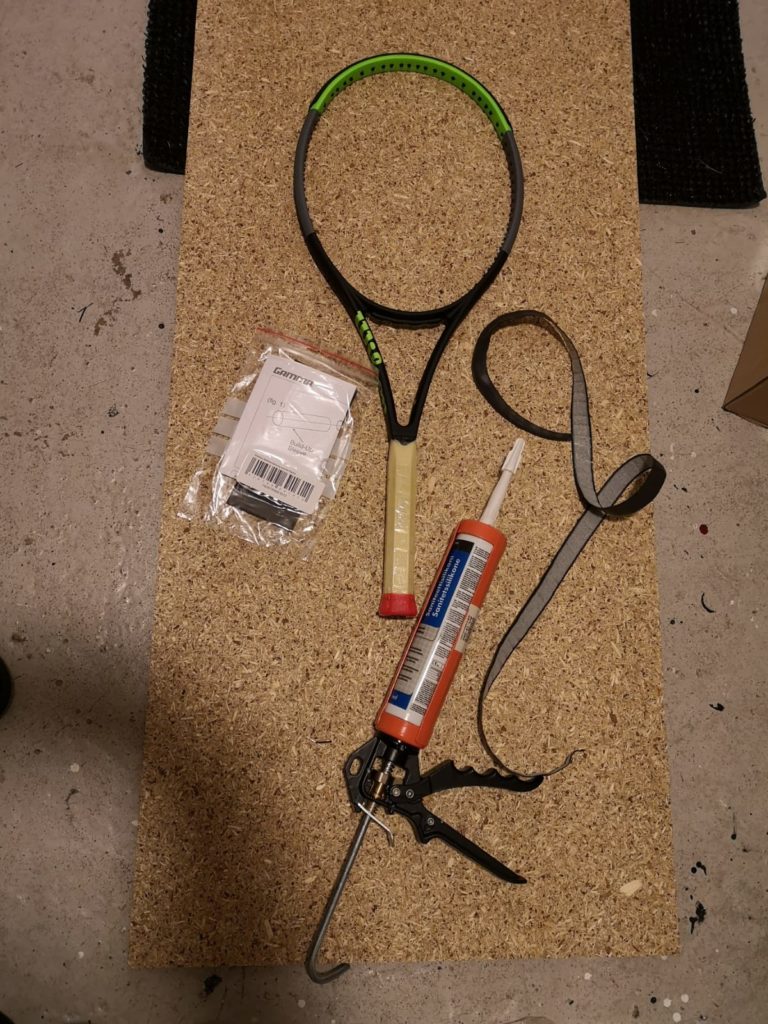 At only 285 grams of weight and an unstrung balance of 33 cm, the Blade 100 L
is like a wet dream for customizing. The swing weight strung is around 316 and that makes room for some lead in the head as well. I usually customize my frames to around 315 to 320 grams unstrung weight, a balance between 31.5 and 32 cm and SW strung of around 320-325. It all depends on the power-level of the frame. The more power, the lighter weight, balance, and SW to get more control.
The 69 RA flex had to be tackled in some way though, and what I did was to order it in one grip size smaller than normal. I then removed the grip and installed a grip enlarger (a heat-shrink plastic sleeve) that is applied with a heat gun, so it sits molded to the handle. I then re-applied the base-grip and weighted the frame. The heat-shrink sleeve adds a good 20-22 grams, so the weight of the frame was now around 305 grams unstrung. I injected about 5 grams of silicone (read how to do it here!) into the handle (just open the butt-cap and inject) and placed about 5 grams of lead under the plastic bumper in the top to get some more mass in the top to beef up the SW and thereby get some more plow and power.
Matched frames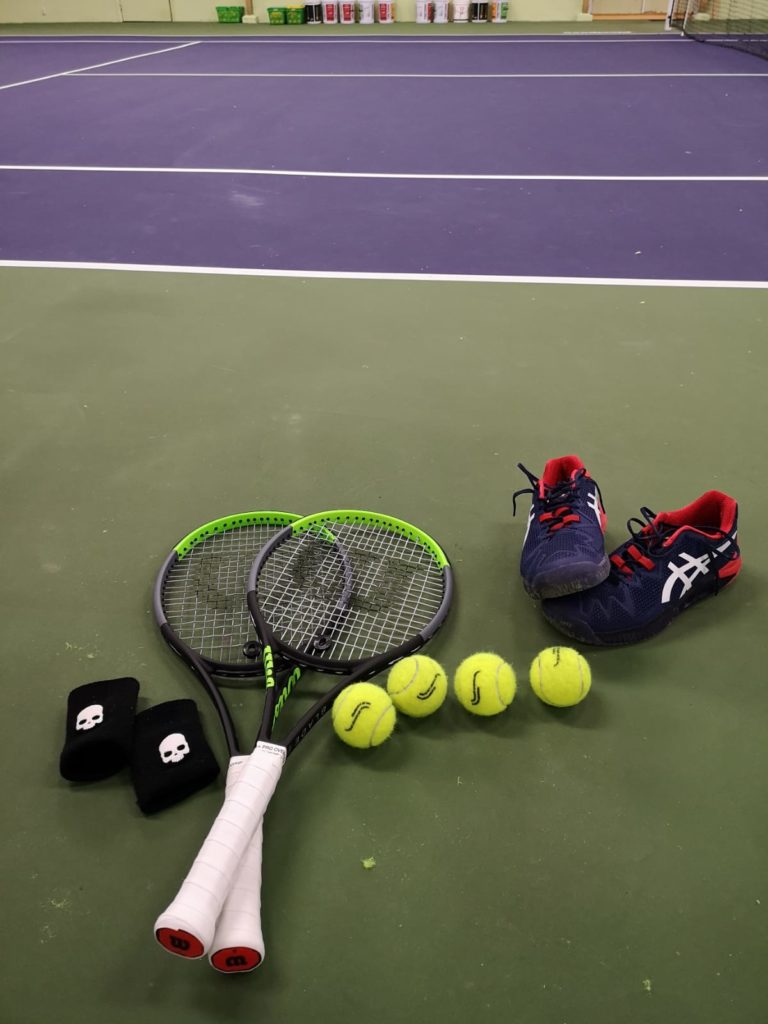 I have two Blade 100 L and on one of the frames the balance was more head heavy and no lead was needed. I strung one frame with Topspin Cyberflash 1.30
and one frame with Luxilon Alu Power Soft 1.25
, added Wilson Pro overgrip on both frames and a Pacific Vibra ring dampener and was ready to hit the court!
The difference between the 100L and the 98 is major! You have some of the control from the 98 versions in the 100 L version, but in every other category, the 100 L shines for me. It has much more power, a really good spin production, a much bigger sweetspot and is overall easier to use. I don't need to generate the same racquet head speed with the 100L version as with the 98 versions. I can get good depth and power on both serves and groundstrokes and volleys don't need to be dead center to be effective.
Many of you might think I had to string the frames tight to get any control, but the answer is no to that question. The Luxilon was strung at 48 lbs and the Cyberflash at 49 lbs.
Customize or not customize?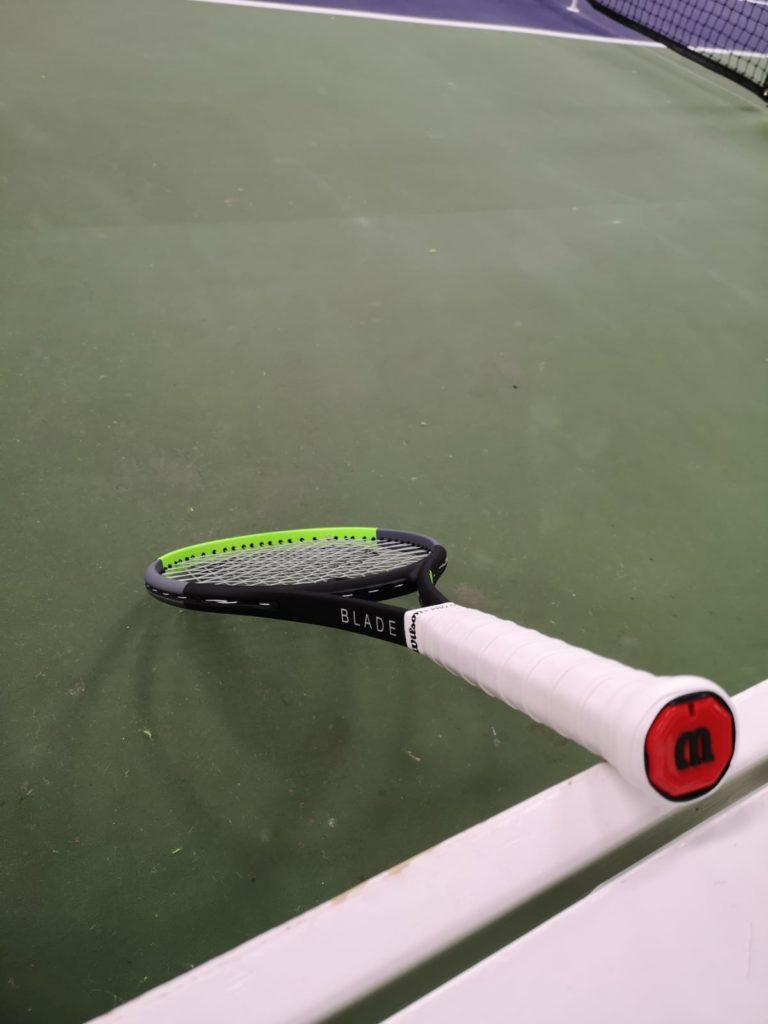 Compared to how the frame is now when I customized them to my specs with uncustomized version is not that big though. The frame has some major plow already in-stock version and it´s solid enough even against big guns. The silicone and heat shrink makes it feel more muted compared to the stock version but it´s also playable in the stock version. The RA of 69 is not so present in the comfort at all.
The stock version is a very good weapon of choice for younger or older players seeking good power and stability in a lighter frame without sacrificing to much control. If you are an adult player with a good level of your game, this frame will also work if you add some weight to it. Not much needed though as it is very solid already from the start.
Is it a keeper?
It would be interesting to see how the Blade 100 L is compared to the slightly longer and bigger 104 Blade
-version. The 104 has a very soft RA 60 that could be good for those of you who wants a very soft and comfortable longer frame. Stay tuned for that one and we´ll see what Wilson says about us testing that version also.
For me and my game, how will the Blade 100L continue its journey? Well, as it feels right now, I will place my much loved Yonex Vcore 100 in the bag and use the Blade 100 L instead. For my game, the Blade 100 L is a winner at the moment.
Thanks to Henrik Wallensten for this Wilson Blade V7 100L racquet review – a frame that is easy to overlook! Lighter frames can play very nice with some customization. If you want to read more about Henrik's approach to customization, read this post.